Ferrari's Fernando Alonso upbeat over title chances

By Andrew Benson
Chief F1 writer
Last updated on .From the section Formula 1154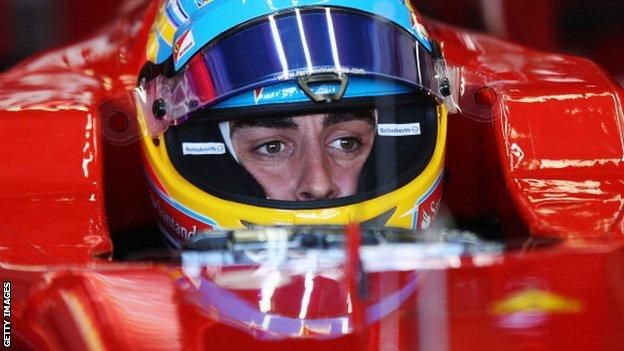 Ferrari's Fernando Alonso is confident he still has a strong chance of winning the title despite seeing his championship lead reduced.
The Spaniard retired from the Japanese Grand Prix and race winner Sebastian Vettel is now only four points behind with a faster car.
Alonso said: "I am sure we can be in the fight right down to the wire."
Alonso's lead has been cut by 37 points in the last four races, in which period the Ferrari driver has retired twice.
In the Belgian and Japanese Grands Prix, Alonso was involved in first-corner accidents - in Spa-Francorchamps he was hit by Romain Grosjean's flying Lotus and in Suzuka on Sunday he got a puncture after a rear wheel was tagged by the front wing of Grosjean's team-mate Kimi Raikkonen.
But Alonso believes Ferrari are capable of re-establishing their advantage in the final five races, starting with the Korean Grand Prix this weekend.
"The people who are working on the car are the same who have done the job so far and there's no reason to think they can't do a good job again now," he said.
"Let's not forget that, if I am still leading the championship, it's because we have been capable of improving the car significantly compared to the start of the season and also because we are capable of always getting the most out of what we have to work with.
"We have not been gifted anything. Indeed Spa and Suzuka deprived us of places that were easily within our grasp. It's not through some sort of divine miracle that we are in this position, it is down to the work of all of us, from first to last."
Ferrari have been criticised for failing to improve their car as quickly as other teams - and the pressure has increased following an apparent major step forward from Red Bull in the last two races in Singapore and Japan.
"For sure, there are some teams who, in this final part of the season have made a significant step forward, while we have not matched that, especially in terms of how the car behaves on certain types of track," Alonso said.
"However, it is equally true that, at Monza for example, we had a car that was good enough to take pole. Then at Singapore we got a bit lost and to a certain extent we also suffered at Suzuka, even if Felipe [Massa, Alonso's team-mate] showed he was pretty competitive in the race.
"If we weren't as quick as the Red Bulls, we were at least a match for all the others.
"Actually, these ups and downs seem to be the norm this season. In Japan the McLaren seemed less strong than in the previous race, while Red Bull stepped up significantly, as indeed did Sauber.
"A lot has been said about us because everyone is always focused on the red team. Here, for example, if we try a wing once, then don't use it, it becomes news. But these things happen regularly in all teams. Now, all we need to do is get back on the right track and I'm sure we can do it."
Reflecting on his retirement in Japan, he added: "It was very disappointing but now it's history and there's no point brooding over it anymore.
"As I said before I left the track, now we start again from zero, given that only four points separate me and Vettel and even the others have got a little bit closer.
"The winner will be the one who scores one point more than the rest. In order to do that one needs a quick car, not to make any mistakes and with the hope that any further mistakes from others do not cost you dear, as happened to us, first in Spa and then in Suzuka.
"But for these incidents the situation would be very different."