Formula 1: Maria De Villota speaks about her testing crash
Last updated on .From the section Formula 1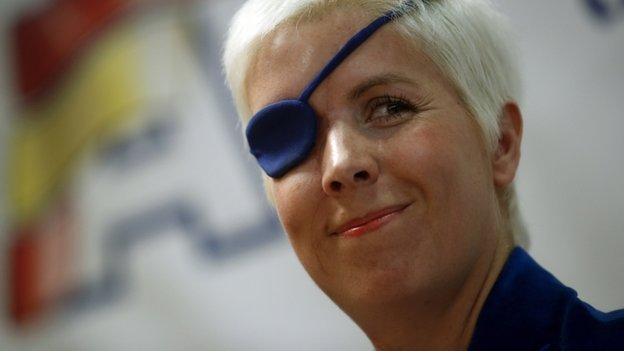 Maria de Villota has spoken publicly for the first time of the testing crash in which she lost her right eye.
The Spaniard attended a news conference in Madrid, wearing a blue eye patch.
"Before, I only saw F1, I saw myself in a car competing. I did not see what was important in life, the clarity to say: 'I am alive,'" she said.
"It has given me my bearings, given me back what's important. I accept it with the energy to say I am going to live out this chance 100%."
De Villota, the daughter of former Spanish Formula 1 driver Emilio De Villota, was given a test drive by Renault last year and had previously raced in Spanish Formula 3 and the Daytona 24 Hours.
The accident happened when she was driving the Marussia car for the first time in a straight-line test at Duxford Airfield in Cambridgeshire.
After completing one run and returning to the mechanics, the car suddenly accelerated into the back of a team truck with her helmet taking much of the impact.
The 32-year-old underwent lengthy surgery at Addenbrooke's Hospital after the crash for serious head and facial injuries.
With her blonde hair cropped close, De Villota recounted how she had regained consciousness in hospital after the crash.
"The surgeon came up to me with my family around him and said: 'Maria we have saved your life, I don't know if you remember you had a serious accident but we have to tell you that you have lost your eye'," the 32-year-old told a packed news conference in Madrid.
"I asked him: 'Are you a surgeon? Do you need both hands to operate? I am a Formula 1 driver and I need both eyes to drive," she added.
"Later it seemed like a miracle and you notice that in some ways you can see more than before."
She added: "The crucial thing was to get back some optimism about the future, that's what helped me to get my interior motor running again. I am sure that the best is still to come."
She said she wanted to stay involved in F1 in some form and that it was important to her to be a role model to aspiring female racing drivers.
"I have motorsport in my DNA and there's no way I can stay away from that world," she said.
"I want to keep fighting because I believe so strongly in women being part of motor racing.
"Now I have a physical impediment but before I didn't and I want someone else to take over."
Women are still rare at the top level of F1, although Austrian Monisha Kaltenborn is the new principal of the Sauber team.
In April, Williams signed German touring car driver Susie Wolff as the team's development driver.
The last woman to enter the F1 world championship was Italian Giovanna Amati, who failed to qualify for three races at the start of the 1992 season with Brabham.
Five women have entered F1 races in the past, the most prolific being Italian Lella Lombardi, who started 12 grands prix in the 1970s.