Korean GP: Sebastian Vettel fastest ahead of Lewis Hamilton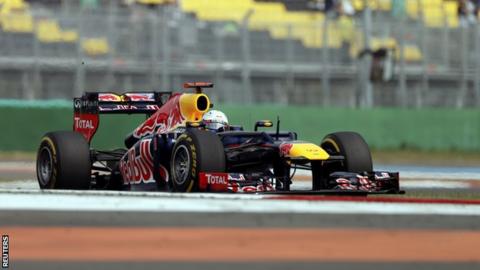 Red Bull's Sebastian Vettel underlined his status as favourite for Korean Grand Prix pole by setting a searing pace in final practice.
The world champion was half a second ahead of McLaren's Lewis Hamilton.
The Englishman was 0.342secs ahead of his team-mate Jenson Button.
The Lotuses of Romain Grosjean and Kimi Raikkonen were fourth and fifth ahead of championship leader Fernando Alonso's Ferrari, a second slower than Vettel.
Red Bull's Mark Webber was seventh after electrical problems with his engine prevented him from getting a run at the end of the session on the 'super-soft' tyre most drivers are expected to use in qualifying.
BBC F1 technical analyst Gary Anderson said: "It's going to be a great mix-up there between Ferrari, Mercedes, McLaren and the Red Bulls.
"But it's quite a show of strength by Vettel - and it's not just about pole position. You have to go racing from the front here. Everyone who is racing for the championship will want to get as close as possible to him."
Vettel was also fastest on the harder 'soft' tyres, leading Hamilton by 0.249secs, with Button third ahead of Webber, Alonso, Schumacher and the two Lotuses, with Grosjean ahead of Raikkonen.
Most drivers found a smaller improvement than usual on the 'super-softs', in the region of 0.2-0.3secs.
But Vettel was the exception, improving by 0.573secs. Coincidentally, that was almost exactly the margin he had over Hamilton by the end of the session - 0.527secs.
Vettel's superiority seems to confirm the impression left by his dominant victory in Japan a week ago that his Red Bull team have made a decisive step forward with their car.
Attention will again focus on their 'double DRS' system, which uses the moveable rear wing overtaking aid that is fitted on all cars to provide an extra boost by also affecting the lower part of the rear wing.
This means that when the DRS is enabled - and its use is free in practice and qualifying - a greater amount of drag is reduced.
This means that the team can run more downforce on the car to make it faster in the twisty sections of the lap without the straight-line speed deficit that would normally entail.
A glance at the lap times seems to prove this point.
The Red Bull-Renault package has never been as strong as the Mercedes or Ferrari-engined cars on the straights, and yet Vettel is at least matching the McLarens and Ferraris in the first sector of the lap, which is dominated by three straights.
But he is markedly faster than his rivals around the rest of the lap, which in the second sector is fast and flowing and in the third is all about traction and slow-corner change of direction and grip.
In the second sector, Vettel was 0.1secs faster than Hamilton and 0.3secs ahead of Button and Grosjean. And in the final sector the German was a massive 0.4secs quicker than Hamilton - and at least 0.5secs faster than anyone else.
Korean Grand Prix 2012, day two
Saturday, 13 October:

Qualifying 06:00 BST; BBC One (from 05:00), online and BBC Radio 5 live Sports Extra (from 05:55). Qualifying replay 13:00 BBC One.
Korean Grand Prix 2012, day three
Sunday, 14 October:

Race 07:00 BST; BBC One (from 06:00), online and BBC Radio 5 live (from 06:55). Race replay 14:05 BST; BBC One. Highlights 19:00 BST BBC Three.