Jaime Alguersuari column: F1 title fight far from over

By Jaime Alguersuari
Former F1 driver and BBC Radio 5 live analyst
Last updated on .From the section Formula 150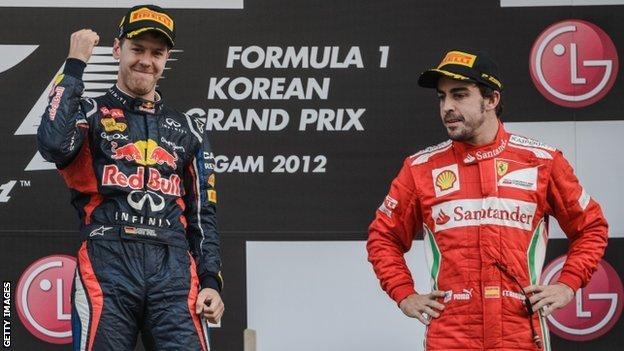 This Formula 1 season has changed so fast that it would be premature to jump to too many conclusions following Sebastian Vettel's victory in Korea, which put him ahead of Fernando Alonso in the race for the championship.
At the start of the year, all the teams were so close, but as the season has gone on we have seen a huge development from the top three teams, especially Red Bull and McLaren, and they have stretched clear.
Everybody has had ups and downs. McLaren started very strongly, but then struggled a bit in mid-season, before coming back for another strong run in the final European races.
Alonso has been consistent and scoring as many points as he could, as well as producing some fantastic racing that allowed him to lead the championship.
For most of the season, Red Bull were quite strong but were struggling a little bit with consistency and reliability.
But heading into the Asian races in Singapore, Japan and Korea, Red Bull have sorted out these problems, made a step forward with the car and are back in form.
They have the fastest car and are performing as they thought they were going to from the start of the season.
Now they find themselves leading the championship, but that does not mean it is going to be easy for them from now on. Alonso and Ferrari are still doing a fantastic job.
Things have changed a lot, but the reality is that at the top of the championship it is still very close, as we always thought it would be at the start of the season.
NOT ALL OVER FOR FERRARI
Alonso said after the race in Korea that he was still "very optimistic" he could win the title, and he is absolutely right to feel that way.
You have to analyse the reality - McLaren out-performed everyone in some parts of the championship, but not all of it.
For Alonso, it looked like there was a pack of races that he just controlled, and everyone thought he was going to win it.
And now Red Bull have come to a part of the season where they are controlling everything and everyone thinks they are going to win it.
This year, you can never say: "This is the way it is, and that's the way it's going to stay."
It's like football - you never know what is going to happen until the 90 minutes are over.
Sure, the fight for the championship is going to be between two guys - Alonso and Sebastian Vettel - because they are the fastest and scoring the most points.
There are four races left and anything can happen. It is not just a matter of going out there and being the fastest.
You have to control the pressure, which from now on is very high for both of them. Alonso needs to control Vettel and Vettel needs to control Alonso.
The one who finishes most often ahead of the other is going to win in the end.
TOO MANY PEOPLE TRYING TOO HARD
There was another first-lap crash in Korea and I agree with Jenson Button and Nico Rosberg that some drivers are being too aggressive at the starts.
No driver likes to blame their rivals but our job is to respect ourselves and the other drivers, and sometimes that has not been the case this year. A lot of drivers have messed up big time and it shouldn't be like this.
F1 is not a matter of being the fastest on the first lap or the second, or to show what you can prove on the start.
I don't care if I lose two positions at the start, even if I know I am faster than the two guys who have passed me.
Sure, it is important to start well and gain position, but you are not going to improve in all your starts, and it is not possible for everyone to move forward from their grid position. You need to control yourself.
I believe a lot of drivers are pushing too hard at the start because they are under pressure. They try for something that is not there and over-reach the limit.
They just need to understand themselves, to be patient, to relax and make themselves free to do whatever they need to do in the race.
The race is long - 60 laps or whatever. It does not end on the first lap. Or it's not meant to, anyway!
I am a young driver, too. Like everyone, I want to show what I can do, and when you have a competitive car, you want it even more.
But it is very easy to crash at the start - there are 24 cars together and everyone is pushing and wants to gain position.
You do your best, but the most important thing is not to drive over the limit. If you do, you can end up with a big crash, such as happened at the Belgian Grand Prix last month.
From what I could see, that was down to a lack of respect, to drivers thinking too much of themselves.
You cannot drive like this. It might work two times out of 10, but the other eight it will end in a bad way.
The guys with experience in F1 drive very differently at the start. They have a mature, bigger view of all these situations, and understand much better what is racing in F1.
The perfect examples are Alonso and Button. Some of the other drivers could learn a lot from them.