Susie Wolff, Scottish female driver, tests for Williams at Silverstone

By Andrew Benson
Chief F1 writer
Last updated on .From the section Formula 1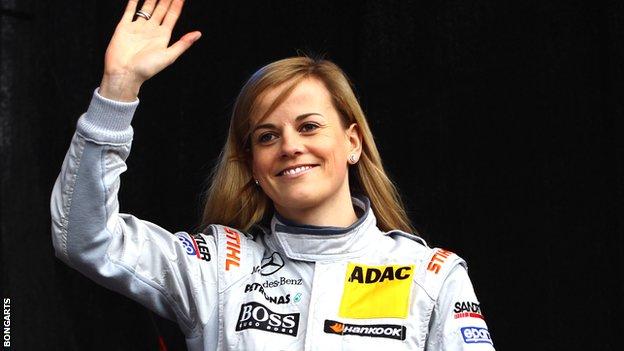 Scot Susie Wolff has become the first woman to drive a Formula 1 car since Spaniard Maria de Villota lost her right eye in a testing crash in July.
Wolff, 29, drove a 2011 Williams on Wednesday at Silverstone and said she had been in contact with De Villota.
"She told me to drive for us both now, that I would be out there representing us both.
"I had Maria's star on my helmet. It's with pride I have that and without doubt I was driving for the two of us."
She added: "She is an incredible lady. Before you even talk about her as a racing driver, she is an incredible person, an inspiration.
"After the publicity surrounding Maria's accident without doubt I felt an extra need to go out there, do a good job and show that her accident was a freak one-off and it doesn't generalise women in motorsport."
Wolff's test was on Silverstone's International circuit, which uses part of the grand prix track, including the pit straight, Hangar Straight and Stowe and Club corners.
Wolff, who is Williams's development driver, said it was the culmination of a lifetime's ambition.
"It was emotional," she said. "I've spent a long time preparing for this day, dreaming of this day, and it's finally here."
The last British woman to drive an F1 car on a race track was Englishwoman Katherine Legge, who took the wheel of a Minardi at Vallelunga in Italy in 2005.
The last woman to race an F1 car was Italian Lella Lombardi in 1976.
Wolff's test was to familiarise her with driving an F1 car - she has spent several sessions in the team's simulator preparing for it.
"The feeling of driving that car on the track for the first time was just incredible," she said. "On the first lap, I thought my helmet was going to fly off the G-force was so much."
Wolff, the wife of Williams shareholder and director Toto Wolff, races professionally in the DTM German touring car championship but said the F1 car was a totally different experience.
"The DTM cars are I think the most technically advanced touring cars in the world but they are still quite a step away from a Formula 1 car," she said.
"The team gave me such a brilliant feeling, gave me a lot of confidence.
"Never at any point was I worried what would happen. I really felt in control, there were no issues."
She added: "It's a lot faster [than DTM]. I had a couple of moments on damp patches where I lost the rear [end].
"You can brake a lot later, carry a lot more speed. I think my neck training worked because my neck feels OK.
"It's no wonder F1 drivers love their job. It's a fantastic car to drive."
Williams race driver Pastor Maldonado, who was in attendance at the test, said: "Susie is quite good. I was looking around and she is so confident with the car.
"I have been with her in DTM in two races and she has great control of the car. She is excited, first time in F1 as everyone knows is a special day, but she is good."
It is highly unlikely that Wolff will ever race an F1 car for Williams.
The team are expected to keep Maldonado next year, and their Finnish reserve driver Valtteri Bottas is tipped to be promoted to a race seat alongside him, although there is a possibility they may decide to keep Maldonado's team-mate Bruno Senna.
Wolff said: "Today was a good step forward for me to drive a Formula 1 car for the first time, but I'm not going to run before I can walk.
"I have to show the team today I am capable, can do the job well and hopefully get more opportunities to drive the car.
"You cannot underestimate how talented the drivers are on the Formula 1 grid, and how on the limit they are. It's an incredible level.
"For me the journey is just starting, my first time in the car and let's see where that takes me."
Wolff's driving was restricted to 100km in total because of F1's testing restrictions.