Formula 1's greatest drivers. Number 4: Michael Schumacher
Last updated on .From the section Formula 1823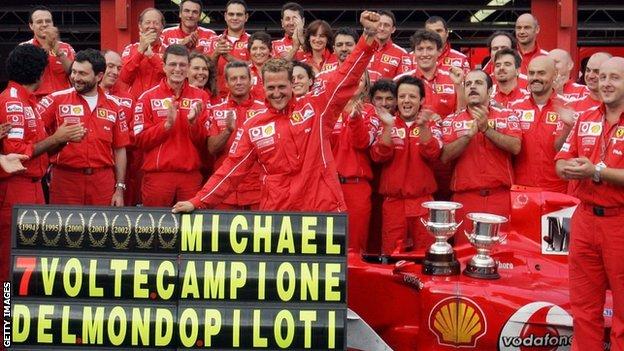 During 2012, BBC Sport profiled 20 of the greatest Formula 1 drivers of all time. Chief F1 writer Andrew Benson profiled the drivers - here he looks at Michael Schumacher.
Michael Schumacher's monumental achievements came about through a perfect storm of an exceptionally talented and hard-working driver, ground-breaking technical achievement, a bottomless pit of money and a ruthless management that exploited every last avenue to its benefit.
The result was a redefinition of what was possible in Formula 1 - five consecutive world championships; 56 victories in seven years from 2000-6; a total of seven titles and 91 wins for Schumacher's career.
Michael Schumacher facts

Born:

3 January 1969

First GP win:

Belgium 1992

Nationality:

German

Last GP win:

China 2006

Championships:

7 (1994, 1995, 2000, 2001, 2002, 2003, 2004)

Races started:

303

Wins:

91 (155 podium finishes)
At his disposal in the early 2000s, Schumacher had a number of advantages from which probably no other driver in history has benefited for so long.
On top of those already mentioned was arguably the greatest of all - bespoke Bridgestone tyres effectively custom-made for Schumacher himself.
These factors were all instrumental in Schumacher re-writing the record books; he holds virtually every landmark statistic in the sport.
He found himself in the position to exploit them, though, because he was the greatest driver of his era.
That era spanned the gap between the end of the Senna/Prost years and the dawning of a new age with a depth of talent and opposition far richer than Schumacher had to face.
Through the late 1990s and into 2000, only Mika Hakkinen was in his league - the Finn had the speed but not the same discipline and consistency. Then, when Fernando Alonso and Kimi Raikkonen arrived in the early 21st century, they only rarely had cars that could challenge Schumacher and Ferrari.

Regardless, Schumacher at his peak would have been a challenge for the best of any era. His combination of blistering pace, metronomic consistency and dubious morality was a potent mix indeed.
His particular excellence was his ability to operate at his peak on every lap, of every race, for years at a time. Ferrari - and before them Benetton, where he won his first two titles - exploited this to leave less-fortunate rivals looking flat-footed.
This is one of two over-riding characteristics that defined his 'first' career. The other is controversy.
It followed Schumacher from the very beginning, when after a jaw-dropping debut with Jordan at the 1991 Belgian Grand Prix he was poached by Benetton - with a little help from F1 boss Bernie Ecclestone - by the next race, despite being under contract.
A first win came in his first full season, on the first anniversary of his debut, and in the mixed conditions in which he so-often excelled.
A second arrived a little over a year later in Portugal, fending off the new world champion Alain Prost with the help of the sort of questionable tactics in defence which were to become all too familiar.
The trickle soon turned into a flood - both in terms of victories and controversies.
Ayrton Senna joined Williams for 1994 and was expected to continue the team's domination of F1, but the new FW16 was a handful, and Benetton had pulled out all the stops with the B194.
Senna, his skill over-riding deficiencies in his car, took pole position for the first race in Brazil but he was chased down and beaten by Schumacher, Senna suffering the ignominy of spinning in the closing laps in his desperation to keep up.

When he was taken out at the first corner at the second race at Aida in Japan, Senna stood watching Schumacher's Benetton canter to victory, and became convinced something was amiss. He felt Schumacher was benefiting from electronic driver-aids that had been banned after 1993.
It was the start of a cataclysmic year. Senna was killed at the next race in Imola and Schumacher dominated the season before things started to unravel at Benetton.
A too-perfect start in France got tongues wagging, before Schumacher was disqualified from the British Grand Prix for ignoring black flags.
At the disciplinary hearing into that offence, Schumacher was given a two-race ban - and the team were cleared of using illegal driver aids found in the car's electronics on the grounds there was no evidence they had been used.
The ban - and a second disqualification after winning in Belgium because his under-floor plank was too worn - meant the title went down to the wire between Schumacher and Williams' Damon Hill.
Schumacher won it but only after he deliberately drove into Hill, who was trying to pass him after seeing the Benetton go off the track at the previous corner. The collision put both men out of the race.
After crushing Williams drivers Hill and David Coulthard in 1995, Schumacher joined Ferrari. His first season at Maranello was one of his greatest.
He won three races in a car that was miles off the pace, his driving on a separate level from the rest. The best was a stunning victory in torrential rain in Spain, where he routinely lapped as much as five seconds faster than anyone else.
When the key people from Benetton - technical director Ross Brawn and chief designer Rory Byrne - joined Schumacher at Maranello for 1997, it was the start of a new era that changed the face of F1.
Working under team boss Jean Todt, they would redefine what an F1 car was capable of - not only in terms of performance, but also reliability and consistency of operation, raising standards to a level that it took rivals years to match.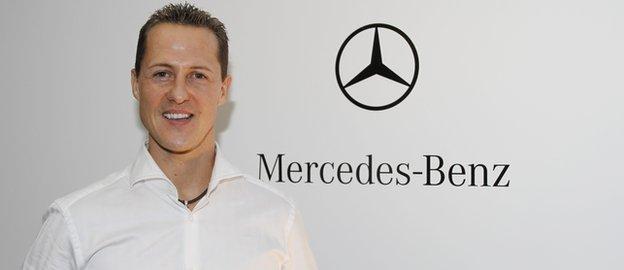 Schumacher took the 1997 title to the wire against Williams' Jacques Villeneuve - only to be disqualified from the season (but allowed to keep his victories) after trying for the second time to win a championship by barging a rival off the track. This time, it failed, and he was found guilty.
He came close again in a titanic battle with Hakkinen and McLaren in 1998, broke his leg in a crash in the middle of 1999, and finally delivered in 2000. The long-awaited title - Ferrari's first drivers' crown for 21 years - came after a stupendous flat-out battle with Hakkinen at Suzuka in Japan.
That opened the flood-gates; Schumacher and Ferrari won another four championships in a row. Only in 2003 did he face any sustained opposition.
The winning streak finally ended in 2005, when a rule change intended to stop Ferrari in their tracks did exactly that - Bridgestone were unable to match rivals Michelin in building tyres that now needed to last an entire race.
The rule was quickly reversed for 2006 and Ferrari were competitive once more. But again Schumacher hit below the belt in his title fight, notoriously parking his car on the track in qualifying at Monaco to stop Alonso taking pole.
In the end, Schumacher lost the title battle to Alonso, but his first career ended on a high with a superlative fight-back drive at the final race in Brazil.
After three years away, struggling to find something to give his life meaning, Schumacher was back, this time with Mercedes, but it was as a pale shadow of what he used to be. Only rarely did he get anywhere close to what he was.
His generally underwhelming performances ended with him being forced into retirement by Mercedes' decision to sign Lewis Hamilton. And they have ignited a debate within F1 about the advantages Schumacher had at his disposal, and how in that context his career should be judged.
But while he undoubtedly had the cards stacked in his favour for long periods, the evidence for him being one of the greatest is overwhelming.
For some it's the many outstanding victories; for others it's how he used to blitz the field on his first flying lap on a Friday morning, just to emphasise his superiority.
For this writer, it was all that and more. Above all, it was a qualifying session in Argentina in 1996, when he hauled the recalcitrant Ferrari F310 onto the front row with a display of driving acrobatics that had to be seen to be believed.
At times like that, the avalanche of numbers was irrelevant; it was perfectly clear how good Michael Schumacher was.
Number 17 - Emerson Fittipaldi