The Indian Grand Prix is special, says Jaime Alguersuari

By Jaime Alguersuari
Former F1 driver and BBC Radio 5 live analyst
Last updated on .From the section Formula 1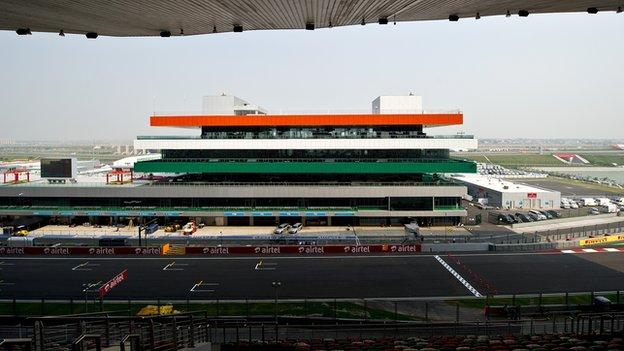 The Indian Grand Prix is only in its second year but already it is one of the best events on the Formula 1 calendar.
The race was new for last year, a lot was expected of the event and it delivered.
The layout of the Buddh International Circuit is one of the best in the championship. It is very high speed, with fast chicanes, and there are good places to overtake. It's just amazing, really.
We had great racing there last year and I expect a lot from the race this weekend.
One corner stands out in particular. It's listed on the circuit map as Turns 10 and 11, but actually it is one long right-hander that seems to go on forever.
It's just fantastic to go through there and feel like the corner is never ending. It's high speed, in fifth gear, and it's never easy for the outside front tyre.
After that, there is a fast chicane, left and right. I don't know of any other tracks that have this combination of corners. It's one of the reasons why the Indian Grand Prix is so special.
Quite apart from the race itself, going to India is extraordinary in its own right.
This is one of the special things about F1 - it can give to your life new things you would never experience unless you were in the sport.
Last year, I had the chance to go to Agra and see the Taj Mahal, which is as amazing as everyone says. But being in India also teaches you things about the world.
People live a different life than we are used to in the west, and going there helps you understand things you might have not realised before.
The circumstances people live in there, the conditions; they have so little, and yet they are so happy, and you realise what is important in life after you have been there, and what is not. I could talk about it much more extensively, but really you have to go there to fully understand.
INDIAN GRAND PRIX FORM GUIDE
In terms of performances, I don't expect India to be much different from the last couple of races in Korea and Japan.
The combination of corners and circuit layout is reasonably similar and I would expect Red Bull to lead the way again, with Ferrari and McLaren their closest challengers.
It is a difficult track for the teams and drivers, because it is so varied.
There are fast corners, slow corners, medium-speed corners, long straights, hard braking and overtaking places. It's tough for the tyres.
The circuit is not used much through the year, so it will be quite dusty and the improvement in the track throughout the weekend will be quite high.
The tyres will also play a big part.
Pirelli has decided this year to use the 'hard' compound along with the 'soft'.
That means the lap-time difference between the two tyres will be quite large, and the strategy will change, too. We might see some drivers doing only one pit stop, starting on the hard compound.
We have seen at several grands prix this year that the 'hard' tyre is a very effective race tyre.
There have been some cases where races have been won because of a different tyre strategy - Red Bull's Mark Webber beat Ferrari's Fernando Alonso at Silverstone because Alonso was on the 'soft' tyre at the end of the race and he was unable to fend off Webber on the 'hard'.
It will be different in India because the ambient temperatures will be hotter, and that means it will benefit more the soft tyre, which has a higher working temperature range, so it struggles more at cooler temperatures.
Likewise, the 'hard' tyre works well in lower temperatures as it has a lower working temperature range. So it will be interesting to see how those two things work out in India. It could be a crucial factor in the race.