Mark Webber will not pull over to help Sebastian Vettel win

By Andrew Benson
Chief F1 writer
Last updated on .From the section Formula 1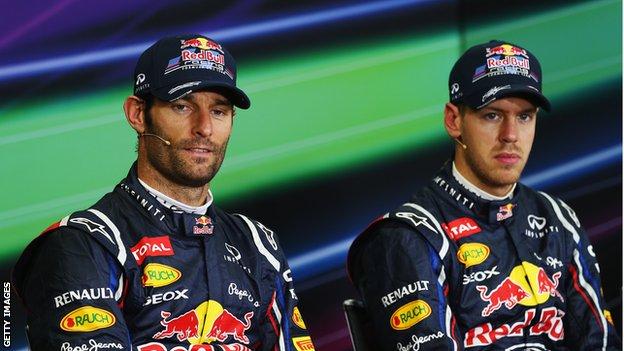 Red Bull's Mark Webber has made it clear he will not pull over and hand victory to team-mate Sebastian Vettel to help the German's title bid.
Vettel has a six-point lead over Ferrari's Fernando Alonso ahead of this weekend's Indian Grand Prix, while Webber is 63 points behind with 100 points available.
Asked if he would be allowed to win if he was leading with Vettel behind him in the race, Webber said: "I will win. That's it."
He added: "If I'm in the lead this weekend, I'm not pulling over for anyone."
Asked if he thought that would bring consequences from the team, he pointed to Red Bull team boss Christian Horner's assertion that Webber would be allowed to race while he still had a mathematical chance of the title.
"This weekend, if I have a chance to win the grand prix, I will go for it," the Australian said. "Mathematically I have a chance."
But he admitted his title chances were slim in the extreme.
"It's going to take a lot of smelly races for Seb and Fernando," Webber said.
"Winning some races is going to be useful but if those guys are finishing as they normally do it's going to be difficult to get those kinds of points back, given how the points are spread now. Very difficult but never say never."
Vettel has overhauled Alonso's once-substantial advantage with three consecutive victories in Singapore,Japan and Korea, and this weekend's Indian Grand Prix track is also expected to suit their car.
"This track should be pretty good for us," Webber said. "How much company we'll have [I don't know].
"Ferrari and McLaren are always there or thereabouts. We should be OK."
McLaren's Lewis Hamilton, who also still has a mathematical chance of the championship but has written off his hopes, said he thought that "on a dry weekend, Red Bull are way ahead [of the rest]".
But Alonso said that despite Red Bull's performance advantage, he was still optimistic of keeping the title fight open until the last race of the season in Brazil next month.
"We struggle in this championship with the car, especially in the first part, and now there are four races to go, full attack.
"Everyone will have their own strong and weak points. At the moment we think and we saw in the last races Red Bull have the fastest car, especially on Saturday, and this is the point they will try to use, and we will try to use our strong points.
"Everyone was a bit up and down this season. We were leading the championship until Korea thanks to our consistency and avoiding mistakes. So far we have been doing 16 perfect races. If we do another four, we will be very close to winning the championship."
Vettel said: "We'll try to do our best to make sure we stay there but in terms of our approach etc nothing really changes. It will be extremely important races for us, but we have to do our best and then go from there.
"You want to finish ahead of everyone ideally, or the one you're racing [in the championship]. And if you are in the other position you might afford here or there to not take the risks. We are in a good position, but not a position to lean back."
Lotus's Kimi Raikkonen is the other driver in title contention, in third place 48 points behind Vettel.
He said: "Right now we are not the fastest car so we need more help to really win it but we will keep trying and hopefully we can achieve it. We will try until there's no chance. But if we can improve the car in the next three races, you never know."