Indian GP: Ferrari flag not political, says Indian motorsport boss
Last updated on .From the section Formula 1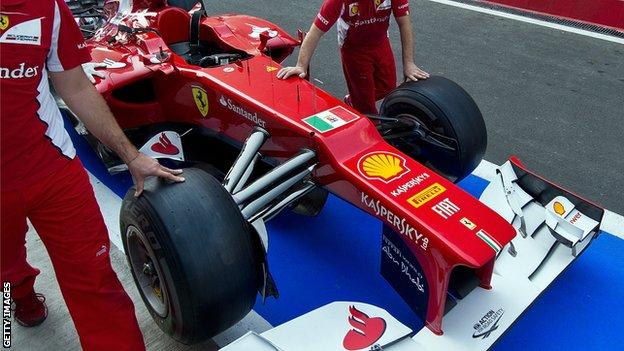 Indian Motorsports Federation (FMSCI) has said it is satisfied that Ferrari's decision to carry Italian navy flags on their cars is not a political stance.
Both Fernando Alonso and Felipe Massa will carry the emblem on their cars at the Indian Grand Prix.
Two Italian navy marines are facing trial in India, but FMSCI head Vicky Chandhok believes Ferrari are not promoting a political message.
He said: "FMSCI believes the flag will not have any effect on the case."
Chandhok continued: "The FMSCI would like to maintain that the FIA code of motorsport is apolitical and non-religious and the FMSCI will not permit motorsports to be politicised in any manner.
"Ferrari team principal Stefano Domenicali has confirmed their initiative of carrying their national navy flag does not have, and should not be seen as, having any political implication."
The two marines - Massimiliano Latorre and Salvatore Gironehave - were arrested in February and charged in relation to an incident that resulted in the deaths of two Indian fishermen.
They have been granted bail but must remain in India, although Italy feels they should be able to return home because the incident took place in international waters.
Ferrari denied displaying the flag was a political statement on Friday, with team boss Stefano Domenicali said there "is not any political intent".
Pressed further on the matter in the team principals' press conference following Friday practice, Domenicali added: "If you look at what is written it is not really what you are saying.
Ferrari released a statement on their website earlier this week confirming their decision to display the flag of the Italian navy on its cars, saying: "Scuderia Ferrari will carry the flag of the Italian Navy on the cars driven by Fernando Alonso and Felipe Massa in this weekend's Indian Grand Prix.
"In doing so, Ferrari pays tribute to one of the outstanding entities of our country, also in the hope that the Indian and Italian authorities will soon find a solution to the situation currently involving two sailors from the Italian Navy."
The FIA's statutes state that no team should make political gestures.