Formula 1 gossip and rumours from international media
Last updated on .From the section Formula 1
FRIDAY 26 OCTOBER
Force India have denied they have any plans to hire local talent Narain Karthikeyen, piling more pressure on the driver who could struggle to retain his spot next year with HRT-Cosworth.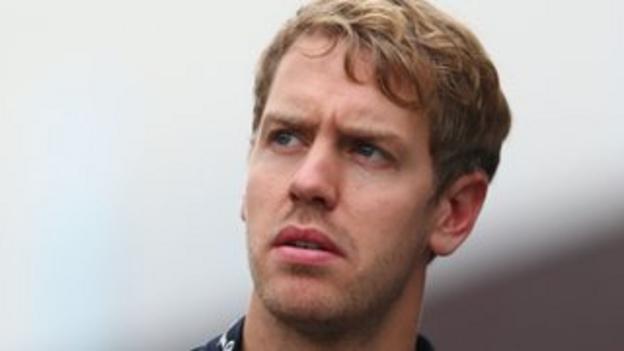 Christian Horner has stressed that Sebastian Vettel will not be moving to Ferrari in 2014.
A decision about where next year's German grand prix will take place is imminent, according to the SID news agency.
Pirelli will supply the teams with two sets of the 2013-specification tyres during Friday practice for the Brazilian Grand Prix.
Robin Frijns is set for a long-term role with Sauber, provided his run in the Abu Dhabi young driver test proves a success.
THURSDAY 25 OCTOBER
Sergio Perez is a doubt for Friday's practice sessions ahead of the Indian Grand Prix due to illness.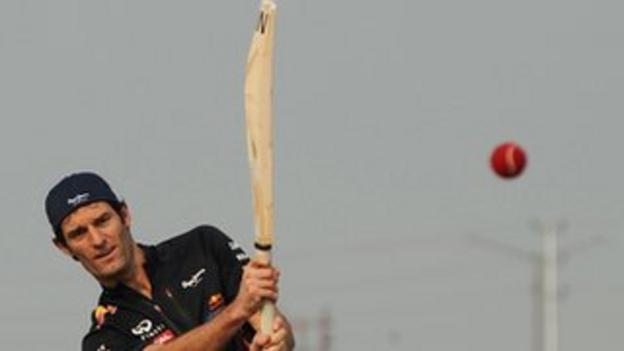 Red Bull driver Mark Webber swapped holding a steering wheel for a cricket bat as the Australian prepared for the Indian Grand Prix.
Scotland's Susie Wolff is poised to make history by becoming the Williams F1 team's test and reserve driver for the 2013 grand prix season.
Lewis Hamilton has spoken to Ron Dennis, his former team principal and mentor at McLaren, for the first time since his switch to Mercedes was announced last month.
WEDNESDAY 24 OCTOBER
Lewis Hamilton says it is unfortunate that Narain Karthikeyan is in a slower car and a move to Force India could do wonders for him and India.
Full story: New Indian Express
Ferrari's Felipe Massa has been out to prove it's not all about simulators and punishing bike rides for drivers by visiting the Taj Mahal.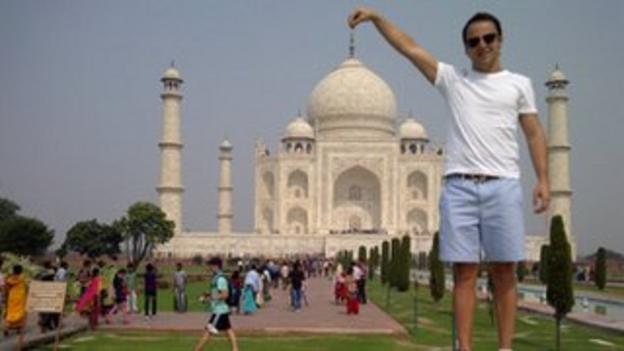 Michael Schumacher has revealed that he thought an eighth title with Mercedes was possible.
Full story: RTL
Luiz Razia and Johnny Cecotto Jr will join Toro Rosso for the young driver test at Abu Dhabi's Yas Marina circuit.
David Coulthard has become the latest motorsport great to sign up for the Race Of Champions at Bangkok's Rajamangala Stadium in December.
TUESDAY 23 OCTOBER
Lewis Hamilton has taken advantage of the brief interlude in F1's hectic run towards Interlagos by returning to say goodbye to the behind-the-scenes members of McLaren who nurtured him to world championship success.
Concorde Agreement discussions between Formula 1 teams, the FIA and F1 supremo Bernie Ecclestone look set to drag on for at least a few more weeks on the back of the latest meeting to try to reach a consensus.
Force India team principal Vijay Mallya has hailed his squad for stepping up their performances since the summer break.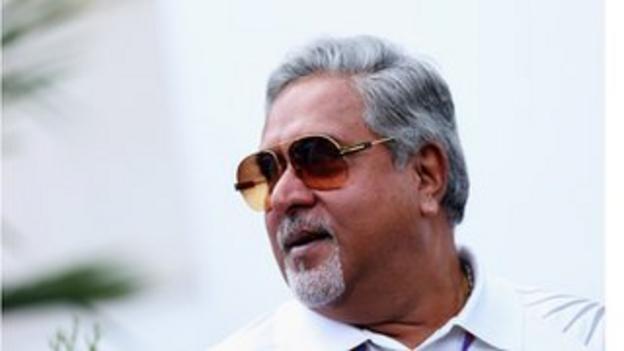 Ferrari have admitted they are concerned crucial upgrades to the F2012 car will not work as expected. Team boss Stefano Domenicali has said the Italian squad needs to find at least two tenths of a second to boost Fernando Alonso's chances of competing for the title against Red Bull's on-form new championship leader Sebastian Vettel.
Narain Karthikeyan has hit out at rumours that he will leave Formula 1 at the end of the season.
MONDAY 22 OCTOBER
Qatar are confident of getting the green light from the FIA to host testing and eventually a Grand Prix, according to the Qatar Motor and Motorcycling Federation president Nasser al-Attiyah.
Employees of Force India boss Vijay Mallya's troubled Kingfisher airline are planning a protest against non-payment of wages since March to coincide with this weekend's Indian Grand Prix.
Full story: The Times of India
McLaren are looking to ditch Mercedes and reunite with Honda - as they do not want to pay £8million for their engines.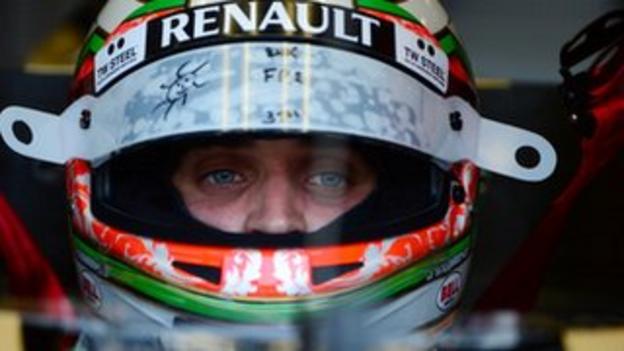 The turbulent run-up to the inaugural Indian Grand Prix last year created such a scare that Formula 1 teams are still wary of the country's bureaucratic hurdles.
Former world champion Damon Hill drove a 2010 title-winning Red Bull RB6 in a demonstration run at the World Series by Renault finals at Barcelona's Circuit de Catalunya on Sunday.
Full story: Red Bull on Twitter
The new Formula Renault 3.5 champion, Dutchman Robin Frijns, and his rival Portugal's Antonio Felix da Costa will both test for Red Bull at the Abu Dhabi young driver test next month.
Lotus reserve driver Jerome d'Ambrosio on Sunday became the first man to drive an F1 car around the new Circuit of the Americas in Austin, Texas, which will host November's US Grand Prix. The Belgian said: "It's a very enjoyable layout with a couple of good opportunities for overtaking, some long, fast, sweeping 'S' bends and a few really satisfying, high speed changes of direction similar to the 'Becketts' complex at Silverstone."
SUNDAY 21 OCTOBER
Romain Grosjean now needs to let go of any remaining stress over his run of startline crashes, according to his Lotus team boss Eric Boullier.
Victims of Formula 1's high-speed smash-and-grabbers are calling for a crackdown on the guilty men.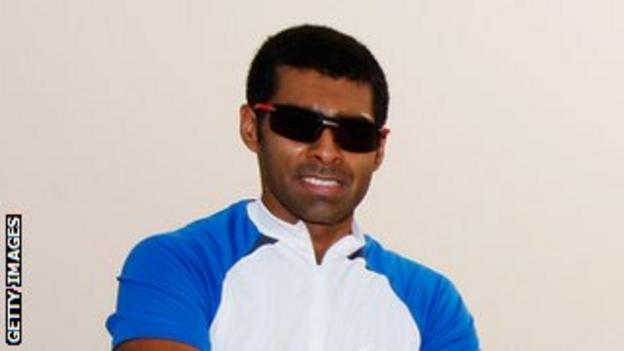 Michael Schumacher has ruled out swapping his helmet for a berth on the F1 pitwall as team boss.
Karun Chandhok has no regrets about missing out on Formula 1 action and is happy being part of the FIA World Endurance Championship, which he says is an "eye opener" for him.
FRIDAY 19 OCTOBER
Mark Webber posted a reminder of just how successful Red Bull have been recently, with his picture of the team's new trophy cabinet.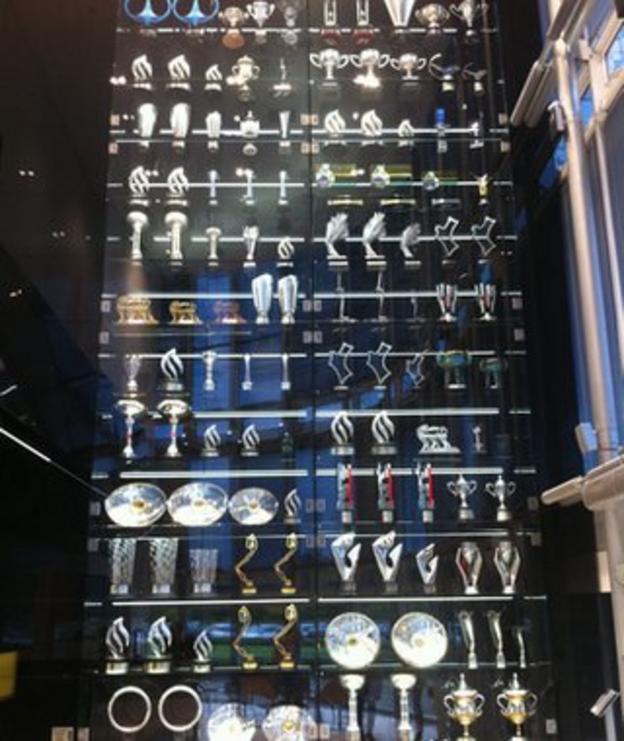 Kimi Raikkonen says the lessons of his Formula 1 world title triumph in 2007 have taught him that he needs to keep pushing until the final race of this year.
Mercedes have insisted they do not plan to ease off in the final four races of the Formula 1 season to concentrate on the arrival of Lewis Hamilton from McLaren next year to replace German "fighter" Michael Schumacher.
Lotus will become the first team to drive the newly-constructed Circuit of the Americas venue in Austin, Texas next month. 1978 Formula 1 World Champion Mario Andretti will be joined by actor Patrick Dempsey and Lotus reserve driver Jerome d'Ambrosio, with all three men completing demonstration runs with the outfit's 2010 R30.
THURSDAY 18 OCTOBER
Michael Schumacher has said he would understand why Sebastian Vettel might want to move to Ferrari to compete with Fernando Alonso at some point in the next few years.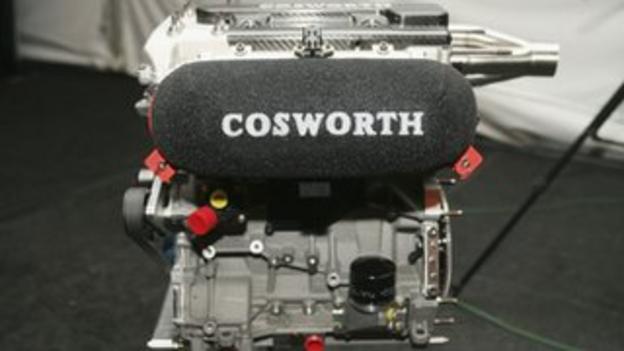 One of the great names of the British motor industry, renowned for building high performance engines for racing teams and sports cars, has been put up for sale.
After months of waiting to test the stock market with a flotation of the company, the owners of Cosworth have instructed UBS to find a buyer for the business.
Full story: The Times (requires subscription)
GMR Hyderabad International Airport Ltd (GHIAL) has withdrawn a cheque bounce case filed against Force India team owner Vijay Mallya's Kingfisher Airlines in a court in Hyderabad, after the airline agreed to pay the outstanding amount.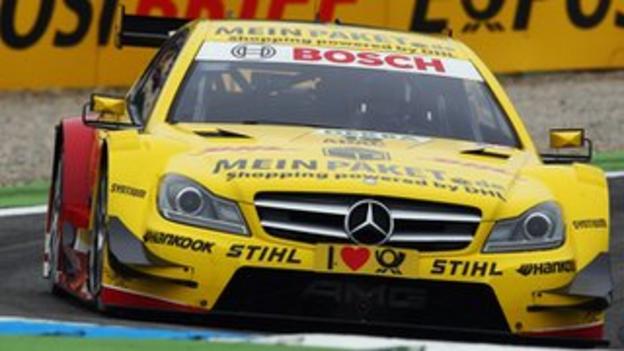 Sauber will use their Mexican reserve driver Esteban Gutierrez and Dutch Formula Renault 3.5 title contender Robert Frijns in the young driver test at Abu Dhabi from 6-8 November.
Formula 2 Champion Luciano Bachetta had his first taste of Formula 1 in a test for Williams at Silverstone on Thursday.
David Coulthard will stop racing in the DTM German touring car championship at the end of this year to concentrate on his role as BBC F1 co-commentator.
WEDNESDAY 17 OCTOBER
Sauber team boss Monisha Kaltenborn says her personal highlight of the season so far was when Kamui Kobayashi finished an "emotional" third in the Japanese Grand Prix.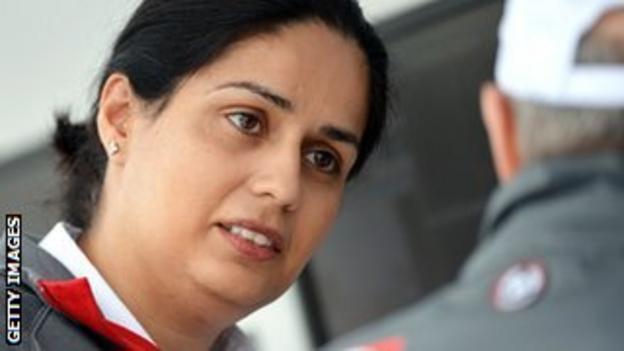 Porsche has no plans to return to F1, instead deciding to focus on the World Endurance Championship.
British world champion Damon Hill will take to the wheel of a Red Bull RB6 in an exhibition drive at the Formula Renault 3.5 Series in Barcelona.
Formula 1 teams have won an important concession over the future governance of the sport as sources revealed that the FIA and Ecclestone have backed away from plans to limit an influence over the rule making process to just the six top teams.
Newly-crowned Formula 2 Champion Luciano Bacheta will get behind the wheel of a Formula 1 car for the first time on Thursday, with the 22-year-old travelling to Silverstone for a test with Williams.
Mercedes team principal Ross Brawn is convinced that agreement can be reached on resource restriction, despite the ongoing lack of consensus.
Full story: Adam Cooper's F1 blog
Former F1 driver Rubens Barrichello, who is competing in the IndyCar championship, has brought forward his Brazilian V8 Stock Car debut to this weekend at Curitiba.
TUESDAY 16 OCTOBER
Jenson Button has dismissed suggestions that his relationship with Lewis Hamilton has turned frosty over the past few weeks.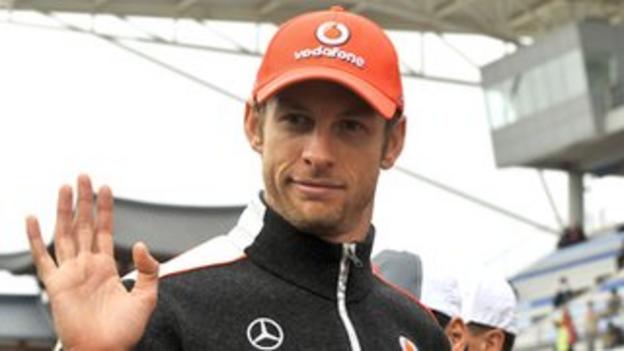 A year to the date since British racing driver Dan Wheldon passed away, Button pays tribute on Twitter: "A year ago today the world lost a true Champion and a great human being.. Can't believe it's been a year. #WewillneverforgetLionheartDan."
Formula 1 boss Bernie Ecclestone has revealed that his plan to hold a grand prix on the streets of London is unlikely to get off the grid because the government will not provide the multi-million pound support required.
Michael Schumacher has vowed not to attempt another shot at racing motorcycles, having done so and injured himself following his first F1 retirement in 2006.
Hamilton has tipped Ferrari's Fernando Alonso to win the F1 drivers' title after admitting his own challenge is over.
Following some embarrassing slip-ups, organisers of the Indian Grand Prix have named one of their kerbs after Felipe Massa. Over the course of the 2011 weekend, the Ferrari driver broke his front suspension against kerbs not once, but twice.
MONDAY 15 OCTOBER
Lewis Hamilton must wait to address his McLaren team about his move to Mercedes after his plans to take them bowling were skittled. Hamilton booked 16 lanes of a ten-pin bowling alley in Japan last Saturday only to find out the rest of the team were taking part in a charity run at the circuit.
McLaren team principal Martin Whitmarsh thinks Hamilton's refusal to give up in the Korean Grand Prix should serve as a stimulus for his team to keep pushing for the rest of the season.
Red Bull team principal Christian Horner saw the Yeongam circuit in a rosier light than others after Sebastian Vettel won the Korean Grand Prix, but Formula 1 still has a job on its hands to get local fans to make the long journey to the isolated track.
SUNDAY 14 OCTOBER
A court warrant in India against billionaire Vijay Mallya over his airline business has no repercussions for his Force India according to deputy principal Bob Fernley.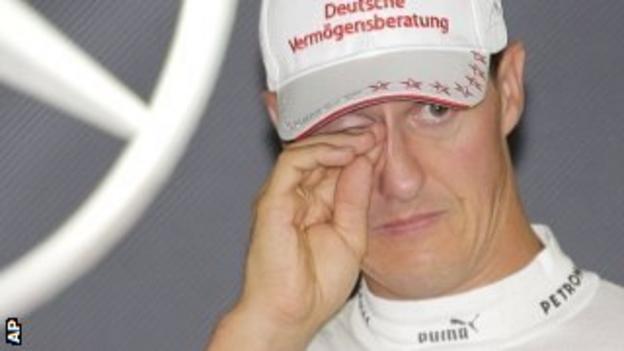 Lewis Hamilton says he is still hopeful that he will have the chance to say a proper goodbye to his McLaren team after having to cancel an evening out that he had organised for staff in Japan last weekend.
Michael Schumacher says he is looking forward to life at home when he leaves the sport at the end of the season.
McLaren believes that rival Red Bull's upturn in form is down to a genuine step forward with its whole aerodynamic package, rather than simply the recent introduction of its double-DRS.
THURSDAY 11 OCTOBER
Formula 1 boss Bernie Ecclestone has suggested Romain Grosjean might need a trip to the opticians following his seventh first-lap crash of the season in the Japanese Grand Prix.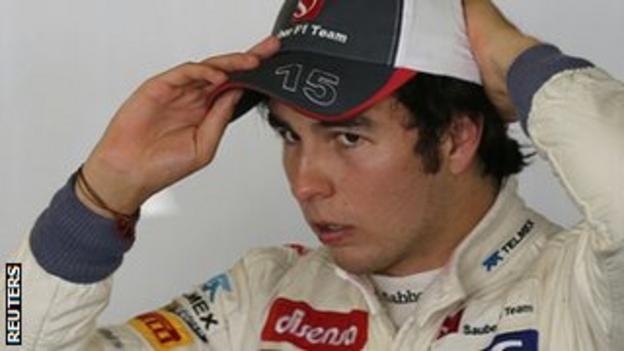 T-Sport team boss Russell Eacott, who signed Sergio Perez to his British Formula Three team in 2007 before watching him go on to win the title, believes the Mexican can win the drivers' title in his first season with McLaren in 2013.
McLaren Martin Whitmarsh says Lewis Hamilton's replacement Perez still needs to improve.
Former F1 champion Kimi Raikkonen is remaining cautious over the new Lotus updates - which include a new Coanda-effect exhaust layout - despite team principal Eric Boullier describing them as "a new era" for the team.
Australian Daniel Ricciardo is hopeful that he has now done enough to secure his F1 future at Toro Rosso for another year.
Caterham boss Tony Fernandes is hopeful that the team will soon be able to reach an agreement with Heikki Kovalainen for next season.
WEDNESDAY 10 OCTOBER
Maria de Villota, who will on Thursday hold the first news conference since losing her eye in a testing crash in the summer, has described to Spain's Hola magazine the horror she felt when she first woke up after the incident. "The first day I looked in the mirror, I had 104 stitches on my face, it was black, seemed sewn with nautical rope, and I had lost [my] right eye. I was horrified." But she added: "I won this race because I'm alive."
Full story: Hola! Magazine (in Spanish)
Honda is open to the idea of a return to Formula 1 in the future, even though it thinks such a move will not happen in the short-term.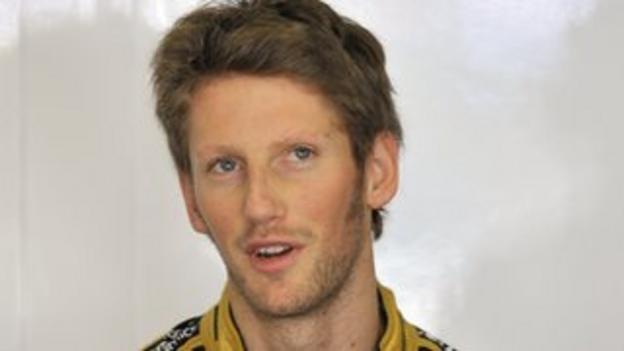 Romain Grosjean faces an uncertain future following his latest first-lap calamity after Lotus team principal Eric Boullier demanded an improvement from his hot-headed driver.
Grosjean knows he needs to improve, and says he has apologised to Red Bull's Mark Webber for his latest race incident.
Pastor Maldonado has declined to commit to Williams for next season, knowing that a loss of his substantial backing from Venezuela could compromise the drive.
MONDAY 8 OCTOBER
Organisers of the Korean Grand Prix face the monumental task of plugging a gaping hole in its bottom line and turning its finances around. With this year's event running from Friday through Sunday, two of its main sponsors have pulled out, with the deficit estimated to reach £16.8m.
Kamui Kobayashi's emotional podium finish in the Japanese Grand Prix is unlikely to have much impact on his chances of staying at Sauber next year, say his bosses.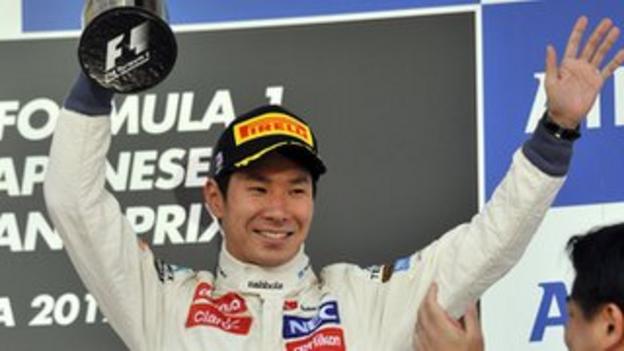 Kobayashi celebrated the first podium of his F1 career at a party with Japanese fans. "I've always felt that if you ever want to look back and regard yourself as a Formula One driver, you have to have been on the podium at least once," he said. "Without such a photo it's a bit as if you had never been there. So it means a lot to me."
Pastor Maldonado is happy keeping his future options open, despite finally getting back in to the points with Williams at the Japanese Grand Prix.
The F1 drivers are enjoying two days of down time before the Korean Grand Prix. Fernando Alonso is "discovering interesting places" in Tokyo, before a stretching session in the gym. Heikki Kovalainen is playing golf and making his annual trip to Tokyo's Hard Rock Cafe.
Fernando Alonso on Twitter and Heikki Kovalainen on Twitter
SATURDAY 6 OCTOBER
The Formula 1 race set for Weehawken, New Jersey, next June will take place as scheduled, and all outstanding contract obligations, including safety and facility reviews, will be met, according to event promoter Leo Hindery.
Formula 1 chiefs have called teams to a summit meeting in Paris later this month to try and finalise a deal to secure the sport's future.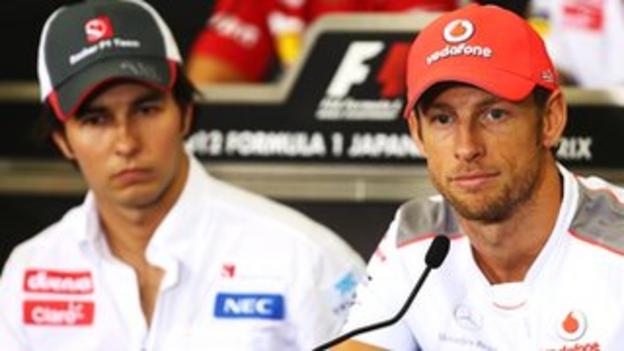 Jenson Button says he is happy to play the senior citizen role at McLaren next season alongside new team-mate Sergio Perez.
Greece is moving forward with plans to build an F1 track as it targets a race in 2016. The government will subsidise a third of the cost for the build while an event promoter is already in place.
Sauber do not think their competitiveness will be hurt if they decide to run with two different drivers next year.
FRIDAY 5 OCTOBER
Mexican driver Sergio Perez says he is going to McLaren "to win the title, not just to win races".
McLaren are confident they will not suffer a repeat of the gearbox problems that forced Lewis Hamilton to retire from the Singapore Grand Prix and resulted in a grid penalty for Jenson Button this weekend in Japan.
Romain Grosjean is ready to help Lotus team-mate Kimi Raikkonen in the World Championship if the situation arises.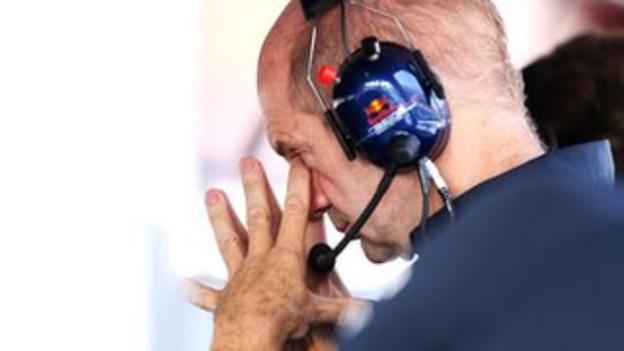 Seven-time world champion Michael Schumacher is convinced that Lewis Hamilton is the right man to replace him at Mercedes.
Red Bull technical boss Adrian Newey has spoken of his frustration that the current rules in F1 stifle creativity, but recognises that without tight regulation F1 would become an arms race.
Pastor Maldonado has claimed Williams was 'even worse' when former driver Rubens Barrichello was involved. The Venezuelan, who was Barrichello's team-mate last year, dismissed the Brazilian's allegation that more experienced drivers would have ensured Williams 'at least double the number of points' so far in 2012.
Finnish driver Heikki Kovalainen is confident of agreeing a new deal with Caterham before the end of the season.
Lotus have said that reserve driver Nicolas Prost will be among those at the wheel for the team during their young driver test in Abu Dhabi next month.
THURSDAY 4 OCTOBER
Nico Hulkenberg has stayed quiet over his future in F1 amidst speculation linking him with Ferrari for 2013.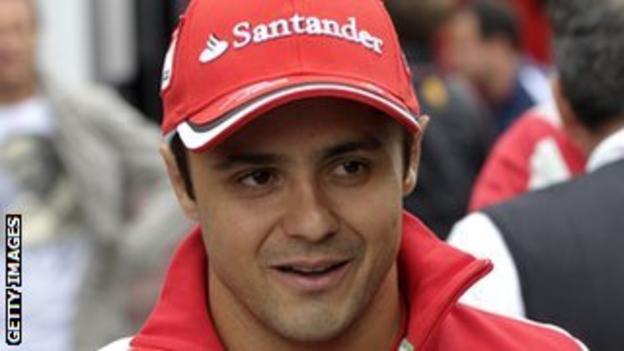 Felipe Massa remains confident that he can retain his seat at Ferrari for 2013, despite speculation that he will be replaced by either one of Force India duo Nico Hulkenberg or Paul di Resta.
Michael Schumacher elected not to remain in Formula 1 with a team other than Mercedes, the seven-time World Champion has revealed.
WEDNESDAY 3 OCTOBER
McLaren and Red Bull are at the centre of a new technical row. McLaren's superiority since Hungary is explained by a new front wing that gives an aerodynamic advantage by twisting on the horizontal axis. Red Bull followed suit in Singapore with a more extreme version. Ferrari have discovered the trick and reported it to the FIA.
Full story: Auto Motor und Sport (in German)
Thailand are in talks to host their first ever Formula One race in 2014, the country's tourism and sports minister said yesterday. "It's unlikely we'll have any problem," Chumpol Silpa-archa said, adding that negotiations with Formula One's governing body, the FIA, were more than halfway through.
Michael Schumacher is definitely not on Ferrari's list as a potential replacement for Felipe Massa next season.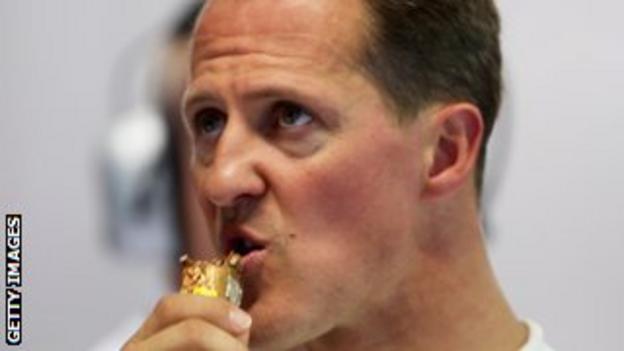 Full story: Autosprint (in Italian)
Lotus are hopeful they can overtake Ferrari and take third place in the constructors' championship before the end of the season.
The DRS overtaking zone at the Japanese Grand Prix has been shortened by 20 metres compared to last year.
Alain Prost has hinted that he could give Renault's new 2014 engine an on-track test in the next two months.
TUESDAY 2 OCTOBER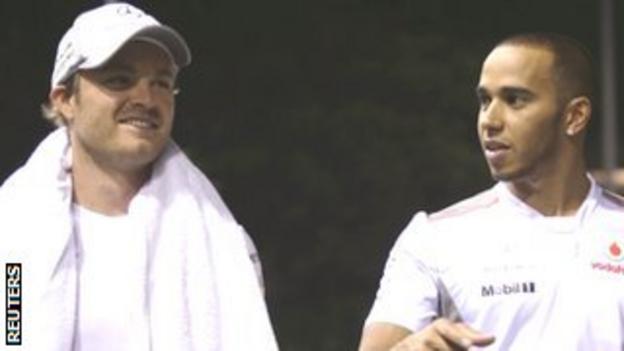 Lewis Hamilton should be on the lookout for more pranks from his new Mercedes team-mate Nico Rosberg in 2013. The German revealed he once smeared Tiger Balm into Hamilton's underpants when they were junior racers.
Rosberg also warned: "I don't expect to play second fiddle in the team next year."
Mercedes chief Norbert Haug says he isn't surprised Lewis Hamilton chose to join the German team, despite their faltering form on track. "He's already a member of the Mercedes family," said Haug. "He knows us, he trusts us."
Kamui Kobayashi has been giving an insight into his personality ahead of his home race in Japan. The Sauber driver says he would like to learn more about the economy, that his main priority is doing his laundry and that one day he'd like to build his own house.
Lotus driver Romain Grosjean says 2012 won't be a disaster if the team fail to win a race because consistent results are more important. "If you win one race and then the next race you are nowhere, that's not really what we want," he said.
MONDAY 1 OCTOBER
If Lewis Hamilton had said no to Mercedes, their 'Plan B' was Sergio Perez - the man who went to McLaren in place of Hamilton. Michael Schumacher was only third in line at Mercedes.
Full story: Auto Motor und Sport (in German)
Sauber have said they are considering whether to pursue Schumacher as a potential driver for next season. Chief executive Monisha Kaltenborn said: "Of course, it's a lovely thought, and of course, we think about whether we can get a seven-time world champion when he is on the market. Michael has so far only driven for large manufacturer teams with which we cannot compare ourselves."
McLaren's Hamilton says it is "gloves off" for him in his attempt to claw back a 52-point world championship deficit on Ferrari's Fernando Alonso with six races to go. "There's nothing to really be gained by analysing the points tables," Hamilton said.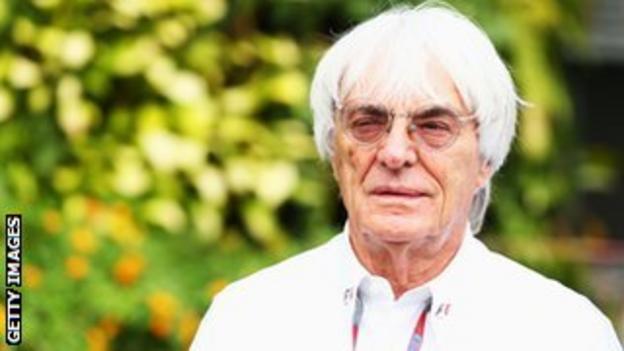 Formula 1 boss Bernie Ecclestone has revealed that controversial environmentally-friendly new engines which are due to be introduced to the sport in 2014 are likely to be scrapped.
Full story: The Hindustan Times
Ecclestone says he is in negotiations to save the financially stricken Nurburgring to ensure the German Grand Prix goes ahead there next year. He says he "will not be buying the Nurburgring" but adds that he has offered to waive the race fee in exchange for 100% of the revenues.
Pirelli motorsport director Paul Hembery believes the decision to take the 'hard' and 'soft' tyre compounds to this weekend's Japanese Grand Prix will "give the teams plenty of opportunity to put together some interesting race strategies to gain track position".
Greece unblocked a subsidy of £23.1m for the construction of an international-standard racetrack that can be used for staging Formula 1 car racing, the Ministry of Development said.
Ferrari will stop using their wind tunnel for car development for a period this winter so they can check and update it. "The real trouble is that sometimes the data matches and this creates even more confusion," said Ferrari president Luca di Montezemolo, referring to times when the wind tunnel data has not matched that from the track. "Domenicali has reached a conclusion: to shut down our wind tunnel for a while and do our tests elsewhere, in order to verify and re-calibrate everything."
(Gazzetta dello Sport)
SUNDAY 30 SEPTEMBER
McLaren driver Jenson Button decided to retire from Sunday's Yokohama Triathlon, which he was using as part of his build-up to the Japanese Grand Prix, because of the rain. The 2009 world champion said: "Not worth the risk as I've got a pretty big weekend coming up!! Shame as felt good."
Full story: Jenson Button on Twitter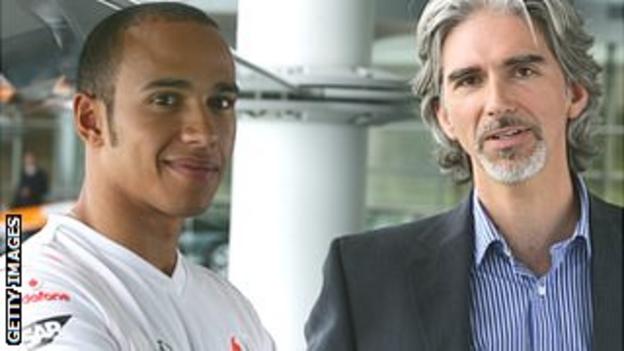 Former world champion Damon Hill says he understands why Lewis Hamilton chose to leave McLaren for Mercedes. "Lewis has been like a caged bird at McLaren," Hill said. "He'd been managed to within an inch of his life."
Four-time world champion Alain Prost declared modern F1 cars as "not too different" from those he won his titles. He was speaking after returning to an F1 cockpit in Red Bull's 2010 championship-winning car in a series of demonstration runs. Prost won his titles between 1985 and 1993.
SATURDAY 29 SEPTEMBER
Formula 1 boss Bernie Ecclestone has revealed that the controversial new environmentally-friendly engines which are due to be introduced to the sport in 2014 are likely to be scrapped.
Lewis Hamilton can thank Michael Schumacher's indecisiveness for allowing Mercedes to pull off a signing coup and push the seven-time champion towards the brink of retirement for a second time.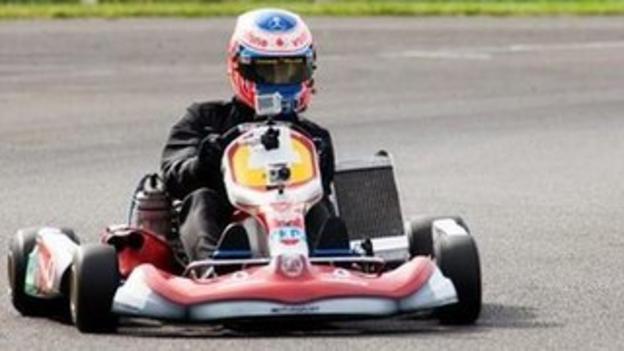 Lewis Hamilton has declared that "the gloves are off" in his quest for a second world title, with the outgoing McLaren driver eager to make up for the disappointment of his Singapore retirement.
Kimi Raikkonen is aware that his Lotus team needs to take a step forward in performance if it wants to fight near the top in the Japanese Grand Prix.
"Some things never change, karting is still the purest form of motorsport," tweeted Jenson Button after having a go in Japan.
THURSDAY 27 SEPTEMBER
The Bavarian prosecution service plans to indict Bernie Ecclestone in the case of the disgraced banker Gerhard Gribkowsky, who has been convicted of taking bribes from the Formula 1 boss. The key evidence is their contention that Ecclestone knew Gribkowsky was a public official.
Full story: Suddeutsche Zeitung (in German)
Thai GP: The kingdom has struck an initial deal to host a Formula 1 race in 2014, Kanokphand Chulakasem, governor of the Sports Authority of Thailand has said.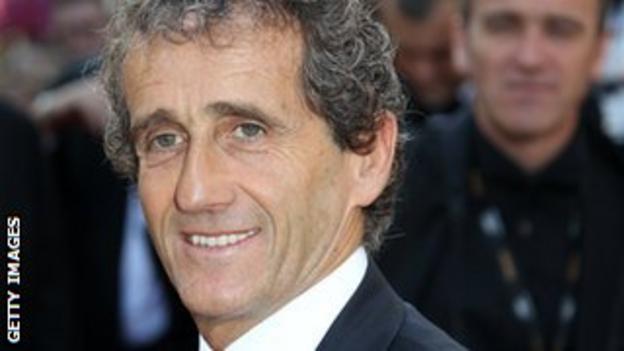 Max Chilton, who finished fourth in GP2 this year, is set to become the fourth British driver on the grid next year. He is expected to be promoted from his new role as reserve driver at Marussia to a race seat.
(Autosport magazine)
Four-time Formula 1 world champion Alain Prost will return to the wheel of a grand prix car when he drives Red Bull's RB6 at Paul Ricard this weekend.