We're fighting Newey as well as Vettel, says Fernando Alonso

By Andrew Benson
Chief F1 writer in Noida
Last updated on .From the section Formula 1
Ferrari's Fernando Alonso says he is fighting his title battle against Red Bull team's designer Adrian Newey as well as rival Sebastian Vettel.
Vettel took the title lead from Alonso after three consecutive wins, following a major update to the Red Bull.
"When we had similar cars to everyone, we were leading the championship. Now we are fighting against a Newey car," Alonso said after qualifying fifth.
"They are first and second in all the races; it's not only Sebastian."
Alonso was 0.49 seconds slower than Vettel in qualifying, as the German's team-mate Mark Webber made it the third Red Bull front-row lock-out in as many races.
McLaren drivers Lewis Hamilton and Jenson Button will start third and fourth.
"Very little [we can] do on Saturday," said Alonso, who is six points behind Vettel in the championship. "Normally on Sundays we improve things and are a little bit more competitive.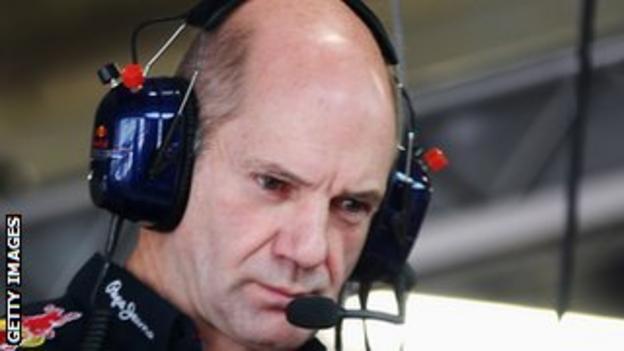 "The target for tomorrow is to arrive in front of Sebastian. We need to do a good start, overtake the McLarens and put pressure on the Red Bulls.
"If they have an easy race it will be the worst conditions for us, so we need to put pressure."
Red Bull have dominated since introducing a development at the Singapore Grand Prix, which was further refined at the Japanese and Korean races and now here in India.
The parts are the end product of the attempts of Newey, regarded as F1's pre-eminent aerodynamic engineer, to get the car back to producing enough downforce to enable Red Bull to run their car as they did when they dominated in Vettel's two title-winning years of 2010 and 2011.
"We are working hard but we are working as a team and everyone is 100% committed," said Vettel. "Everyone has their role and tries to fulfil their part. Adrian, Mark, Christian, myself, I could give you a lot of names, we want to fight for this championship as a team."
Ferrari have introduced their own upgrade in India after a series of new parts in previous races did not work as intended and had to be abandoned.
"We are improving our car and we are making it faster, especially in this race, not so much in the last few grand prixs," said Alonso, who heads into Sunday's Indian Grand Prix six points behind Vettel.
"But you need to put something big in your car when you are not the fastest to become the fastest. You need a big upgrade, and what we have in India is a small upgrade."
He added: "We are relatively happy with our progress but in the two weeks [since Korea] the others did also progress or even more than us, so it is time for us to work and bring in Abu Dhabi, USA and Brazil something more clever."
He insisted he still believed he could end the year as champion, despite Red Bull's run of form.
"I think it is more challenging for us now, but I remain 100% confident we will fight for the world championship and we will win it," Alonso added.
"They are dominant on Saturday. They have the fastest car. They are first and second, one pole position was for Webber in Korea, one pole position for Vettel.
"But on Sunday normally our pace improves a little bit and in Korea also we were putting some pressure on Webber especially so let's wait for tomorrow.
"I think we can do a good race tomorrow. I still think we can take some good points. Hopefully more points than Sebastian.
"And in the next races hopefully we will be a little bit more competitive. The first target is to finish in front of them tomorrow and I think we have chances to do it."