Paul Di Resta concern over car after poor qualifying in India
Last updated on .From the section Formula 1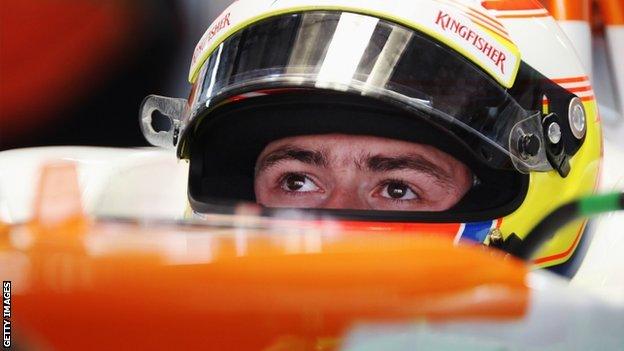 Paul Di Resta expects Force India to launch an investigation into why his qualifying times have been so much slower than team-mate Nico Hulkenberg.
The Scot will start 16th on the grid, while the German was 0.7 seconds faster in qualifying 12th for the Indian Grand Prix at Buddh International Circuit.
"There are indications there is something not quite right with the car. I can feel it in the car," he said.
"You never see that much of a difference between me and Nico."
Only once in Di Resta's 46 grands prix has he qualified any worse than 16th and that was in Belgium last year when he started 17th.
"I would think there will be a massive investigation on it," he said.
"I can't get any consistency or confidence in the car. I've never felt it as nervous as that.
"Yesterday, we put it down to issues with a puncture, but it's clear it's more serious than that.
"It resulted in the hardest qualifying session I've had to contend with in Formula One.
"So we need to get on top of things, to understand what the actual issue is to rectify it.
"We're looking at it, with the data showing signs of some things we can pick up on."
However, Di Resta is refusing to rule out the possibility of a top-10 finish.
"It's going to be damage limitation tomorrow, but I'm not going to give up on it," he said.
"We're reasonably hopeful we can try and do something and we'll certainly put the pressure on to try and do it."
With the next race in Abu Dhabi only a week away, Di Resta has no doubts the team will resolve the issues
"There won't be a repeat of this in Abu Dhabi, that's for sure," said Di Resta.
"The focus tomorrow is to try and see what we can do and there are things we need to make sure are right with the car.
"Beyond that, I believe there is enough time for us to get to the bottom of things before Abu Dhabi."