Jaime Alguersuari column: The genius of Newey and Red Bull

By Jaime Alguersuari
BBC Radio 5 live analyst
Last updated on .From the section Formula 1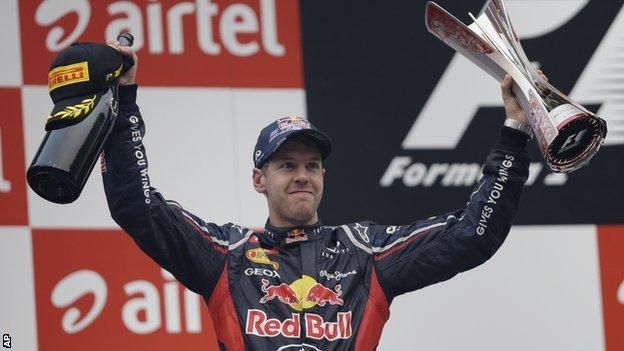 Sebastian Vettel's victory for Red Bull in the Indian Grand Prix was predictable after the form they had shown in Japan and Korea.
The way Red Bull have stepped up their game in the last part of the season is very impressive.
They have been developing the car since the beginning of the season, and they've had some problems, but now they have really improved it - especially at the rear, with the blend of exhausts and downforce.
It is amazing to watch this 'Adrian Newey period', as we can call it, during these years since the introduction of a new set of regulations in 2009.
In this new formula, Newey, who leads Red Bull's design team, is the man. It's incredible to see this one guy doing what he can do, working with so many people and with so much money, to succeed like this.
But it's not just a question of money - other teams have similar budgets to Red Bull. It is about thinking, and organising the team in a better way.
It is difficult for the other drivers to see this, especially Vettel's title rival Fernando Alonso of Ferrari.
But a racing driver has to understand that whenever he has a chance to dominate F1 - as Alonso has done in the past - most of the time it is because the best overall package, including probably the best car, has won.
We are athletes but we definitely depend more than other sports on technology. You would never hear Roger Federer or Rafael Nadal saying: "I didn't win because his racket is better than mine."
But in F1 there is a difference in performance from one car to another.
The whole package is what counts. The racing driver is still very, very important, but definitely more important are the team, the technology they use, the budget, the structure, the right people in charge.
That is what Red Bull have at the moment. They have basically dominated since the new rules in 2009.
Newey is important, so is Vettel, and so is the collective.
F1 constantly changes. Before Red Bull and Vettel dominated, it was Ferrari and Michael Schumacher.
There were more variables then - there was competition between two tyre manufacturers, more performance difference between the engines than now, and so on. But whatever the rules, the team that adapts best will win. At the moment, that is Red Bull.
When I was at Toro Rosso, I knew there was no chance of getting on the podium - there were cars out there with massive amounts more downforce than us. You just need to understand how F1 is and adapt to every circumstance.
In that situation, the most important thing is to beat your team-mate, understand who your rivals are and concentrate on beating them.
Alonso is fighting Red Bull as well as anyone could, and one day he will have the chance to become world champion again.
A racing driver needs to be happy doing his best job possible and bringing the maximum for the team. Alonso is doing this.
That is not to say Alonso's title hopes are over. Ferrari made a small step forward in India, and he drove another fantastic race, finishing second and splitting the Red Bulls. There are still three races to go, starting in Abu Dhabi this weekend, and anything can happen. So you never back off.
Everyone knows the Ferrari is not as competitive as the Red Bull, but Alonso just needs to play the cards he has, and what will be will be.
A LESSON IN RACING
Alonso was involved in India in some racing that proved that Formula 1 cars can race closely on the first lap and not crash into each other, as they have done too many times this season.
He, Lewis Hamilton and Jenson Button went wheel-to-wheel through Turns Three, Four and Five. They raced close, they raced hard, and they raced fair. And they did not hit each other.
These guys have big experience of racing in situations where the pressure and stakes are high. At the front, you have to be a bit more careful because you are playing with more responsibility, your results and your future.
They know where and how to fight. They know where the limit is. They respect themselves and each other. This is the way it should be. They were doing the job that everyone on the grid should be doing.
IMPORTANT PREPARATION FOR 2013
This week I flew to Italy to do some more work in my role as Pirelli's F1 test driver.
We have already decided on the new design of tyres for 2013, both the wet and the dry tyres. This week I drove the Dallara simulator in Italy just to confirm that we do definitely want to make the changes we decided on at our last track test at Paul Ricard in the south of France.
It's an important thing to do, because if you are changing the structure, compound and profile of the tyres, the more testing you do the better.
Pirelli is going to give the teams some 2013-spec tyres to try out in the Brazilian Grand Prix to help them a little with their preparations for next season.
I have done the equivalent of 11 grand prix distances in tyre testing this year, trying out hundreds of sets of tyres. It gives you extra confidence to understand the behaviour of the tyres, whether it be temperature ranges, car balance or durability.
This is what we are all focusing on with the tyres in F1 - the drivers need to think about the warm-up, then the performance, the balance and the durability and consistency.
The chance I have had to do these tests this year has really shown me how all these tyres are behaving in their different ways.
I have my little notebook at home with all the secrets for next year!
It is very helpful before heading into a race, especially on a Sunday, to know more or less how the race is going to be depending on the strategy you are planning.
Race wins can depend on this sort of thing - as happened to Ferrari and Alonso at Silverstone.
He was out on the 'hard' tyre while Red Bull's Mark Webber was on the 'soft' tyre behind him. Alonso went very long, but he could have gone much longer. Instead, Ferrari pitted Alonso to 'undercut' Webber, to make sure he stayed ahead, but in fact they lost the race.
The more testing you can do on the tyres, the more you can avoid this sort of thing happening.