Industry insiders reveal all about the greatest motorsport on Earth
Last updated on .From the section Formula for Success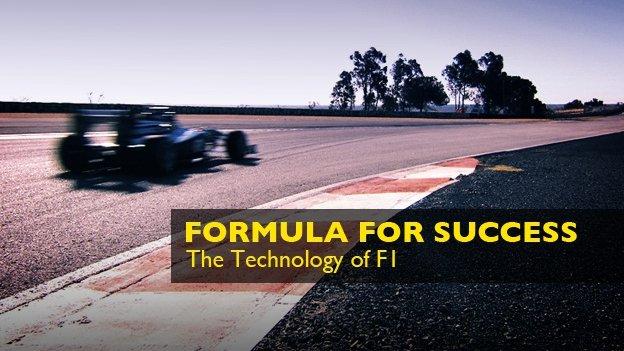 Formula for Success is a series which looks in detail at the inspiring technology behind Formula 1.
Featuring interviews with key industry insiders, the Formula for Success videos and articles look at some of the most important aspects of Formula 1 technology: from aerodynamics to the tyres, steering wheel technology, and the crucial roles of Kers (Kinetic energy recovery systems) and DRS (drag reduction system).
Voiced by Jake Humphrey, Formula for Success was filmed on location with top teams such as Lotus, talking to key personnel to get to the bottom of one of the most complex yet entertaining sports on the globe.
Formula for Success - the series so far...
Kers and DRS
Formula 1 has always been a breeding ground for automotive innovation and the gadgets currently on show are Kers and DRS.
The kinetic energy recovery system (Kers) captures energy when the car is braking and stores it in a battery for the driver to use later on the lap.
The DRS - drag reduction system - flips open the top flap of the rear wing to increase the car's straight-line speed.
Steering wheels
Formula 1 drivers may be the stars in the cars but there is another super-brain in the cockpit - the steering wheel.
Without these cut-out, carbon fibre discs, modern F1 drivers would be rudderless.
Once described by racing legend Sir Stirling Moss as "merely the way of introducing a car to a corner," steering wheels have now evolved beyond this primary task.
Aerodynamics
Formula 1's sleek racing machines look so different to the cars we see every day on the road because their design is dictated by aerodynamics.
This is the study of forces and their impact on how objects move through the air.
Hundreds of engineers working in the blue ribbon of motor sport are slaves to its principles, and teams spend millions of pounds each year chasing its rewards.
Tyres
Mastering temperamental tyres is the black art that Formula 1 teams conjure with at every grand prix.
Like those on any road car, the tyres' main job is to provide grip. When the driver hits the brake it is the rubber binding to the asphalt that stops the car.
Despite their simplistic purpose, tyres have now evolved to play a major part in how an F1 race is won or lost.