F1's exhaust development is within acceptable levels say McLaren

By Andrew Benson
Chief F1 writer
Last updated on .From the section Formula 1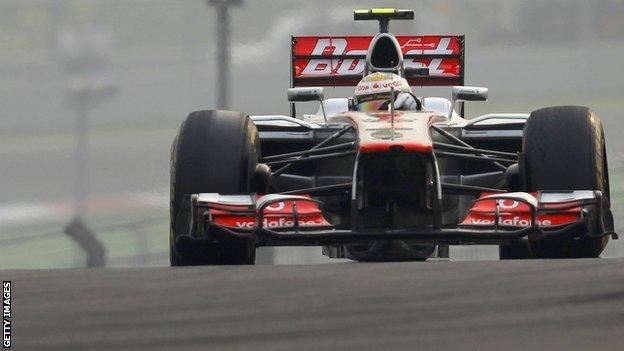 Development of exhausts for aerodynamic effect in Formula 1 is still within acceptable levels, McLaren technical director Paddy Lowe says.
Red Bull's recent domination has been founded partly on such developments, which were intended to be largely stopped by rule changes last winter.
Lowe said: "To the extent [Red Bull's progress] has been down to exhausts, I'd consider that to be fair game.
"All leading teams are working in that area. I don't have a problem with it."
Red Bull's step forward has seen Sebastian Vettel win the last four races and replace Ferrari's Fernando Alonso as the world championship leader. The German is now a strong favourite to win a third consecutive title this season.
In a series of changes starting at the Singapore race at the end of September, Red Bull introduced a new front wing and changes to the rear aerodynamics that change the way exhausts were being used for aerodynamic effect.
But Lowe pointed out that the relative performance of the cars had ebbed and flowed through the season, and that a lot of that was down to exhaust development.
"For me that's part of the sport, part of the competition and fair game," said Lowe, who is a leading member of the body that decides rules changes in F1.
"If at this particular moment Red Bull have done a better job than us, hats off to them.
"There are other parts of the season where we have done a better job than them, you know the first quarter and probably the third quarter we have been the leading performer and you could say the same that that was down to better treatment of the exhaust, which it was but only part of a larger package."
The rules governing that area were changed ahead of this season to ban so-called exhaust-blown diffusers, which blew exhausts gases along the floor of the cars to 'seal' the gap between the floor and the rear wheels and enhance aerodynamic downforce.
The position of exhaust exits is now tightly defined, and there are much more severe restrictions on engine mapping than in 2011, but teams are still finding ways to direct the exhausts into that area to improve rear grip.
Red Bull's recent modifications are the most effective route yet found, although the advantages are nowhere near as great as they were in 2011, when exhaust-blown diffusers were worth more than a second a lap.
Lowe said the rule changes had achieved their aim of making the regulations clearer and more effectively policed after a series of rows last year.
"Over the winter, there were constraints that were very clear, completely numeric, and therefore very objectively policed and the same around geometry of exhaust pipes which have arrived at a situation where there is great clarity, there are no disputes around what you can and cannot do, he said." [But] it has left opportunities."
Lowe added that the teams had discussed tightening the regulations again this winter ahead of 2013 but that they agreed "it wasn't necessary or appropriate" and that any change would only have served to increase costs.
He said that the introduction of new engines in 2014 - when the current 2.4-litre naturally aspirated V8s will be replaced by 1.6-litre V6 turbos with extensive energy recovery - would finally end the use of exhausts for aerodynamic effect.
Lowe said: "There is a completely new set of regulations around the exhaust location, with the turbo engine, so there will be one pipe with a wastegate and that has to be central and exiting just forward of the rear axle.
"So in that context the systems we are using now will be eliminated completely."