Fernando Alonso says Ferrari need to be 'perfect' in final races

By Andrew Benson
Chief F1 writer
Last updated on .From the section Formula 1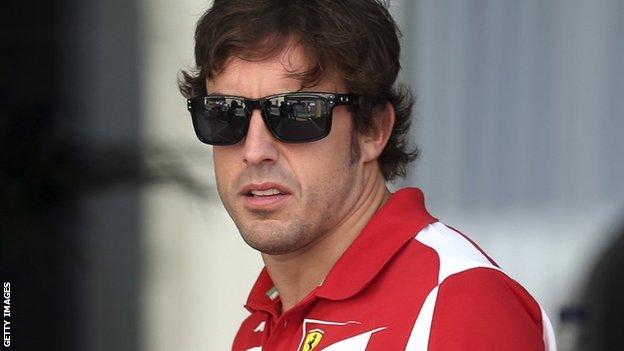 Fernando Alonso says his Ferrari team need to be "perfect" for the remaining three races of the season for him to have any chance of winning the title.
He added Ferrari will probably not be able to challenge Red Bull for victory in Abu Dhabi Grand Prix this weekend.
"We don't think we will close the gap completely from India to five days later in Abu Dhabi to be competing with them," Alonso said.
"There is no magic button. But we try to get closer to put on some pressure."
Vettel has moved into a 13-point lead in the championship after winning the last four races following a major upgrade to his car.
Alonso was leading the championship by 40 points from the German's team-mate Mark Webber after the Hungarian Grand Prix at the end of July, but retirements at the first corner of two of the last six races have badly hit his chances.
"Red Bull had a very easy four races and they have a lot of margin [on pace] and they can do little mistakes with not any penalty," Alonso said.
"We want to be so close to them to any opportunity [if they are not] perfect, so we need to find perfection these next three weekends and be very close to them and attack in the race."
Ferrari have struggled to keep pace with Red Bull on car development, but they made a step forward with some new parts introduced in India last weekend and Alonso was able to finish second, splitting the two Red Bull drivers.
"We believe and trust in our job and our team," he said. "We showed many times that we don't give up and we will fight until the end and when things become stressful and difficult, we can deliver 100%.
"The team has a lot of experience fighting for world championships. Everyone is very motivated.
"In India we saw some good signs of recovery in terms of pace compared with the Red Bull. We still need a couple of more tenths. There is a little bit of a step here, something also in USA [the race after Abu Dhabi].
"Things go up and down for everybody. There have been four consecutive ups for Red Bull and we think they will go down sooner or later."
Alonso denied reports in the Italian media that he had had a bust-up with technical director Pat Fry in India last weekend after the Englishman implied on the team's official news release that Alonso had not got the best out of the car in qualifying.
"For India, it was a very nice invention from the Italian media," he said. "It was quite creative.
"To be honest for all this history, now or later I will speak with [the jouranlist] to understand a little better how he came to this imagination.
"We know we are slower than Red Bull. We all agree on this, and we are working very hard and very united to improve this situation."
Vettel, although now a strong favourite to win a third consecutive title, continues to insist there is a long way to go.
"There are three races to go," he said. "It is not a secret every race is important.
"The end is near. That's why it appears to be more important but you don't get more points for this race than one 10 races ago, so we try to have the same approach."
And he emphasised that a retirement would change the championship dramatically, pointing to a part that fell off his car in the Indian race last Sunday causing sparks underneath for a lap or two.
"If you just look back [a few days], India was a great race for us, [but] a couple of laps from the end we had some sparks," Vettel said.
"It doesn't take much of an imagination if something like this comes up, it shows you how vulnerable you are, whether you're in the lead with a big gap or in the midfield fighting for position, you might end the race not scoring the points you were hoping for, and then the whole picture looks different again.
"We have learned this this year again. It is something we must not forget."