Abu Dhabi GP: F1 teams facing 10-fold increase in entry fees in 2013

By Andrew Benson
Chief F1 writer
Last updated on .From the section Formula 1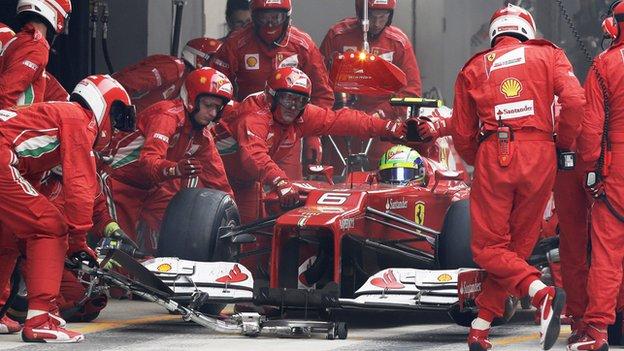 Formula 1 teams face nearly a ten-fold increase in entry fees for next year's world championship.
Governing body the FIA has raised the fees from a standard 309,000 euros (£247,600) for all teams to a sliding scale depending on results.
All teams will pay $500,000 (£311,500). In addition, the constructors' champions will pay $6,000 (£3,738) per point, and the others $5,000 (£3,116).
That means Red Bull are likely to pay in the region of £2m next year.
Red Bull currently have 407 points. Assuming they are likely to score at least 20 points in each of the remaining three races, that would be a total of just over £2m.
The rise is slightly less than had initially been threatened when the FIA proposed the increase. Then, it was $7,000 per point for all the teams in addition to the flat-rate $500,000.
BBC Sport understands that the teams have accepted the change, although some are not especially happy about it.
However, Mercedes team principal Ross Brawn said: "We would be delighted to pay it because we would be scoring a lot of points.
"In fact, if you're a mid-range team, and considering the fact that all the extra facilities that we pay for separately at the moment are rolled into that entrance fee, I think for a lot of teams it's going to be very similar [overall].
"It's going to make more substantial difference for those teams who finish in the top three or four of the championship. I was being a bit flippant, but obviously I hope that we can have that problem next year."
The FIA says it needs to raise the fees so it can afford to continue with its role as the global motorsport authority, and the representative of motor clubs worldwide.
The organisation is also involved in road safety through such things as mandatory road-car crash tests.