Jaime Alguersuari column: Championship is Vettel's to lose

By Jaime Alguersuari
BBC Radio 5 live analyst
Last updated on .From the section Formula 1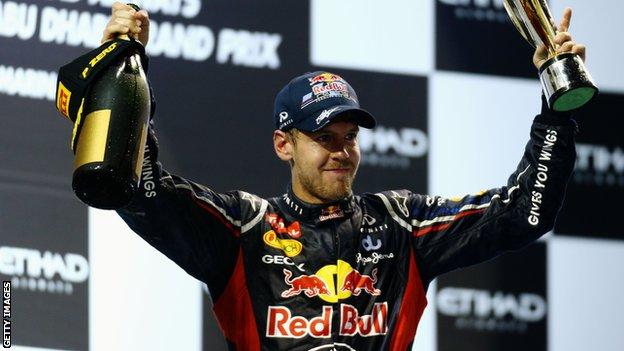 Sebastian Vettel produced an eye-catching performance in climbing up from a pit-lane start to finish on the podium in Abu Dhabi, but you have to say it was not exactly unpredictable.
The Red Bull is so fast that Vettel was always going to recover pretty well from that position as long as he didn't make any massive mistakes, and the two safety cars were a big help for him.
The first one closed the distance he had lost to the leading pack. And although he dropped to the back again after he wrecked his front wing on a marker board, that meant he had fresh tyres at the restart when everyone else's were wearing down. That made climbing back up through the field much easier.
Then the second safety car closed up the 15-second deficit Vettel had to Jenson Button's McLaren and meant he could attack straight away - again on fresh "soft" tyres when Button, along with Kimi Raikkonen and Fernando Alonso in front of him, were on used "medium" tyres.
The pace was there in the Red Bull as always. Vettel was very fast throughout the race and, given all those circumstances, a podium is not a surprise.
You have to give them credit, though. Red Bull did a great job on strategy and pit stops, Vettel drove really well apart from the two mistakes he made in damaging his front wing twice, and the result was well deserved.
Had Vettel not been excluded from qualifying and started from third on the grid where he qualified, it would have been difficult for him to beat Lewis Hamilton's McLaren on outright pace.
But Hamilton retired with another technical issue, so Vettel may well have won the race then, even though for the first time in a while Red Bull were not the fastest team.
A WIN FOR THE FINN
Kimi Raikkonen's victory for Lotus was overdue. He was close to winning in Bahrain and Hungary, and Abu Dhabi shares many characteristics with those two circuits.
They have a lot of low-speed corners, where traction and mechanical grip are very important, and the Lotus works well on those sorts of tracks, so you would have expected them to go well in Abu Dhabi.
No-one thought Raikkonen would win - he was not going to beat Hamilton. But his retirement gave Kimi his chance.
It is well deserved because Lotus have been so competitive for so much of the season and Raikkonen has been very consistent and getting better all the time as he gets more and more used to F1 after two years in rallying.
Once Hamilton retired, Raikkonen had the speed and he controlled the race perfectly under all conditions.
He came under pressure from Fernando Alonso's Ferrari in the closing laps but he managed it well.
McLAREN MALAISE
It is amazing to consider what has happened to McLaren this year.
If we look back to the first race of the season, Hamilton and Button were on the front row and they dominated the race. We all thought this was going to be a McLaren-Mercedes year.
They have always had the speed but they have lost so many points because of technical issues.
It reminds me of Red Bull in 2010, when Vettel was fighting with Alonso and had so many retirements and technical issues which very nearly cost him the championship.
In McLaren's case, we can say those issues - as well as some operational problems early in the year - have cost them the championship.
THE TITLE FIGHT
In Abu Dhabi Ferrari continued the good job they have done throughout the season. They made no mistakes on strategy or operation and Alonso yet again managed to finish the race in the best possible position.
Everyone knows he is not fighting with the best tools. He benefited from Vettel's penalty but it is amazing to see Alonso and the team working so flawlessly under such pressure.
Alonso is 10 points behind Vettel in the championship going into the final two races of the season, which is a really small amount - the same as a fifth-place finish.
The situation is not easy for either of them.
Vettel knows his car is faster. Alonso knows he has to keep on playing his cards, doing his maximum and pressuring Vettel as best he can.
If one makes a mistake and the other does not, that's the end for them.
Anything can happen. It is a question of bringing the car home and not making any silly mistakes, scoring the maximum amount of points they can and each trying to cover the other.
But one thing is sure - Vettel has more to lose than Alonso. He is leading and he has a quicker car.
Vettel shouldn't lose it, but he could. All Alonso can do is win, because it already looks like he shouldn't.
Jaime Alguersuari was a Toro Rosso driver from 2009-11, and is Pirelli's F1 test driver and BBC Radio 5 live's analyst. He was talking to BBC Sport's Andrew Benson