Caterham owner Tony Fernandes to stand down as team principal
Last updated on .From the section Formula 1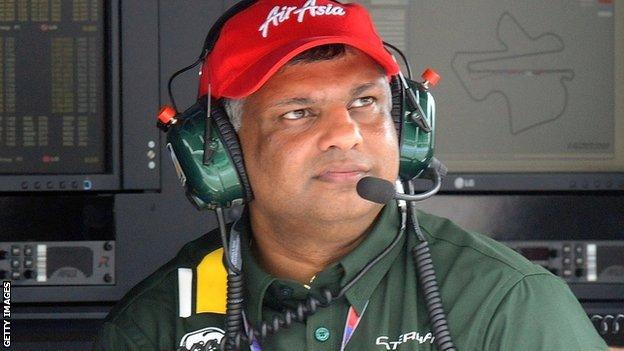 Caterham owner Tony Fernandes says he will quit his role as team principal at the end of the season in order to focus on the road car side of the business.
The Malaysian businessman said he and deputy chairman Dato' Kamarudin Meranun had identified a successor - but did not say who it was.
"It was right for us to lead the team initially and set a template of how it should be," Fernandes said.
"That vision is now set and the team is ready to move forward to the midfield."
In an interview with Autocar magazine, Fernandes added: "I know who it [his successor] will be, and can tell you that as I had confirmation earlier, but I cannot tell you their name yet. All I can say is they are from within F1."
Fernandes, who owns airline Air Asia and Premier League team Queens Park Rangers, entered the sport in 2010 as team principal with his team then known as Lotus Racing.
It was subsequently named Team Lotus before being rebranded again as Caterham this season.
The outfit, who currently have Heikki Kovalainen and Vitaly Petrov as their drivers, finished 10th in the constructors' championship in 2010 and 2011 but have yet to score a point this season.
Fernandes, who on Monday announced a deal between Caterham and Renault to revive the Alpine sports car brand, has spent a relatively small amount of time on his F1 team this season as he concentrates on his other businesses.
In September, Fernandes had a shake-up of the team's management. The Malaysian businessman created a new role of chief executive officer. Frenchman Cyril Abiteboul, Renault's deputy F1 boss, will start in January.