Formula 1 drivers warned over using bad language in interviews

By Andrew Benson
Chief F1 writer
Last updated on .From the section Formula 1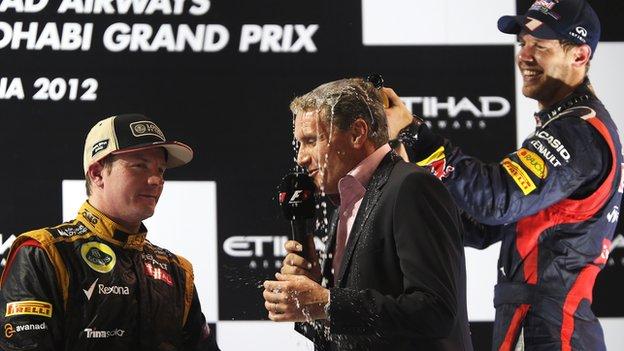 Formula 1 drivers have been told not to swear during media interviews.
Governing body the FIA issued the demand after both Sebastian Vettel and Kimi Raikkonen swore, live on air, while on the podium after last Sunday's Abu Dhabi Grand Prix.
A letter to teams says it is "very much our collective responsibility to make sure drivers are aware such language has no place during media events".
A spokesman said any future instances may lead to disciplinary action.
The letter was written by FIA director of communications Norman Howell at the request of president Jean Todt.
It is not clear what punishment any drivers might receive in future, but the F1 regulations contain a catch-all rule about bringing the sport into disrepute that could be applied.
The letter says bad language "shines an unwelcome beam of adverse publicity on their teams and sponsors, the sport and the FIA".
It adds: "I understand that in the 'heat of battle', adrenaline, elation and disappointment make for a dangerous and heady mix.
"But F1 drivers are not the only ones being interviewed in such conditions: I think of boxers, rugby and football players who are routinely interviewed live on television after a gruelling sporting effort. They manage to avoid inappropriate language."
Howell said the letter had been received "positively" by the teams.
He said there had been "quite a few complaints, from members of the public, people within the FIA, even from the media".
He added: "Since it happened twice on the same weekend, I thought I'd send a friendly note.
"We need to remind the drivers they are professionals. If you're a racing driver at that level you have to realise that part of your job description is to talk to the media, and to do so in a way that is acceptable."
The interviews, conducted by David Coulthard with Vettel and Raikkonen, were broadcast live on BBC One on Sunday.
The BBC received 22 calls (21 complaints and one comment) about the swearing and 30 calls (28 complaints and two comments) about the delay in making the Abu Dhabi Grand Prix available on the iPlayer on-demand service for the swearing to be removed.
Vettel posted an apology for his language on the podium on his website later on Sunday.
He said: "I'm terribly sorry for using the wrong words on the podium today and I'm sorry if I have offended anyone who was watching. In the heat of the moment, I didn't use the right words and I apologise. I'll do it better next time."