Warrior Alonso bides his time

By Andrew Benson
Chief F1 writer
Last updated on .From the section Formula 1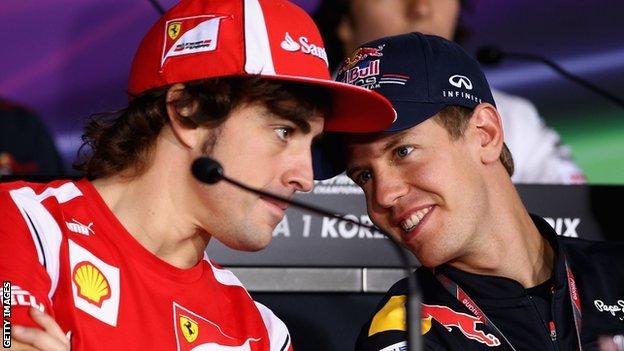 Almost Fernando Alonso's first act after what must have been the huge blow of seeing Sebastian Vettel slash his world championship lead to just four points at the Japanese Grand Prix, was to quote that country's great swordfighter and philosopher Miyamoto Musashi.
"If the enemy thinks of the mountains," Alonso wrote on his Twitter account, "attack by sea; and if he thinks of the sea, attack by the mountains."
That the Ferrari driver can reach for the words of a 17th century kensei warrior and strategist in a moment of such strain reveals a lot about the manner in which he combines an indomitable fighting spirit with a status as possibly the most cerebral Formula 1 driver of his generation.
But it will take more than relentlessness and clever strategy for Alonso to hold on to a lead for which he has struggled so hard this season, but which has now dwindled to almost nothing.
The 31-year-old, who spun out at Suzuka with a puncture after being tagged by Kimi Raikkonen's Lotus on the run to the first corner, has carried his Ferrari team on his back this year.
Alonso has won three races and taken a series of strong points finishes to establish what was until recently an imposing championship lead in a car that has never once been quick enough to set pole position in the dry.
He did so by driving, in terms of consistency and lack of mistakes, one of the most perfect seasons there has ever been - a feat made all the more impressive because it was done in not the best car.
Yet now, through no fault of his own, Alonso has failed to finish two of the last four races and in that time Vettel has made hay, taking 37 points out of his rival's lead.
Heading into Japan, it was already beginning to look as if Vettel was going to be hard to resist.
While the Red Bull has been a forbiddingly quick race car all season, the team did not in the first half of the season find it very easy to get the best out of it in qualifying.
But since mid-summer they have found consistency, and started to qualify regularly at the front of the grid as well. At the same time, luck has deserted Ferrari and Alonso.
More than that, Red Bull also appear in recent races to have made a significant step forward in the performance of their car.
Vettel looked very strong in Singapore two weeks ago, trading fastest times with Lewis Hamilton throughout the weekend and taking victory after the Englishman's McLaren retired from the lead with a gearbox failure. And in Japan the Red Bull looked unbeatable from as early as Saturday final practice session.
How much of this is to do with the new 'double DRS' system which came to light in Suzuka is unclear.
Team boss Christian Horner said he thought it was more to do with the characteristics of the track suiting those of the Red Bull car. Perhaps, but the 'double DRS' certainly won't be doing any harm.
Unlike the system that Mercedes have been using since the start of the season, which uses the DRS overtaking aid to 'stall' the front wing, Red Bull's works entirely on the rear wing.
What it means is that they can run the car with more downforce in qualifying without the consequent straight-line speed penalty caused by the extra drag, because the 'double DRS' bleeds off the drag.
This does bring a straight-line speed penalty in the race, when DRS use is no longer free. But as long as the car qualifies at the front, this does not matter, as it is quick enough over a lap to stay out of reach of its rivals.
It is not clear how long Red Bull have been working on this system at grand prix weekends, but to the best of BBC Sport's knowledge, Japan was the first time they had raced it. Coupled with a new front wing design introduced in Singapore, it has turned an already strong package into an intimidating one.
Vettel used it to dominate the race in the fashion he did so many in 2011 on his way to his second-consecutive title. As he so often does in the fastest car when he starts at the front of the grid, he looked invincible.
Alonso, though, is not one to be intimidated easily and will take solace from the fact that Ferrari's pace compared to Red Bull was not as bad as it might appear at first glance.
Alonso may have qualified only seventh, but he reckoned he was on course for fourth place on the grid before having to slow for caution flags marking Raikkonen's spun Lotus at Spoon Curve.
And judging by the pace shown by his team-mate Felipe Massa in the race, Alonso would have finished in a sure-fire second place had he got beyond the first corner. He might even have been able to challenge Vettel, given how much faster the Ferrari has been in races than in qualifying this year.
Alonso's problem for the remainder of the season is that salvaging podiums is no longer enough - he needs to start winning races again. Which means Ferrari need to start improving their car relative to the opposition.
Meanwhile, spice has been added to an already intriguing final five races by a seemingly innocuous incident in qualifying in Japan.
After slowing as he passed Raikkonen's car, Alonso continued on his flying lap, but when he got to the chicane, he came across Vettel, who blocked him.
Ferrari reckoned this cost Alonso somewhere in the region of 0.1-0.2secs, which would have moved him up a place on the grid. The stewards, though, decided to give Vettel only a reprimand.
They justified this on the basis that they believed Vettel had not known Alonso was there - and they let him off not looking in his mirrors because they felt he had reason to believe no-one would be continuing on a flying lap following the Raikkonen incident.
But some would see that as flawed thinking. Alonso was one of several drivers who had at that point not set a time in the top 10 shoot-out, and all of them were likely to be continuing their laps because whatever time they did set was going to define their grid slot.
Although there is no suggestion Vettel held up Alonso deliberately, the Red Bull driver is a sharp cookie, and almost certainly would have known this.
Even if he did not, his team should have warned him. And on that basis, it can be argued that Vettel's offence was no less bad than that of Toro Rosso's Jean-Eric Vergne, who was given a three-place grid penalty for delaying Williams's Bruno Senna in similar fashion earlier in qualifying.
Ferrari were distinctly unimpressed by the stewards' verdict, but Alonso being Alonso, he has not mentioned any of this publicly. Alonso being Alonso, though, he will have lodged it away for the future.
In the meantime, before heading to Korea for another potentially pivotal race next weekend, might he be studying Musashi a little more?
You must "know the times", Musashi wrote. "Knowing the times means if your ability is high, seeing right into things. If you are thoroughly conversant with strategy, you will recognise the enemy's intentions and thus have many opportunities to win.
"If you attain and adhere to the wisdom of my strategy, you need never doubt that you will win."