Sebastian Vettel takes over at the top

By Andrew Benson
Chief F1 writer
Last updated on .From the section Formula 10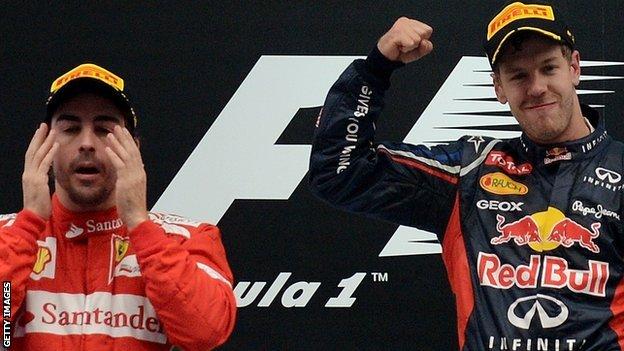 As Sebastian Vettel put down his winner's trophy after holding it up in celebration on the Korean Grand Prix podium, Fernando Alonso tapped him on the back and reached out to shake his hand. It was a symbolic reflection of the championship lead being handed from one to the other.
After three consecutive victories for Vettel and Red Bull, the last two of which have been utterly dominant, it does not look as though Alonso is going to be getting it back.
Alonso will push to the end, of course, and he made all the right noises after the race, talking about Ferrari: "We're moving in the right direction," and only needing "a little step to compete with Red Bull."
"Four beautiful races to come with good possibilities for us to fight for the championship, he said, adding: "Now we need to score seven points more than Sebastian. That will be extremely tough but we believe we can do it."
Indeed, a couple of hours after the race, Alonso was quoting samurai warrior-philosophy again on his Twitter account, just as he had in Japan a week before.
"I've never been able to win from start to finish," he wrote. "I only learned not to be left behind in any situation."
Fighting against the seemingly inevitable is his only option. The facts are that the Ferrari has been slower than the Red Bull in terms of outright pace all year, and there is no reason to suspect anything different in the final four races of the season
Vettel's victory in Korea was utterly crushing in the manner of so many of his 11 wins in his dominant 2011 season. The Red Bull has moved on to another level since Singapore and Vettel, as he always does in that position, has gone with it.
Up and down the pit lane, people are questioning how Red Bull have done it, and a lot of attention has fallen on the team's new double DRS system.
This takes an idea introduced in different form by Mercedes at the start the season and, typically of Red Bull's design genius Adrian Newey, applies it in a more elegant and effective way.
It means that when the DRS overtaking aid is activated – and its use is free in practice and qualifying – the car benefits from a greater drag reduction, and therefore more straight-line speed than its rivals.
Vettel has been at pains to emphasise that this does not help Red Bull in the race, when they can only use the DRS in a specified zone when overtaking other cars. But that's not the whole story.
The greater drag reduction in qualifying means that the team can run the car with more downforce than they would otherwise be able to – because the double DRS means they do not suffer the normal straight-line speed deficit of doing so.
That means the car's overall lap time is quicker, whether in race or qualifying. So although the Red Bull drivers can use the double DRS as a lap-time aid in the actual grands prix, they are still benefiting from having it on the car.
And they are not at risk on straights in the race because the extra overall pace, from the greater downforce, means they are far enough ahead of their rivals for them not to be able to challenge them, let alone overtake them. As long as they qualify at the front, anyway.
It's not all down to the double DRS though. McLaren technical director Paddy Lowe said in Korea: "They appear to have made a good step on their car. I doubt that is all down to that system. I doubt if a lot of it is down to that system, actually. You'll probably find it's just general development."
BBC F1 technical analyst Gary Anderson will go into more details on this in his column on Monday. Whatever the reasons for it, though, Red Bull's rediscovered dominant form means Alonso is in trouble.
While Red Bull have been adding great chunks of performance to their car, Ferrari have been fiddling around with rear-wing design, a relatively small factor in overall car performance.
They have admitted they are struggling with inconsistency between the results they are getting in testing new parts in their wind tunnel and their performance on the track, so it is hard to see how they will close the gap on a Red Bull team still working flat out on their own updates.
The Ferrari has proved adaptable and consistent, delivering strong performances at every race since a major upgrade after the first four grands prix of the year.
But the only time Alonso has had definitively the quickest car is when it has been raining. It is in the wet that he took one of his three wins, and both his poles.
But he cannot realistically expect it to rain in the next three races in Delhi, Abu Dhabi and Austin, Texas. And after that only Brazil remains. So Alonso is effectively hoping for Vettel to hit problems, as he more or less admitted himself on Sunday.
How he must be ruing the bad breaks of those first-corner retirements in Belgium and Japan - even if they did effectively only cancel out Vettel's two alternator failures in Valencia and Monza.
If anyone had reason on Sunday to regret what might have been, though, it was Lewis Hamilton, who has driven fantastically well all season only to be let down by his McLaren team in one way or another.
Hamilton, his title hopes over, wasted no time in pointing out after the race in Korea that the broken anti-roll bar that dropped him from fourth to 10th was the second suspension failure in as many races, and a broken gearbox robbed him of victory at the previous race in Singapore.
Operational problems in the early races of the season also cost him a big chunk of points.
Hamilton wears his heart on his sleeve, and in one off-the-cuff remark to Finnish television after the race, he revealed a great deal about why he has decided to move to Mercedes next year.
"It's a day to forget," Hamilton said."A year to forget as well. I'm looking forward to a fresh start next year."
In other words, I've had enough of four years of not being good enough, for various reasons, and I might as well try my luck elsewhere.
There was another post-race comment from Hamilton, too, that said an awful lot. "I hope Fernando keeps pushing," he said.
Hamilton did not reply when asked directly whether that meant he wanted Alonso to win the title. But you can be sure that remark is a reflection of Hamilton's belief that he is better than Vettel, that only Alonso is his equal.
Whether that is a correct interpretation of the standing of the three best drivers in the world, it will take more than this season to tell.
In the meantime, if Alonso and Ferrari are not to be mistaken in their belief that they still have a chance, "keeping pushing," is exactly what they must do. Like never before.