Time running out for Alonso

By Andrew Benson
Chief F1 writer
Last updated on .From the section Formula 10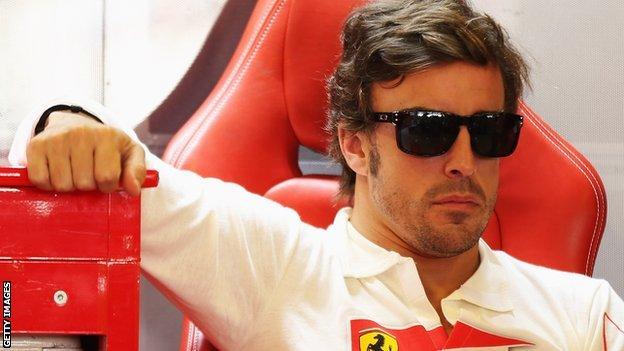 As Sebastian Vettel headed down the pit lane after winning the Indian Grand Prix, team-mate Mark Webber's Red Bull behind gave him a couple of little nudges as they headed to their correct parking places.
"I switched off the car," Vettel said. "I was told to park the car under the podium and I couldn't remember where it was from last year and Mark gave me a little bit of a push."
He added that he thought it was his "only mistake" of the day, which sounds about right.
The victory was his fourth in a row, a new achievement for the German despite his domination on the way to the world championship last year, and he has now led every racing lap since Lewis Hamilton's McLaren retired from the lead of the Singapore Grand Prix four races ago.
It also moves Vettel to one win short of the tally of Sir Jackie Stewart. At this rate, Vettel will not only pass the Scot's number of victories before the end of the year but join him as a three-time world champion as well.
Vettel is still only 13 points ahead of his only remaining realistic rival, Ferrari's Fernando Alonso, which is less than a driver earns for a third place, but it is the scale of Red Bull's current superiority that has led many to suspect the battle is already effectively over.
Vettel was fastest in every practice session in India and took yet another pole position. After the German's crushing wins in Japan and Korea, the only surprise at the Buddh International Circuit was that Red Bull's margin over the rest of the field was smaller than expected in qualifying.
In the race, though, Vettel was completely untouchable.
In the first 20 laps, he was not that much faster than team-mate Mark Webber in second place, and the Australian was being pretty much matched by Alonso.
But then Vettel cut loose, suddenly lapping 0.5 seconds faster than before. Team boss Christian Horner admitted that, not sure about tyre wear, Vettel had simply been measuring his pace in the opening third of the race.
Ferrari and McLaren both appeared to be in better shape after the single pit stops, more comfortable on the 'hard' tyre than the 'soft', but even then it was clear Vettel was in total control.
For the dispassionate observer wanting to see close racing, Red Bull's current form may be depressing, but it is hard not to admire what they have achieved this season.
For the first time in two years, they started the championship without a dominant car, and although they had strong race pace they were struggling to qualify at the front - the position from which they used to crush their opposition in 2011.
But they have worked away diligently at a series of upgrades aimed at allowing them to run the car as they did last year, and the breakthrough came in Singapore.
Further modifications came on stream in Japan and Korea and now Red Bull have a car that on pure pace is out of reach of their rivals.
It is the qualifying pace that is the key - start at the front and you can run in clear air, dictate the pace of the race, and are not affected by the turbulence of other cars. In this position, Vettel is close to unbeatable.
The start of the season, when there were seven different winners in seven races, seems a very long time ago.
Red Bull are a brilliant team, managed without compromise by Christian Horner and led by a genius designer in Adrian Newey, working in perfect harmony with a great driver. In many ways, it is similar to the way Lotus boss Colin Chapman and Jim Clark dominated the mid-1960s.
How they have done it, BBC F1 technical analyst Gary Anderson has expanded on in his column. For now, the problem for their rivals is what to do about it.
Alonso was as impressive in India as he has been all season, aggressive and inch perfect in the opening laps as he fought past both McLaren drivers, and relentless in his pursuit of Webber for second place.
The fact that the Spaniard passed the Australian was down to a degree of luck, it has to be said. Webber's Kers power-boost system was working only intermittently, and crucially he got held up behind some backmarkers, allowing Alonso to close to within one second - which meant he was within the margin that allows use of the DRS overtaking aid.
Once there, it took only two laps for Alonso to pass Webber, who without Kers, was defenceless on the long straight against a Ferrari with better straight-line speed anyway, and also employing Kers and DRS.
Nevertheless, to even keep the Red Bulls honest was quite an achievement by Alonso - no-one else was even close.
If there is such a thing as a driver 'deserving' the world title more than another, most people in F1 would say Alonso has been the stand-out competitor of the year.
As Lewis Hamilton put it in India: "Fernando unfortunately doesn't have as quick a car as Sebastian; it's nothing to do with his driving skills, that's for sure."
F1, though, is not purely a drivers' championship - he has to have a car, and at the moment Alonso is fighting an unequal battle with inferior equipment.
And in any case, Alonso himself would undoubtedly say that the driver who ends the season with the most points is the deserving champion.
Red Bull are now virtually certain to clinch a third consecutive constructors' title - indeed they seem likely to do so in Abu Dhabi next weekend.
For all Vettel's recent domination, though, in purely mathematical terms the drivers' championship remains wide open.
Thirteen points sounds a decent amount but the margin between Vettel and Alonso is, in F1's old scoring system abandoned only at the end of 2009, the equivalent of less than four points.
One retirement by Vettel, or a marginal improvement in the performance of Ferrari in the final three races, could tip the balance back in Alonso's favour. Time, though, is running out.
Alonso said on Sunday that the team did have improvements due in the next three races, and there was a hint in some of the other things he said over the weekend that the team expect them to amount to something more substantial than Ferrari have introduced for a while.
McLaren sporting director Sam Michael said on Sunday evening: "The performance can swing from one track to the other by a couple of tenths, and that's all there is in it at the moment - 0.2-0.3secs in terms of qualifying.
"And if you can have that performance, from the front row you have a better chance. So even if no-one upgraded their cars there would still be a reasonable chance that people could have a go at them.
"If Ferrari have a competitive car, then obviously Alonso can still do it."
In the context of the overpowering brilliance of Red Bull, though, that is a big if.