Raikkonen in rude health

By Andrew Benson
Chief F1 writer
Last updated on .From the section Formula 10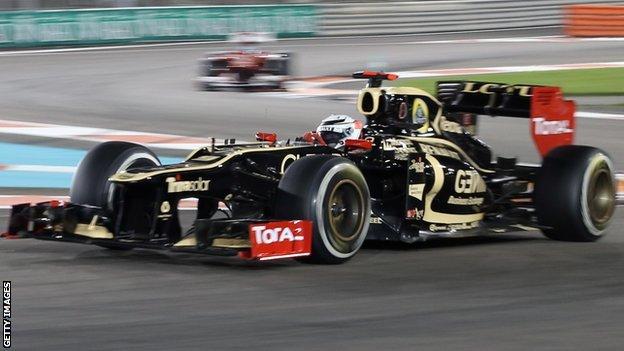 Kimi Raikkonen already had a bottle of beer in his hand by the time he joined his Lotus team for the now-traditional group photo following a grand prix victory.
Knowing Raikkonen's reputation, it will almost certainly not have been the last drink that passed his lips in Abu Dhabi on Sunday night as he celebrated his first win since returning to Formula 1 this year after two years in rallying.
"For sure we're going to have a good party today," the sport's most famous hedonist said on he podium, "and hopefully tomorrow, when we are feeling bad after a long night, we will remember how we feel."
How long will you celebrate for, he was asked.
"I have almost two weeks," he said. "As long as I manage to get myself to the next race I think the team is happy. I try to get home at some point."
The party is well deserved. Raikkonen's comeback year has had its ups and downs, but a win has looked a probability since the start of the season, and in many ways the big surprise has been that it has taken so long.
Raikkonen has been remarkably strong and consistent in races this season, but until Abu Dhabi his best chances of victory had been squandered by starting too far down the grid.
He is the first to admit that he has made too many mistakes in qualifying. Indeed, for the first half of the season he was generally being out-paced over one lap on Saturdays by his novice team-mate Romain Grosjean.
But in the second half of the season his qualifying pace has edged forward, the mistakes have dried up, and this weekend everything came together to produce the result the team and he undoubtedly deserve.
Out of the car, Raikkonen is about as uncommunicative as they come. He simply refuses to engage in the media game. That can be frustrating for journalists who are searching for insight from an undoubtedly great driver, but still there is no mystery about his true character.
The radio messages that caused such amusement during the race sum him up.
His poor race engineer was only doing his job when he informed him of the gap to Fernando Alonso's Ferrari behind him, and some may find it rude that Raikkonen would respond by asking him to "leave me alone, I know what I'm doing".
But that is Raikkonen all over. He's a no-nonsense character, and he just wants things the way he wants them. And if he is not comfortable in the spotlight, he was born to be in a Formula 1 car at the front of a grand prix.
"Kimi is a man of few words but he's all about racing," McLaren driver Jenson Button said, summing up the Finn's unique appeal.
"It's good to see him have a good race here and collect the victory. He does deserve it. He is back for the racing. That's what he loves and it's good to see that."
For all his impressive performance, Raikkonen owed his win to Lewis Hamilton's wretched fortune at McLaren.
Yet another failure - this one in a fuel pump on the McLaren's Mercedes engine - cost Hamilton another victory. It's the second time it has happened in five races and it is the story of his season.
Hamilton said on Sunday that he had "been at my best this year" and so it has looked, but he also made a pointed reference to McLaren's myriad problems throughout the season: "We have not done a good enough job to win this championship."
For the men who can win it, it was a weekend of wildly fluctuating fortunes.
Following Sebastian Vettel's exclusion from qualifying because not enough fuel had been put in his Red Bull to provide the requisite one-litre sample, it appeared that Alonso had a golden opportunity to close down some of the advantage the German had eked out with his four consecutive wins through Singapore, Japan, Korea and India.
But after a wildly topsy-turvy race and an impressive drive by Vettel, the German joined his Spanish rival on the podium.
All three podium finishers gave an object lesson in racing to the many drivers who crash-banged into each other behind them, including each of their team-mates, and while Vettel's drive quite rightly stood out, so too was a little luck involved.
Vettel damaged his front wing against Bruno Senna's Williams on the first lap, but was able to continue and overtake the rabbits at the back of the field.
Then, not for the first time in his career, he made a mistake behind the safety car, misjudging the pace of Daniel Ricciardo's Toro Rosso as the Australian warmed his brakes, veering to avoid him, and finishing off the front wing against a marker board.
The mistake forced Red Bull to pit Vettel when they were not going to and the fresh tyres he fitted at the stop meant he had a grip advantage over the drivers he now had to pass.
Again, he sliced rapidly through the backmarkers - this time without incident - so that he was up to seventh by the time the pit-stop period started for those in front of him.
By the time the leaders had all stopped, Vettel was in second place, and suddenly it looked like he might have a chance of pulling off a sensational victory.
Raikkonen's Lotus team, for one, thought Vettel would not be stopping again, but Red Bull were concerned enough about tyre wear to want to play safe, and the 20 seconds he lost in his second pit stop were then wiped out by another safety car.
Fourth at the re-start, the fastest car in the field and on fresher tyres than Raikkonen, Alonso and Button ahead of him, it again looked like he might win.
In the end, though, Button's clever defence kept him behind long enough to ensure that although he could pass the McLaren, third was as far as he was going to go.
BBC F1 chief analyst Eddie Jordan said Vettel's ability to salvage a podium finish from a pit-lane start must feel like a "dagger in the heart for Ferrari" but if Alonso was disappointed you would not want to play poker with him.
He talked about his pride at finishing second in a race Ferrari had expected to deliver a fifth or sixth place - and as Red Bull team boss Christian Horner pointed out, Alonso celebrated on the podium as if he had won the race.
For a while now, Alonso has been saying Red Bull's winning run would end, that eventually they would have some bad luck.
Well, in Abu Dhabi they had it, and still Alonso could gain only three points on Vettel, and it was noticeable that the tone of his remarks after the race shifted slightly.
In India two weeks ago, he said he was still "100% confident" of winning the title. After Abu Dhabi, though, he did not repeat that remark.
"Without the problem for Sebastian we were thinking we would exit Abu Dhabi with 20 points deficit or something and we are 10 (behind)," Alonso said. "In the end it was a good weekend for us.
"They will have the fastest car in the last two races. There is no magic part that will come for Austin or Brazil. But as I said a couple of races ago, they have the fastest car, we have the best team. So we see who wins."