United States GP track will be epic - McLaren's Jenson Button

By Andrew Benson
Chief F1 writer
Last updated on .From the section Formula 1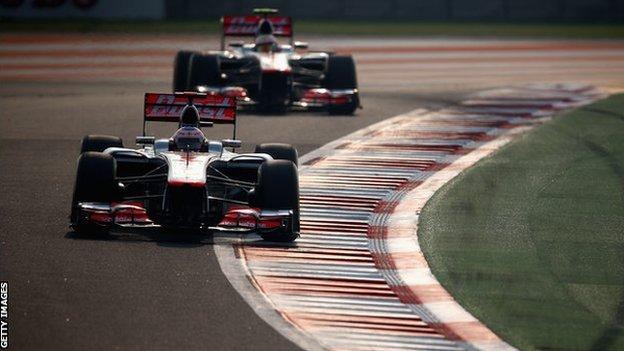 McLaren drivers Lewis Hamilton and Jenson Button are optimistic the new United States Grand Prix track will prove to be a success.
Both have driven the circuit in Austin, Texas, in the McLaren simulator, ahead of the race there from 16-18 November.
Button said on his Twitter account that he thought the track looked "epic".
Hamilton said: "I think it's going to be a track that drivers enjoy, which produces some great, close racing and which fans will quickly love."
Austin's Circuit of the Americas has been designed to combine celebrated elements of other tracks around the world into one coherent whole.
There is a section designed to replicate the famous Becketts complex at Silverstone, a corner that is the long Turn Eight from the Turkey track in reverse and an uphill approach to the first corner that is reminiscent of Austria's Osterreichring.
Talking on McLaren's official race preview, Button said: "On paper, the circuit looks to have a little bit of everything.
"The plan-view certainly looks familiar. You can see elements of the Maggotts/Becketts complex from Silverstone; there's a reverse of Istanbul Park's Turn Eight, too; and I can even see a bit of the Hockenheim infield.
"Whether those elements will blend together to make a satisfying whole remains to be seen, but there are a couple of long straights into tight corners, too, which should at least open up the possibility of overtaking.
"I think we're in for a fantastic weekend - I really cannot wait to get out to Austin and see the city, the people and the track. I think it's going to be brilliant."
Hamilton won the last US Grand Prix, at Indianapolis in 2007, and said he was delighted a United States race was back on the calendar.
"It's crazy to think that the last United States Grand Prix was five years ago," he said.
"It's a race I still remember like yesterday, though - the nervy anticipation as I drove into the Speedway for the very first time, the thousands of supportive fans, and the fantastic car I had beneath me that enabled me to take my second grand prix victory in the space of a week.
"For me, those were incredible, thrilling times.
"I have to admit, I'm absolutely made-up that we're going back to the States. It's a fantastic country and a place where our sport truly deserves to be. I think the Circuit of the Americas looks like it could also be the place that modern Formula 1 finally calls home."
The F1 teams have been determined to have at least one race in the USA because of its importance as a global market.
And McLaren boss Martin Whitmarsh, also the chairman of the F1 Teams' Association, said: "I've always maintained that Formula 1's presence in the United States is crucial, so I'm personally pleased and satisfied that we're finally returning to America after spending far too long away from its shores.
"On a wider level, the arrival of a state-of-the-art, purpose-built grand prix track is perfect for Formula 1, and this is a golden opportunity for the sport to finally put down roots and find a long-term home.
"From a business perspective, too, we are in the right place at the right time. This is an invaluable commercial opportunity for the sport, for McLaren and our partners."