Jaime Alguersuari column: F1 has a strong history in America
By Jaime Alguersuari
BBC Sport columnist
Last updated on .From the section Formula 1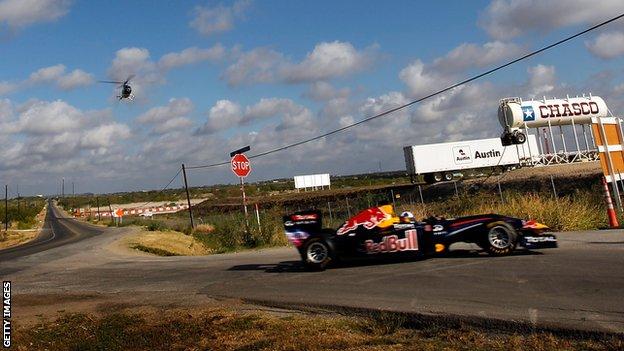 It is always exciting for Formula 1 to go to a new venue, and this weekend's United States Grand Prix in Austin, Texas, is anticipated more than most.
It seems wrong to have F1 without a grand prix in America.
F1 is a world championship, it is moving increasingly away from its historic European base to a truly global series, so how can you not have a race in the country with the biggest economy in the world?
Not only that, but America has a strong history in F1 - there have been races all over the place, whether it be Indianapolis, New York state, California, Florida, Michigan, Arizona and even previously in Texas, too, in Dallas.
We all know Nascar stock-car racing is the big motorsport in the US, but this race is a chance for F1 to re-establish itself there. And I'm sure the new Circuit of the Americas will provide something different for people who have not seen F1 before.
There are other people in America hoping to host a grand prix, too, so hopefully this will not be the only new race over there.
A promising track
It looks like the Circuit of the Americas is going to be a good track, and it should provide something interesting for both the people who are not that aware of F1 and the regular fans.
You can tell it is a track designed by F1's favourite architect, Hermann Tilke, but it's clear that a special effort has been made to introduce some seriously challenging corners.
The track has a lot of gradients, a few demanding corners and there are some places to overtake. So you can expect a lot of interest. No-one knows quite what to expect.
Most will have driven it quite a lot on their simulators at their factories so they will already have a feel for how it is going to be for tyres, and set-up and downforce level and so on. But you never really know for sure until you get out there and go for it.
I'm sure everyone will push from the very beginning of the weekend to the end because you don't know how the track is going to behave and evolve. Everyone will try to understand the tyres and the track evolution through the weekend as much as possible.
Who will the track suit?
Some tracks do suit one car and not another. In this case, it's hard to know for sure, but I guess it's going to be a little bit like the last few races.
The Austin circuit is not dominated by long straights and it is does not look like it will be a low-downforce track like Monza, or a low-to-medium-downforce track like Spa, so there is no reason to think the Red Bull will suffer. I think they will be very strong. I would expect McLaren and Ferrari, as usual, to be their closest challengers.
I'm not so sure, though, that Lotus will be able to repeat the performance they showed in Abu Dhabi, where Kimi Raikkonen won.
Pirelli has made a very conservative choice for tyres - taking the hard and medium compounds - and the Lotus has tended to go better when the tyres are softer, such as in Bahrain, Hungary and Abu Dhabi.
The car seemed to work pretty well with that tyre and its temperature ranges - the softer tyres have a higher operating-temperature window.
On a warm track with the softer tyre, the Lotus seems to have less degradation and a good feeling on that tyre. The car works pretty well on slow-speed corners and has really good mechanical grip.
The Lotus is still a good car on the other tracks as well, but it's not as competitive as with the softer compounds.
So Lotus's performance may depend on how hot it is in Austin this weekend.
The title battle
Of course, all eyes will be on the world championship battle between Red Bull's Sebastian Vettel and Ferrari's Fernando Alonso. Vettel is just 10 points ahead of Alonso and anything can happen in these last two races in Austin this weekend and at Interlagos in Brazil next weekend.
The big psychological demand for both of them this weekend is not to make any mistakes.
They both know that if one of them fails to end up in the points, that's more or less it.
It is not just a matter of having the best car, it is a matter of dealing with the pressure and whatever you can do to make a difference.
As I said in my column last week, Vettel has more to lose than Alonso. Vettel should win it because he has a better tool to win it - the Red Bull is faster than the Ferrari.
Alonso is already second; he can only win. That's a better position to get these last two races done. On the other hand, the man who has the best tool is the one who can achieve better results.
They are both equally strong mentally. They are both double champions, they know how to deal with the pressure, they are not new in this game, so we'll see how they do.
Jaime Alguersuari was a Toro Rosso driver from 2009-11, and is Pirelli's F1 test driver. He was talking to BBC Sport's Andrew Benson