Fernando Alonso says Red Bull must falter to keep his title bid alive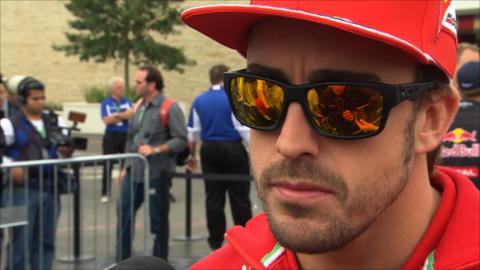 Ferrari's Fernando Alonso admits he will need Red Bull to falter if he is to stop Sebastian Vettel winning this year's world championship.
The Spaniard heads into the last two races of the season 10 points behind Vettel, whose Red Bull is a faster car.
"It's the fifth time I arrive in the last races fighting for the title," Alonso said. "We have some chances, [but] we need some help from Red Bull."
Vettel admitted he was in a "strong position" but said nothing was settled.
Both men are bidding to win their third world championship, and both would become the youngest driver in history to achieve that landmark if they end the season as champion.
Alonso has been fighting a rearguard battle since Red Bull made a significant step forward with their car for the final seven races of the season.
Vettel has won four of five races since the Singapore Grand Prix at the end of September and finished third in Abu Dhabi two weeks ago after starting from the pit lane after being disqualified from qualifying for a technical infringement.
However, Alonso said: "I am very confident. I trust my team and I trust myself and we are honest with ourselves.
"We know we don't have the quickest package out there, and we qualify on average this year sixth or seventh. So if we qualify in sixth or seventh people will say you wave bye-bye to championship but it is our normal position.
"That is not our strong point, our point is to score more points than the others on Sunday and I am sure we will do that in the next two races."
F1 is returning to the USA for the first time since 2007 at a purpose-built track outside Austin, Texas, but Alonso said the fact this weekend's race is a new event would not make a difference.
"It is not an advantage, [the] new circuit," he said. "I think we will all adapt very quickly in first practice and all have simulators to prepare for the race - it is the same as every race.
"Nothing has really changed in terms of preparation and approach for the weekend - [we need] maximum concentration and effort from everyone in the team."
Vettel can win the championship this weekend if he scores 15 more points than Alonso.
The German admitted that it would be "incredible" if he won the title, which would be his third in a row.
He said: "It has been a very long year - a tough season up and down, extremely challenging, different to previous years in many ways, we learned a lot and we did less mistakes this year.
"We have a very competitive car - we had one since the beginning of the season, maybe sometimes not good to win, but still good enough to collect a lot of points.
"It put us in a strong position, we are able to fight for championship with two races to go.
"It would mean a lot [to win the title] but it's difficult now to find the right words."
Vettel shrugged off a warning from governing body the FIA for drivers not to swear in media interviews.
The warning, exclusively revealed by BBC Sport last week, came after he and race-winner Kimi Raikkonen both used bad language live on television on the podium after the Abu Dhabi Grand Prix.
"If you are sensitive then you should watch some kids' programme," Vettel said. "You have the remote control in your hand. It was not intentional in the last race. It was unnecessary to create such a big fuss.
"But anyway, if I said some things that were not appropriate then I apologise, but there is not a lot I have to do different to succeed in that regard."