Lewis Hamilton has no regrets about his move to Mercedes

By Andrew Benson
Chief F1 writer in Austin
Last updated on .From the section Formula 1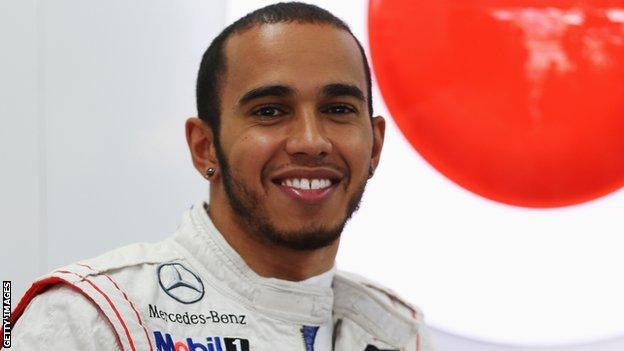 Lewis Hamilton has dismissed his McLaren team boss's claim that he has had some regrets about deciding to move to Mercedes next season.
"Clearly it is absolutely not the case," he said. "I am still here giving 100% in the last two races but I am 100% happy with the decision I made."
He said it was a "tough decision" but he did not have "an ounce of regret".
Mercedes won the Chinese Grand Prix in April, the third race of the season, and in the first half of this year appeared to have made a step forward from their disappointing form in 2010 and 2011.
But they have slipped from competitiveness as the season has gone on.
Hamilton, who has been with McLaren since he was 13, said: "What I do have is a huge amount of love for the (McLaren) team. Leaving is always a tough decision and these last couple of races will be tough.
"I'm happy I've got a new challenge ahead of me. I've got to build new relationships with people. Everyone does that in life so I don't know why I can't do it."
McLaren have had the quickest car for large parts of this season but Hamilton's title challenge has faded because of a series of operational and reliability failures by his team.
He lost all mathematical hope of being champion when he retired from the lead of the Abu Dhabi Grand Prix two weeks ago - the second time in five races a mechanical failure had cost him victory.
He is now a bystander as Red Bull's Sebastian Vettel and Ferrari's Fernando Alonso battle for the title in the final two races of the season.
Asked how hard it was to watch his two biggest rivals contest the championship without him involved, Hamilton said: "I think it goes without saying that these two are two of the best here.
"What they have achieved is absolutely incredible. The drivers are trying our hardest to aspire to do the same, but they are both incredibly professional and it's amazing to see how focused they are considering how much they have done.
"For me, it is what it is. I am happy to be here - we can still fight with them even though we are not fighting for the championship."
Hamilton said he hoped Alonso, who is 10 points behind Vettel heading into this weekend's US Grand Prix in Austin, Texas, could keep the championship alive until the final race of the season in Brazil next weekend.
"To keep the championship title alive right until the last race is probably the most exciting," Hamilton said. "When I watched in the past, if the championship was done before, there was not much point watching last few races.
"Hopefully it will go to the last race and people will enjoy it."
He said he expected the Austin track to prove a good challenge for the drivers and to produce a good race.
"It is quite an interesting track," he said. "It's difficult to learn initially and looks fantastic to drive. It was enjoyable once you got used to it (in the simulator). It took more time than the others to learn so will be interesting."