Free use of DRS device banned in practice and qualifying for 2013

By Andrew Benson
Chief F1 writer in Austin
Last updated on .From the section Formula 1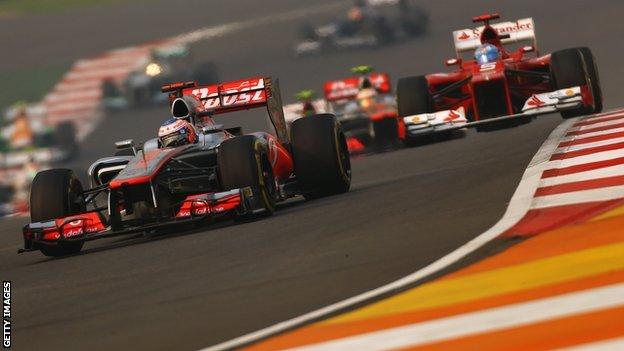 Formula 1 is to ban, on safety grounds, the free use of the DRS overtaking aid in practice and qualifying from 2013.
Drivers have complained there have been incidents when some have lost control because they are testing the limits of when they can use the DRS.
The device reduces rear downforce to boost straight-line speed.
The sport's governing body, the FIA, will also introduce more stringent tests to stop front wings moving for aerodynamic benefit.
This practice has been under the spotlight in recent years as teams seek to design front wings that change their characteristics in certain parts of the tracks to either improve cornering or straight-line performance.
New tests for this year have stopped wings flexing down at either end to aid cornering performance.
But a new practice has emerged whereby wings rotate on their horizontal axis - reducing their effectiveness on the straights and therefore increasing top speed.
Currently, flexible wings are policed by a single load applied downwards in one place on each side of the wing. From next year, the load will be applied in two places - one further back from the current test point and one further forwards.
As far as the DRS is concerned, next year its use will be restricted to the specific zones on the track aimed at increasing overtaking.
The DRS - or drag-reduction system - operates by lifting the upper part of the rear wing, reducing drag and boosting straight-line speed.
In the race it is only allowed in specified zones on either one or two straights.
But use has been free during practice and qualifying since its introduction in 2011, the reasoning being that if teams could gain a lap-time benefit for qualifying they would make the device as effective as possible which would have the benefit of making overtaking easier.
But Charlie Whiting, the race director of governing body the FIA, said he was now confident this would still be the case and that the safety aspects were too important to ignore.
"We are going to prohibit the use of DRS in practice and qualifying except in the areas where it's going to be used in the race," Whiting said.
"We're doing that for safety reasons. We believe there have been a number of incidents and drivers have told me it is becoming increasingly prevalent.
"We didn't want to have it in practice and qualifying before but we were worried we would not have effective DRS systems. Now all the information we have is that we will not see any reduction in the power of the DRS."