US GP: Red Bull's Sebastian Vettel fastest in final Austin practice

By Andrew Benson
Chief F1 writer in Austin
Last updated on .From the section Formula 1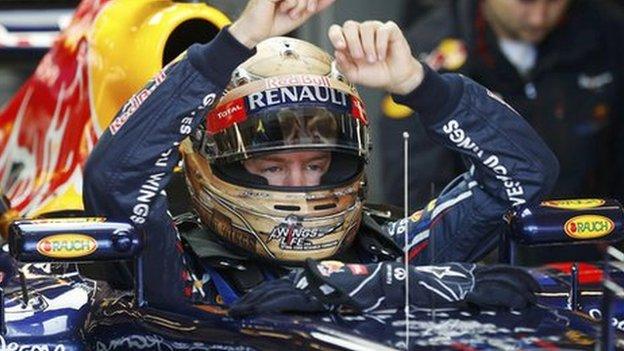 Red Bull's Sebastian Vettel headed McLaren's Lewis Hamilton in final practice before qualifying at the United States Grand Prix.
Alonso was 0.690secs behind Vettel, who leads him by 10 points heading into this weekend's penultimate race.
Vettel can win the title on Sunday if he scores 15 points more than Alonso.
Vettel was only third fastest for much of the session, about half a second slower than Hamilton and his McLaren team-mate Jenson Button when they were all running the harder of the two tyre compounds.
But Vettel improved by a second and a half when he fitted the softer 'medium' tyre which will be used for qualifying.
Hamilton, by contrast, found only three-quarters of a second.
Maldonado impressed despite some lurid moments as he fought the lack of grip on the brand new Circuit of the Americas in the cool ambient conditions, which left all drivers struggling for grip.
Ferrari, realising they are up fighting a rear-guard battle in the championship, spent much of the session preparing tyres for qualifying.
Alonso did not set any representative lap times on the 'hard' tyre as he 'scrubbed' his tyres by going in and out of the pits in an attempt to ensure they will come more quickly up to temperature in qualifying.
After Friday practice, Alonso said he expected the Red Bulls to be on the front row.
"They have the fastest package," he said. "They do first and second in all the practice and in all qualifying [sessions] and if everything goes normal first and second in the race.
"But in the race sometimes everything is not going normal and we put more pressure on them on Sundays. We will take our opportunities and we will fight every lap in the race."
His form both on Friday and in final practice suggested he may be able to qualify on the second row for the first time since the Korean Grand Prix in October.
From there, he would have a chance to fight the Red Bulls in the race and ensure he keeps the title fight open until the season finale at the Brazilian Grand Prix next weekend.
Although the cooler than expected temperatures in south Texas have meant the drivers are struggling for grip on the new track surface, there has been a positive reaction to the track that has been chosen to host the first US Grand Prix since 2007.
F1 is keen to establish itself in the American market and senior figures have said they feel this race can be a long-term success.
McLaren team boss Martin Whitmarsh said: "It's an enormously challenging circuit.
"We've got to make sure that as Formula 1 as a whole, we put on a show this weekend; that we reach out over the coming year and we build this into a fantastic event.
"Clearly, the foundations are here to be able to provide that. I think it's for us now to work as hard as we can to create the interest here."
Out on the track, Button was struggling to get the 'medium' tyre to work and could manage only 10th fastest time.
Mercedes driver Nico Rosberg was fifth, ahead of Ferrari's Felipe Massa, Vettel's team-mate Mark Webber, Sauber's Sergio Perez and Force India's Nico Hulkenberg.
Perez has been called to the stewards to explain an incident in which he collided with Marussia's Charles Pic.
The Mexican already has two reprimands this season - if he gets a third it would lead to an automatic penalty.
Third practice top 10
1. Sebastian Vettel - Red Bull - 1:36.490
2. Lewis Hamilton - McLaren +0.258
3. Pastor Maldonado - Williams +0.511
4. Fernando Alonso - Ferrari +0.690
5. Nico Rosberg - Mercedes +0.757
6. Felipe Massa - Ferrari +0.772
7. Mark Webber - Red Bull +0.808
8. Sergio Perez - Sauber +0.925
9. Nico Hulkenberg - Force India +1.005
10. Jenson Button - McLaren +1.048