US GP: Ferrari admit to deliberate Massa penalty to aid Alonso
Last updated on .From the section Formula 1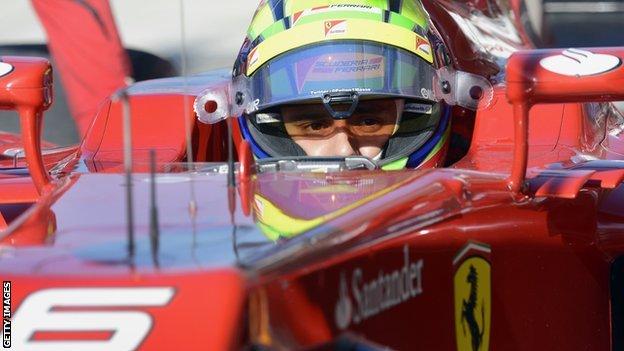 Ferrari's Felipe Massa will get a five-place grid penalty for Sunday's United States Grand Prix, promoting team-mate Fernando Alonso to seventh.
Ferrari deliberately broke the seal on Massa's gearbox, to elevate Alonso.
The ruling means Alonso - battling for the title with Red Bull's Sebastian Vettel, who starts from pole - will be on the clean side of the grid.
Engineers believe that those on the dirty, even-numbered, side of the grid will lose two positions at the start.
The new Circuit of the Americas is very slippery off the racing line. Massa did a practice start from the even-numbered side of the grid on Saturday after qualifying and said there was less grip than would be in wet conditions.
"The decision has been taken [to break the seal on Massa's car] to maximise the position for Fernando," said Ferrari's head of press Luca Colajanni.
If Vettel wins, Alonso needs to finish at least fourth to keep the championship alive. If Vettel is second, Alonso must be eighth or better to stay in the hunt. If Vettel is third, Alonso must be in the top 10.
Massa will drop from sixth to 11th on the grid.