Gary Anderson column: Ferrari getting left behind

By Gary Anderson
BBC F1 technical analyst
Last updated on .From the section Formula 1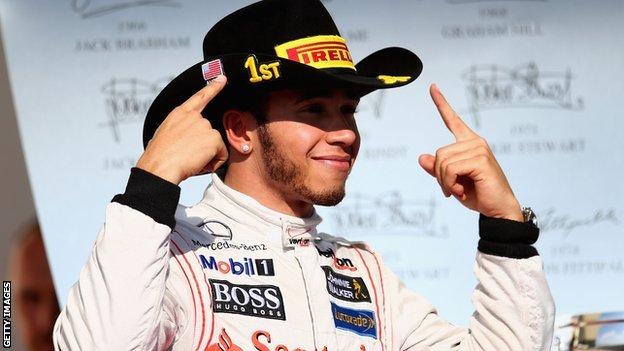 Formula 1's return to the United States was a resounding success in Austin, Texas, at the weekend.
The Circuit of the Americas is a fantastic facility. There was concern that it would be a bit of a bore, and overtaking very difficult, but it didn't turn out that way at all.
A big crowd turned up and they loved it. They cheered, they saw a lot of action and plenty of good racing. I was very impressed.
Pirelli understandably made a conservative choice on tyres at a new track, which meant grip was very low for everyone, but as it turned out that was probably a good thing. It suited the circuit as it was.
The circuit, being so new, was very slippery off line, but because the tyres were so hard it was quite slippery on the line, too. So the disparity between the two was not as great as it would have been with softer tyres, which made overtaking a bit easier than it might otherwise have been.
Coming back next year, though, there needs to be a more aggressive tyre. The circuit will have bedded down by then, the winter rain will make it easier to put rubber down on it.
GREAT WIN FOR HAMILTON
There was some excellent racing at the front. Lewis Hamilton and Sebastian Vettel were in a battle of their own. The writing was on the wall about that from the practice sessions and qualifying.
They were ahead of their team-mates and their confidence levels were very high. It's a circuit the drivers love and you could see the glint in their eyes.
Vettel was pretty cross when he lost the lead to Hamilton after he was delayed through the first sector of the lap by Narain Karthikeyan's HRT but it would be wrong to blame the traffic.
That's part of the game. He was just the unlucky one. The reality is he met up with a slow car in a place where it couldn't just disappear.
Could Vettel have planned that differently, seen it there and backed up a little and made sure he caught him at a different place? Who knows. But blaming the traffic is not correct.
What I would do is partially blame Red Bull and the way they set the car up.
Think back to Abu Dhabi and the way they set the car up after Vettel's exclusion from qualifying.
Normally, Red Bull run short gears and lots of downforce for the ultimate lap time and try to win from the front.
But in Abu Dhabi they took some downforce off it, changed the gear ratios and gave the car faster straight-line speed so it was easier to overtake. But the lap time was still very strong in spite of that.
I thought they might look at that and compromise a little for this race to keep their options open, give Vettel a set-up that meant if he didn't get pole or got tripped up in the race - as he did - he could still recover with enough straight-line speed to pass people.
But they didn't do that. They were slow on the straight in qualifying, with the DRS overtaking aid open. Hamilton was six km/h faster than them.
In the race, the leader defending his position does not have the use of DRS but the guy chasing him does. DRS gives you about 15km/h so that's a 21km/h advantage in speed for Hamilton, so Vettel was helpless.
Then, once Vettel was behind, his advantage even with DRS open was only nine km/h, so there was no hope of him recovering from a difficult situation.
In Brazil, they might need to abandon that philosophy of going for ultimate lap time at the expense of straight-line speed.
It's very easy to get caught up in someone else's incident, have a bad start, drop some places, and then you can't get back up there again.
FERRARI IN LAST-CHANCE SALOON
Fernando Alonso has to make up 13 points on Vettel to win the title in Brazil this weekend, which means that even if Vettel does not finish, Alonso still has to come third.
With the performance we saw from McLaren in the US, and the Lotus cars in Abu Dhabi, that might not be easy even without Vettel in the race, because Ferrari haven't improved their car enough.
In Austin, McLaren and Red Bull both had new front wings, which worked. Ferrari had a new diffuser for Alonso and he qualified behind Massa on merit for the first time all season, which suggests that the diffuser did not work.
Ferrari are getting left behind. The car, I believe, is too sensitive aerodynamically around the diffuser and rear wing.
It's a problem that is most obvious in qualifying because it creates instability at the rear on corner turn-in that is worsened by the use of the DRS overtaking aid, as I explained in my last column.
Ferrari are not qualifying close enough to the front and you can't usually win races playing catch-up - they have to be gifted to you. In Brazil, Ferrari have to get their car to qualify at the front.
They are going to have to scratch their heads but there are things they can do. You don't always have time to look at it in the wind tunnel; you have to look at it logically.
My focus would be on the diffuser. They could adjust the way it behaves and small alterations will change it dramatically. I've done that myself in the past using body filler, believe it or not.
The chances of making the progress they need are virtually nil but they are in a position where they have nothing to lose and everything to gain by trying.
If Ferrari can do something to make that area work a little better, they could get a big step forward out of it. If you give the driver confidence, you can gain the amounts of lap time and I don't think they are giving the drivers confidence in qualifying.
RED BULL GIVE FERRARI HOPE
Having said all that, Brazil is a unique track. It is at reasonably high altitude so the engines lose about 65bhp.
The Kers power-boost system is therefore commensurately more important, and Red Bull's is not only less powerful than Ferrari's but also less reliable.
Red Bull also have a concern over the reliability of their alternators following the failure on Mark Webber's car.
Red Bull were using an alternator in the same specification as the one that failed on Vettel's car in Valencia in June.
They were running one spec of alternator up to Valencia, but when that failed Renault lengthened the armature to get more output at low revs because they thought that was causing the problem, that it wasn't charging enough.
But then that new spec failed on Vettel's car in Monza because of the lengthened armature so Red Bull went back to the pre-Valencia spec but built with tender loving care.
But those bits were running out so Renault designed a new one, trying to improve the areas where it had failed.
The other Renault-engined teams were running the new alternator in Austin. Everyone was supposed to run it but Red Bull decided to stick with the old one because it had been reliable.
But in Austin the new-spec alternator ran without problems on the Lotus, Williams and Caterham, and Webber's pre-Valencia spec one failed.
So now Red Bull have a big decision to make as to which one to use in Brazil.
That's the thing in F1; there are so many things that can go wrong. Thirteen points is a lot, but the title is not sewn up by any means.