McLaren say new driver Sergio Perez is facing 'hard winter'

By Andrew Benson
Chief F1 writer in Austin
Last updated on .From the section Formula 1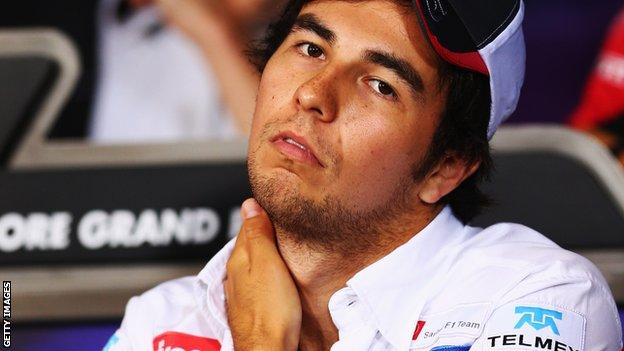 McLaren say Sergio Perez has to up his game before he joins them in 2013 as Lewis Hamilton's replacement.
McLaren team boss Martin Whitmarsh said after Sunday's US Grand Prix: "He has got a lot to learn and we've got a hard winter ahead with him.
"But I'm looking forward to working with him next year."
Perez's recent form with his Sauber team has led to widespread questions within Formula 1 as to whether McLaren have made a wise choice.
Perez admitted his recent form has been "a bit up and down" but said he was unconcerned by the criticism.
"Even if I won all the last races, there will always be question marks," he said in the US.
"I am going to the best team next year, so there will always be a question mark until I constantly deliver in a McLaren. This doesn't bother me.
"My main focus is to give 100% here, every lap, on every single occasion I drive at Sauber and I will keep doing this."
Perez, 22, has recently conducted a fitness test to which McLaren submit all their drivers and it proved he is a long way short of the physical condition of Hamilton and his team-mate Jenson Button.
Whitmarsh admitted in an interview with the official F1 website that Perez had a lot of preparation work to do before the start of the 2013 season in Australia in March next year.
"I am not worried about him. We have the winter to prepare him," Whitmarsh said.
"He will spend a lot less time in Mexico than he realises at the moment. That means he will be in the simulator, will be with the race engineers, he will be with the strategy people, he will be with the general engineering team, he will turn up considerably fitter and stronger than he is today.
"My experience of him is that he is really talented, he is very young and he is very raw. He is intelligent and has a nice humility about him. But also you can also sense the belief that he will be a world champion one day."
There has been speculation that McLaren, who have to pay for their Mercedes engines for the first time next year, have signed Perez in an attempt to tap into some of his lucrative Mexican sponsorship.
But Whitmarsh says this is untrue.
"We signed him; we're paying him a very good salary," he said. "Up until today we have not had one Mexican sponsor, not one peso from Mexico up to now. Will we get some? Possibly, but that wasn't the motivation."
Whitmarsh said Perez "has not always been consistent and maybe he has been a bit wild sometimes, but he has sparkled".
He pointed to this three podium finishes this season in Malaysia, Canada and Italy as examples.
"I can absolutely say that he is in our seat because of his raw talent potential," he said. "We believe that he is the one to really get the job done. It is very exciting to develop someone like that.
"His rookie year [in 2011] was impressive, as is his pace and jaw-dropping podiums this year.
"He has been doing that in an environment where natural talent met a quite good car, but he didn't have the pressure.
"You come to McLaren and you've got the scrutiny and the pressure. And you either do well and survive, or he will struggle."