Sebastian Vettel & Fernando Alonso play final hands in Brazil
By Jaime Alguersuari
Ex-F1 driver
Last updated on .From the section Formula 1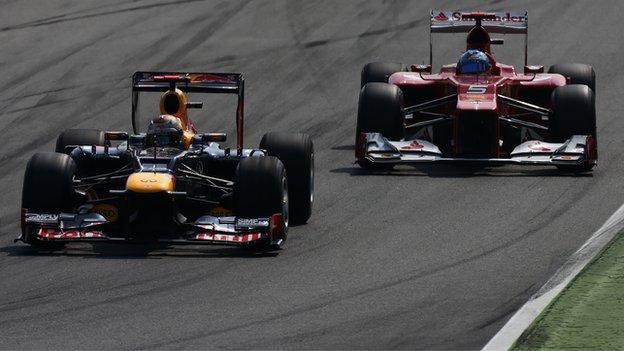 The situation at the climax of the Formula 1 season in Brazil this weekend is a little bit like a Champions League final with the teams drawing 1-1 with a minute to go. Anything can happen.
On paper, Red Bull's Sebastian Vettel is in a very strong position, in a faster car 13 points ahead of Ferrari's Fernando Alonso and with only 25 points available for the winner.
One driver has everything to lose and the other has everything to gain.
The only valid attitude Alonso can have is to take risks and be aggressive from the first moment to the last. The only valid attitude Vettel can have is to be conservative because all he can do is lose it.
How do you deal with this? It's like a poker match. Both players have different cards and they have to play them the best they can. And the person with the best hand will not necessarily win.
The first thing Vettel needs to do is to finish the race and be in the points. This is what he should have in his head. He is leading; he has the fastest car on the grid.
Alonso has effectively already lost - he is already second, he can't go worse. So he has nothing to lose.
Brazil is a crazy race in a place where crazy things often happen. It often rains during the race in Interlagos. There can be a safety car.
External factors like that sometimes play with you and sometimes play against you.
It is a high-pressure situation for both drivers and their teams. Both of them are usually good under pressure, but it can do funny things to people.
The situation is an almost exact reverse of the 2010 title climax, when Vettel went into the final race of the season in Abu Dhabi 15 points behind Alonso but ended up as champion.
In this sort of situation, small mistakes can happen. In the pit stops, in strategy, in tyre selection, you can lose the championship.
Everyone will look to this race with high expectations, but it would be wrong to forget what has happened in the past this year.
In Valencia, if you remember, Vettel was utterly dominating. He could have made another pit stop and still won it. Then the alternator failed and he was out.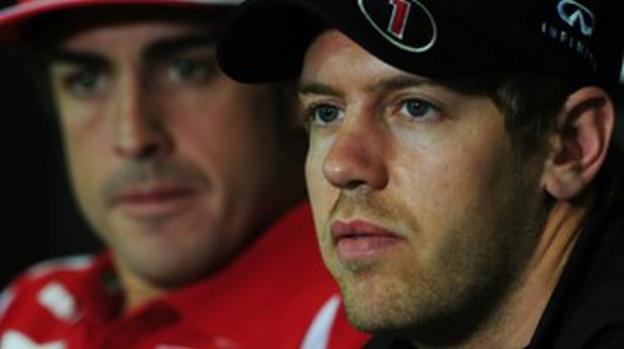 Then look at Spa. Alonso probably would have finished second there, but Romain Grosjean's Lotus landed on him at the first corner. It was nothing to do with Alonso and he could have done nothing to avoid it. But it happened.
There are 20 grands prix this season, and they all count. And if Alonso has got to this position with a less competitive car than Vettel it is because he has dealt with all these situations in the best possible way he could.
He risked when he had to risk. He was conservative when he needed to be.
His first two or three races, in particular, were amazing. The Ferrari was 1.5 seconds off the pace at the first race in Melbourne and he still managed to finish in the top five. In Malaysia the following week, he won. Incredible.
Vettel's season has been different. He won when he had the best car and he came in the top five when he didn't.
They are two great drivers, both great champions. But any mistake by either will count big time now.
A successful return to America
Austin, Texas, really showed it could hold a fantastic Formula 1 event last weekend when the motorsport returned to the United States. The track layout was great, the crowd was mega and it was all round a very positive thing for America and for F1.
The race itself was pretty good, one of the best we have seen this year. There was a good battle for the lead between Lewis Hamilton and Vettel.
It was a surprise to see Hamilton and McLaren had the pace to win and beat Vettel and Red Bull.
Red Bull has been the dominant car for several races and now Lewis had this pace.
It is symptomatic of McLaren's performance this year. They have been the team with the most ups and downs out of the whole grid.
In Australia at the start of the season we all thought they would dominate the year but it did not turn out like that.
They lost their pace a little, hit some trouble with set-up and tyre knowledge, but then they came up again to a dominant period, lost it again, and now they are back fighting to win races again.
It is very unusual - and quite unlike Red Bull and Ferrari.
But in the US only Lewis and Sebastian were in the race - no-one else could stay on their pace. Hamilton won by 0.6 seconds.
Battling backmarkers
The victory in Austin turned on a single incident in which Vettel was delayed by a backmarker, HRT's Narain Karthikeyan, just long enough to allow Hamilton to get close enough to use his DRS overtaking aid to pass the Red Bull.
Vettel was very angry about it at the time, shouting over his team radio about how unacceptable Karthikeyan's behaviour was.
This sort of incident has always been a part of racing. The cars being lapped have a responsibility to keep out of the leader's way but, at the same time, they cannot just disappear and there is skill involved in the leader's ability to handle the situation.
The drivers discuss this matter a lot in the briefings with race director Charlie Whiting. It is a difficult situation for the backmarkers and for the leaders.
The succession of corners in Texas makes it hard to stay out of the way. Through the fast swerves of the first sector, where Vettel caught Karthikeyan, there is basically nowhere they can go.
Equally, the pace differential between the top cars and the slowest ones was among the biggest of the season.
I don't want to say it was Vettel's fault or Karthikeyan's fault. I wasn't in their cars. I wasn't in the fight.
The backmarkers are trying to get the best result - even if they don't score points, results mean money in F1. At the same time, if the leader loses a second, it can do a lot of damage.
You just have to know it is a very difficult situation.
Jaime Alguersuari was a Toro Rosso driver from 2009-11, and is Pirelli's F1 test driver. He was talking to BBC Sport's Andrew Benson