Brazilian GP: Sebastian Vettel & Alonso pay tribute to Schumacher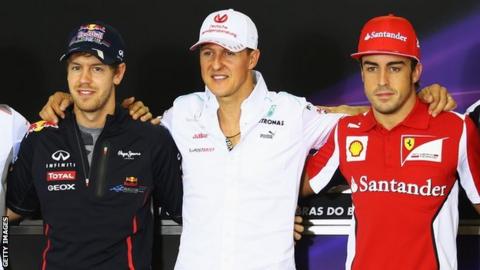 Formula 1 title contenders Sebastian Vettel and Fernando Alonso have paid tribute to Michael Schumacher as he prepares for his final grand prix.
Schumacher, who made his debut in 1991, will retire after Sunday's Brazilian GP as F1's most successful driver.
Alonso said: "We will always remember the privilege of racing and competing with someone like Michael."
Vettel said Schumacher was his "childhood hero", adding: "He will always be an inspiration for me."
Schumacher will leave F1 with a record seven world drivers' championships and 91 victories, all of which were achieved in his first career from 1991-2006.
He returned to the sport with Mercedes in 2010 but has been on the podium only once in three years.
Alonso won his second title for Renault in 2006 after an intense season-long fight with Schumacher, who was then at Ferrari.
"Michael [will hold] the records for F1 for maybe a very long time," Alonso said.
"We have been close to him, [had] some good fights, always constantly learning with someone who changed a little bit this sport."
Vettel, who has become a close friend of the 43-year-old, recalled his first steps in motorsport as a child, when he raced at Schumacher's local karting track in the veteran's hometown of Kerpen in Germany.
"He was a true inspiration back then," Vettel said. "He took care of the championship, gave out all the trophies.
"I now obviously understand the busy schedule he had and taking that extra time for us, the kids racing, was something very special.
"When I met him the first time I didn't know what to say. I didn't want to say anything stupid.
"Today it is different. It doesn't feel like talking to my childhood hero, it is like talking to Michael. I see the person, not what he has achieved.
"Racing with him the last couple of years - not as close as with Fernando - but that image was very far away when I was a kid.
"[It has been a] very special last couple of years and [it is] very special the relationship we share."
Schumacher said he was "relaxed" about his final race.
"I will take the best out of it and enjoy it as much as I can," he said.
He said he had no regrets about leaving F1.
"I tried to end successful but it didn't work this time," he said. "I'm quite happy to finish from here and then go for a different life again."
Brazilian Grand Prix, day one
Friday, 23 November:

First practice: midday GMT, 11:55 on Red Button, 5 live Sports Extra and online. Second practice: 16:00 GMT, 15:55 on Red Button, 5 live Sports Extra and online.
Brazilian Grand Prix, day two
Saturday, 24 November:

Final practice: 13:00 GMT, 12:55 on Red Button, 5 live Sports Extra and online. Qualifying: 16:00 GMT, 15:00 on BBC One and online.
Brazilian Grand Prix, day three
Sunday, 25 November:

Race: 16:00 GMT, 15:00 BBC One, 15:45 5 live Sports Extra and online. Race highlights: 19:00 GMT, BBC Three.