Lewis Hamilton will be competitive at Mercedes - Fernando Alonso

By Andrew Benson
Chief F1 writer in Sao Paulo
Last updated on .From the section Formula 1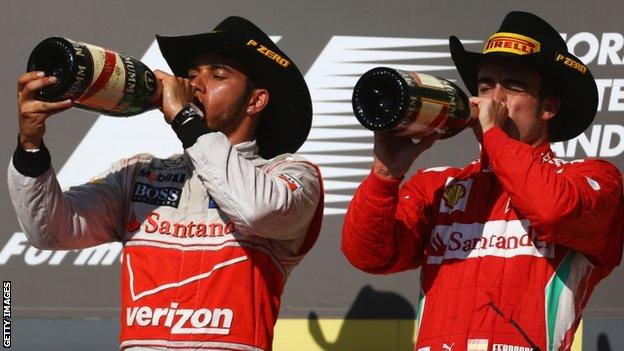 Ferrari's Fernando Alonso says he expects Lewis Hamilton to be competitive with Mercedes next season.
"They will be very strong, Nico and Lewis, together with the Mercedes," Alonso said.
"They can be serious contenders for next year. I have a lot of respect for Lewis. I always said he is probably the best or one of the best."
Hamilton has won four races this year with McLaren and would have been in title contention with Alonso and Red Bull's Sebastian Vettel in Brazil this weekend had the team not had a series of technical and operational failures.
The Englishman joined McLaren as a 13-year-old karter and they have supported his career ever since.
But in September he decided, after three years of cars not competitive enough to compete for the title followed by the problems of this season, that he wanted to try his luck elsewhere.
Mercedes will pay him a salary of $31m (£19.4), far more than any other driver. The next biggest earner next year will be Ferrari's Fernando Alonso, who is believed to earn 13m Euros (£10.5m).
Hamilton admits this weekend will be "tough" as he races for McLaren for the last time.
"It's quite a unique situation for me," he said. "I've obviously never been in a situation like this before where it's my last race for the team which I grew up with. It's going to be tough.
"We're going to push as hard as we can and try to win. I've never won here before, and we'll have such a beautiful race here if the weather holds."
He added: "I only have good memories. I leave with good memories, the best experiences and a lot of good friends who I hope will remain friends with throughout the future.
"I was just saying to them that even though I'll be with Mercedes I'll probably go back to have lunch because the food is great there [at McLaren]. I hope Mercedes hospitality lives up to it."