Raikkonen, Vettel, Hamilton, Eddie Jordan... F1 2012's most quotable
Last updated on .From the section Formula 1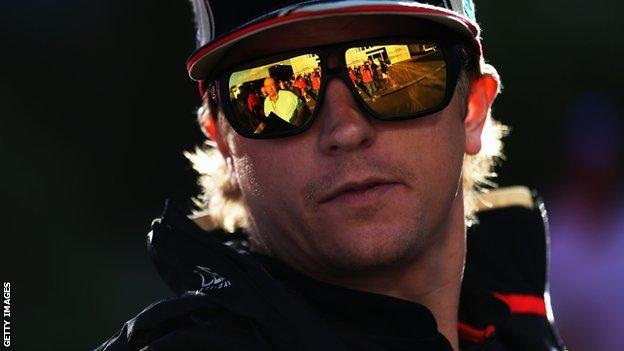 From Lewis Hamilton's Twitter faux pas to Kimi Raikkonen's cockpit rant, the 2012 Formula 1 season is as memorable for what has been said as much as for the action that unfolded on the circuit.
BBC Sport has picked out some of the more memorable quotes from a thrilling season.
Drivers' quotes
"It is difficult to imagine what goes through my head now even for myself! I am full of adrenaline and if you poke me now I wouldn't feel it."
Sebastian Vettel after he secured the result he needed at a dramatic Brazilian GP to win the world championship. 25 November
"Just leave me alone, I know what I'm doing."
Kimi Raikkonen ask his team to not disturb him over the radio on his way to victory in Abu Dhabi. 4 November
"Yes, yes, yes, yes - I'm doing it all the time. You don't have to remind me every second."
Kimi Raikkonen a few laps later. 4 November
"I think I am loved as much as I love the team."
Lewis Hamilton is confident over his popularity at McLaren as the two prepare to go their separate ways. 16 October
"After the race, Kobacrashi, sorry Kobayashi, said on Twitter that he was sorry he caused the incident, which was nice."
Jenson Button after his Korean GP was ended by Kamui Kobayashi. 15 October
"After three years as team-mates, I thought we respected one another but clearly he doesn't."
Lewis Hamilton when he thought that team-mate Jenson Button 'unfollowed' him on Twitter. 8 October
"Perhaps me and Twitter don't go together too well."
Lewis Hamilton backtracks after realising he had wrongly accused team-mate Jenson Button of 'unfollowing' him on Twitter. 11 October
"It was first-lap nutcase again, Grosjean."
Red Bull's Mark Webber after being rear-ended in Japan by Romain Grosjean. 7 October
"He is a driver who does not respect [others]. Doesn't he know we are risking our lives? He's just a stupid driver."
Sergio Perez expresses his anger at rival Pastor Maldonado after a collision forced him out of the British Grand Prix at Silverstone. 9 July
"I will make sure I hurt myself extra for such a bad day."
Jenson Button, after a torrid performance at the Malaysian GP, says he will punish himself in an upcoming triathlon. 27 March
"Like on normal roads, you have some idiots driving around. It seems there is also one driving here."
Sebastian Vettel after a collision with Narain Karthikeyan denied him the chance to finish fourth at the Malaysian GP. 26 March
Team boss' quotes
"To have lost the drivers' title twice in the last three years by the tiniest of margins hurts, it hurts a lot."
Ferrari team principal Stefano Domenicali after Fernando Alonso misses out on the world championship. 25 November
"If you look at his career, he was always a little bit hot - a hot-headed driver."
Lotus boss Eric Bouiller after Romain Grosjean's latest first-lap incident. 10 October
"I've been in Formula 1 for 20 years now and for me it's never been better or more exciting."
Sauber F1 founder Peter Sauber reflects on a thrilling start to 2012 season as seven different drivers win the first seven races. 14 June
The best of Eddie Jordan
EJ: "I've never seen so much activity in my life!" David Coulthard: "It's called work."
Eddie Jordan is surprised by how busy the paddock is as F1 packs up at the end of the Brazilian GP. 25 November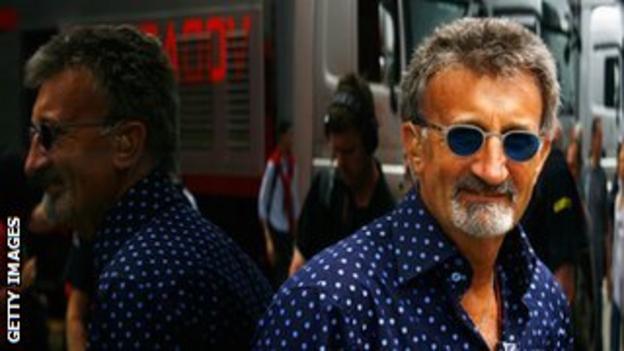 "Is he the most bizarre grand prix winner and world champion you've ever come across?"
Eddie Jordan reacts to Kimi Raikkonen's victory, and curt response to his team over the radio, at the Abu Dhabi GP. 4 November
"There was only a few of us alive to remember it, I was one of them, but never mind I never remembered it anyway."
On Nico Rosberg putting Mercedes on pole at the Chinese GP for the first time since 1955. 14 April
The best of the rest
They are still children, they are still babies and they are kept like that. They all think it's a video game and it's not. It is very, very dangerous and it's tough."
The 1997 world champion Jacques Villeneuve gives his views on the current crop of drivers. 7 June
"It would be fantastic, good for London, good for England … a lot better than the Olympics."
F1 chief Bernie Ecclestone on a race being held on the streets of London. 28 June