Brazilian GP: 'Sebastian Vettel has joined a club of his own'
Last updated on .From the section Formula 1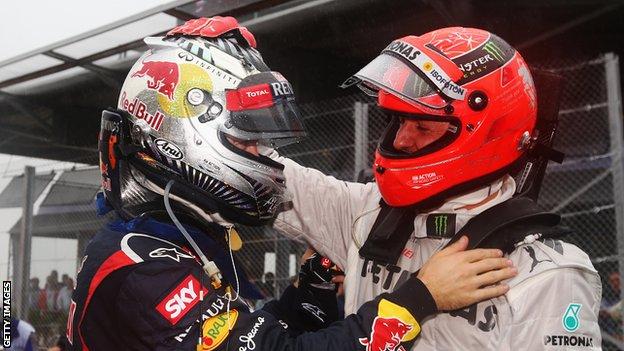 Sebastian Vettel wrote his name into the history books on Sunday by becoming the youngest triple world champion.
The 25-year-old's sixth-place finish at the Brazilian Grand Prix was enough to clinch the title ahead of Fernando Alonso by just three points.
Vettel's success also means he is one of just three drivers to have won the World Champions three years in a row, after Juan Manuel Fangio and Michael Schumacher.
Tributes have been paid to Vettel from up and down the paddock and Schumacher, who was Vettel's idol as a child, led the praise for his compatriot's achievements.
The Interlagos race marked the end of Schumacher's career as a Formula 1 driver, and he said: "I think it's a nice ending I'm finishing off and he's [Sebastian Vettel] clinching his third title.
"In a way it reminds of 2003, I had a similar struggle and I just managed to win the championship by a single point.
"I'm very proud of him and he's a good friend of mine, lets see what happens in his future."
Mark Webber praised his team-mate's achievements, saying he is joining a very exclusive club.
"It is a great effort," said the Australian.
"He joins a pretty decent club now, a club of his own in some ways as the youngest triple world champion.
"You have to take your hat off to him and I am happy that the world championship stays in the team."
Red Bull team principal Christian Horner, visibly drained but elated after the race, said Vettel's success was no less than he deserved for his efforts over the course of the season.
He said: "Words escape me. It is the most amazing thing to achieve a triple double [Red Bull winning the driver and constructors' championships.]
"Sebastian fought his way back into it and that is what he has done all year. He deserves this. He joins some great, illustrious names. It is a fantastic achievement for him and for the whole team."
McLaren's Jenson Button, who won the Brazilian Grand Prix, said: "Congratulations to Sebastian.
"It was a good race from him and three championships is impressive."
Button's team-mate Lewis Hamilton said: "Congratulations to Sebastian. His team kept it together and, under a lot of pressure, they pulled through [in Brazil]."
McLaren team principal Martin Whitmarsh added: "Congratulations to Sebastian and commiserations to Fernando [Alonso]. Either of them would have been a worthy world champion.
"After a grand prix as thrilling and as suspenseful as the 2012 Brazilian Grand Prix, it's fair to say that the ultimate winner was Formula 1."
Ferrari team principal Stefano Domenicali praised Vettel for both his achievement and his part in a thrilling championship battle with Fernando Alonso.
"I want to congratulate Sebastian, who is a great adversary," he said.
"I think I can say we are leaving Brazil our heads held not just high, but very high."
Marussia's Timo Glock said: "Congratulations to Sebastian [Vettel] for winning the championship and my best wishes to Michael [Schumacher] for the future."
Franz Tost, Toro Rosso team principal. hailed Vettel's 'remarkable' achievement.
He said: "On behalf of everyone at Toro Rosso I want to congratulate Sebastian Vettel and Red Bull Racing.
"Three consecutive drivers' titles is a remarkable achievement."