Meet Sebastian Vettel: three-time F1 world champion
By Lawrence Barretto
BBC Sport
Last updated on .From the section Formula 1
When Sebastian Vettel became the youngest Formula 1 driver to score a point after coming eighth on his debut in the 2007 United States Grand Prix, the signs were there that he was special.
But few could have predicted that the young man from Heppenheim, Germany, would go on to win three world titles in the following five seasons.
On Sunday, the 25-year-old became only the third driver to win three world titles consecutively, along with Michael Schumacher and Juan Manuel Fangio, when he finished sixth in the Brazilian Grand Prix.
Add to that the accolade of being triple world champion, to join the likes of Ayrton Senna, Niki Lauda, Nelson Piquet, Sir Jackie Stewart, Jack Brabham, and he is well on his way to solidifying himself as one of the greats.
BBC Sport takes a look at the career of a man who has always been in a hurry when it comes to clocking up the achievements...
The beginning
A carpenter's son, born in 1987, Vettel began racing go-karts when he was just three years old, but it wasn't until 1995 that he entered a karting series.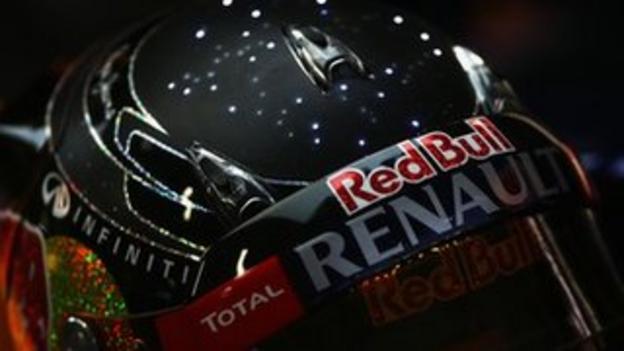 Red Bull clearly saw something in him, because they signed him to their young driver programme in 2000 before upgrading him to the Red Bull junior team.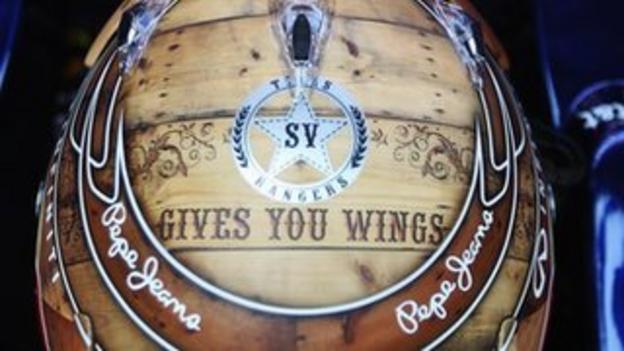 He graduated to Formula BMW single-seaters in 2003, going on to win 18 out of 20 races on his way to the title and developing a relationship with the German manufacturer who would later give him his F1 debut.
Times were tougher in the super-competitive F3 Euroseries, where he was runner-up to Paul di Resta in 2006 before moving across to the World Series by Renault while acting as the third driver at the BMW Sauber F1 Team, making appearances in free practice sessions at grands prix during that season.
Vettel was leading that championship when he got the call from BMW Sauber that he was required to step in for Robert Kubica at the 2007 United States Grand Prix following the Pole's heavy crash in Canada.
He impressed, taking eighth to become the youngest driver to score a Formula 1 World Championship point. The dye had been cast.
The big step
Toro Rosso snapped him up for the rest of the 2007 season, dumping Scott Speed, before Vettel went on to give the team their first win with a Michael Schumacher-esque wet weather drive to victory in the 2008 Italian Grand Prix.
In doing so, he became the youngest grand prix pole sitter, race winner and driver on the podium. The records, though, would keep on coming.
Red Bull snapped him up from their sister team from 2009 and he rewarded them with their first pole and victory in the third race of the year in China.
2010 hinted at a difficult season for the German with a number of crashes.
Few will forget when he and Mark Webber clashed in Turkey while he also came to grief with McLaren's Jenson Button in Belgium, sparking McLaren chief Martin Whitmarsh to call him the "crash kid".
But in the most unlikely of circumstances, Vettel overturned a 15-point deficit to Fernando Alonso at the final race of the season to win his maiden championship, taking the lead of the standings for the first time that year and becoming the youngest ever world champion, with five victories during that season.
The title came much easier in 2011 as he secured 15 poles, 11 victories and 17 podiums in 19 races to become the youngest double world champion and youngest back-to-back world champion.
His third triumph in 2012 proved tougher, but the German maximised points scored when his Red Bull wasn't quite quick enough in the early part of the season and then capitalised when it was, winning four races in a row from Singapore.
Tipped into a spin in the title-deciding race in Brazil, the German fought back valiantly, rising up to sixth which was enough to claim the title.
Away from the track
Vettel isn't your ordinary racing driver. The German doesn't have a need for a manager, instead negotiating all his own contracts.
He has made no secret that his childhood heroes were the "three Michaels" - Michael Schumacher, basketball star Michael Jordan and pop legend Michael Jackson - and he even wanted to be a singer like the latter before realising his wasn't good enough.
The 26-time F1 race winner is good friends with F1 chief Bernie Ecclestone, and is known to meet up with him for a game of backgammon now and then.
He also loves British humour and is a big fan of Monty Python and Little Britain.
And the 25-year-old always names his racing cars. The first was 'Kate', followed by 'Kate's Dirty Sister', 'Luscious Liz', 'Randy Mandy', 'Kinky Kylie' and this year's model 'Abbey'.