Sebastian Vettel can get even better, says boss Christian Horner
By Lawrence Barretto
BBC Sport at Red Bull Racing HQ
Last updated on .From the section Formula 1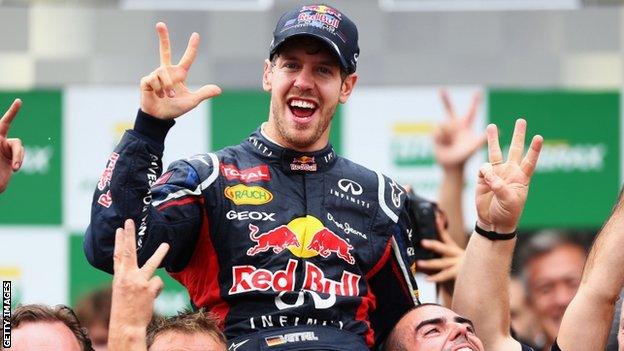 Red Bull boss Christian Horner says the new world champion Sebastian Vettel can get even better.
"He has had a remarkably impressive career so far," said Horner.
"As a driver, he will continue to get better and I think we have yet to see the best of him."
But Vettel said it will get "harder and harder" to keep winning.
Vettel, who also won the championship in 2010 and 2011, trailed Alonso by more than 40 points at one stage of the season.
But a run of four successive wins, starting in Singapore in September, lifted him to the top of the table.
He then finished third after starting from the pit lane in Abu Dhabi, and recovered to sixth after spinning to last in Brazil to become only the ninth driver to win three or more titles.
Michael Schumacher holds the record of most title wins with seven, and on Monday, Vettel's former boss at BMW Sauber Mario Theissen said the young German had what it took to match the 43-year-old's record.
Horner, who was speaking at Red Bull's factory in Milton Keynes, was more cautious.
"What Michael achieved was quite remarkable," he said. "It's difficult to see any driver beating his 91 wins and seven World Championships.
"Sebastian is 25 years, he has won three World Championships, secured 26 wins out of 101 races and scored more than 40 podiums.
"So it's difficult to tell Formula 1 is different to what it was 15 years ago, it's much more of a level playing field.
"Only time will tell but the exciting thing, we've yet to see the best of him."
Vettel added: "The hardest thing is to win after you have won.
"You get the attention and the pressure. Focusing on how to win again is harder than trying to win in the first place."
Speaking about the threats to Vettel's defence in 2013, when the regulations will remain largely unchanged, Horner said: "I think both Fernando and Lewis [Hamilton] and Jenson [Button] are potentially very strong threats for next year.
"Fernando has driven with a great tenacity and consistency this year. He is at his peak. He will be a formidable competitor next year."
Horner added that he thinks McLaren will suffer as a result of Hamilton's departure to Mercedes next year.
"McLaren is a weaker team without Lewis," said Horner. "McLaren would admit that. Lewis is an outstanding driver.
"Whichever team had taken Lewis, he will be an asset to that team. I'm sure he will naturally add performance to Mercedes next year."
Having flown in from Brazil on Monday, Horner, Vettel and Mark Webber were at the factory on Tuesday to celebrate the team's success, winning both drivers' and constructors' titles for the third year in a row.
And to reward the team for winning the constructors' title, Red Bull are giving ever member of the team a £10,000 bonus.
Horner said: "Every team member from the postman to the technical director will receive a bonus because of their hard work. It would probably be cheaper for us to finish second."