Valtteri Bottas replaces Bruno Senna at Williams

By Andrew Benson
Chief F1 writer
Last updated on .From the section Formula 1143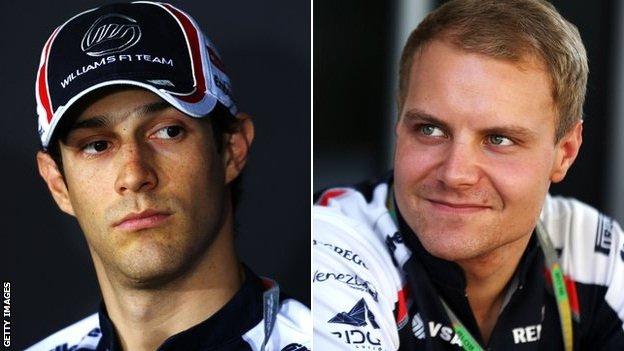 Valtteri Bottas says he is ready to justify Williams's faith after taking Bruno Senna's seat for next season.
The Finn replaces Bruno Senna and will partner Venezuelan Pastor Maldonado, who drove for Williams in 2011-12.
Bottas, Williams's reserve driver in 2012, said: "I don't see any reason why I can't do well in Formula 1."
Founder and team principal Sir Frank Williams said Bottas was "one of the most talented young racing drivers we have ever come across".
Williams have picked Bottas after a string of impressive performances in many of the free practice sessions this year, when he often matched Maldonado's pace and rarely made mistakes.
Bottas, 23, said in an exclusive interview: "I think that was the key. Many times I was in the same pace as Pastor and sometimes even quicker.
"Sometimes, for sure, Pastor had the edge but that was to be expected - he has already two seasons in the car and knows the team as well. He's a really quick guy and I'm really happy I could match him sometimes.
"I think they have seen I am really quick, I am ready to work hard and to do everything I can to get a lot of points for the team.
"I know and the team has seen that there will be much more to come from my side as I get to drive the car more.
"It is not an easy job doing the Fridays. It is just one session, one set of tyres, job done. And there are always big gaps between the Fridays so it is not easy to keep the rhythm.
"The team has seen I can still improve a lot and we can do good results."
Bottas, who last raced when winning the GP3 feeder series in 2011, acknowledged that he was making a big step up next season.
"I know it won't be easy because you are competing against the very best in the world," he said.
"But once I get into the racing rhythm again I don't see any reason why I would struggle massively. I will keep improving all the time, that's for sure."
Williams said of Bottas that he expected "great things from him in the future".
And Bottas said he believed he could follow in the footsteps of countrymen Keke Rosberg, Mika Hakkinen and Kimi Raikkonen and win the world title in the future.
"I am here only for one reason. One day I want to be the world champion," he said.
"Everyone in Finland will be expecting me to be world champion one day because most of the Finnish drivers have been.
"But I am not going to take any pressure for that. I just think it is really cool that that is the way it is. For sure I will get a lot of support from Finland. It is my goal, too."
Maldonado said he was hoping to build on 2012, when he won his first grand prix in Spain but was awarded a number of penalties for driving errors.
"The goal is to be more competitive next year and have a car that is consistently in the points and challenging for podiums," Maldonado said.
Senna joined Williams this season and finished the season in 16th place in the championship, one place and 14 points behind Maldonado.
The 29-year-old Brazilian, the nephew of the late triple world champion Ayrton Senna, had a best result of sixth place in Malaysia but struggled compared to Maldonado in qualifying, in which he was faster than Maldonado only twice in 20 races.
He has been linked with a move to Caterham next season as team-mate to Frenchman Charles Pic, who's signing was announced last weekend.
Senna is also said to have a small chance at Force India, where former Toro Rosso driver Jaime Alguersuari and German Adrian Sutil are considered to be the main contenders to partner Scot Paul di Resta.