Jaime Alguersuari column: Sebastian Vettel deserved title
By Jaime Alguersuari
BBC Sport columnist
Last updated on .From the section Formula 1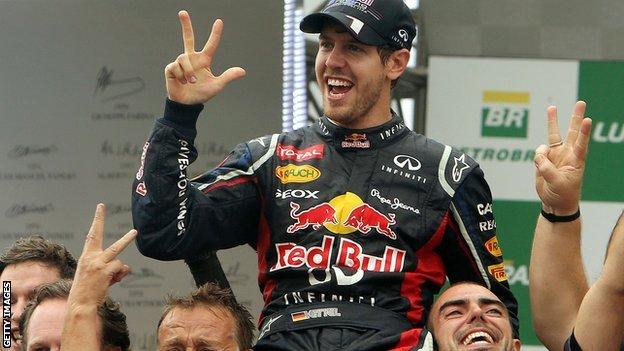 The Brazilian Grand Prix was a fantastic race and a perfect way to end a great Formula 1 season.
In these kind of races, when it rains intermittently, anything can happen.
It is really good to drive in them because, although it's a big mess, you have the feeling that anything can happen at any moment and you feel you could be there with a not very competitive car and achieve a crazy result.
The race was really enjoyable to watch for all the spectators around the world, although I guess it wasn't funny for the drivers, especially Sebastian Vettel and Fernando Alonso.
When I saw Vettel get a bad start and slip down into the lower positions after the first corner, I thought the race was going to be very difficult for him, and then when he got hit by Bruno Senna's Williams I thought that was his race over.
He was very, very lucky that was not the case - and after that he did a great job.
As I said in my last column, Vettel was the one in the most difficult position in Brazil - he had everything to lose.
That's a very difficult position to be in during a race like that in Brazil because in those conditions if you are too conservative you are very slow and it's easy to get confused.
If you have nothing to lose, you just go for it, and that is the best way to make things work, to maintain an aggressive position.
THE RIGHT CHAMPION
A lot of people are asking whether the right driver won the world championship and that annoys me.
When Michael Schumacher won seven titles, or Alonso won his two with Renault, or Jenson Button his with Brawn, no-one asked whether they were the right champions.
Your biggest friend in F1 is technology, and technology nowadays is air - aerodynamics. If you do not have this as your friend, you are never going to be a three-time champion.
Schumacher, Alonso and Vettel all won their titles because they are great drivers - they are all winners, all fantastic race drivers - but they are being helped by their technology. That's it.
It's true that Alonso did an amazing job, but don't forget Ferrari did, too.
I remember Flavio Briatore, the former Renault team boss, saying before Australia that Ferrari can forget about the championship - they should look to 2013 already. And everyone thought: "He's right - they are struggling to get into the top 10 in qualifying; how are they going to fight for the championship?"
In Melbourne, Alonso was 1.5 seconds off pole position. That same guy lost the championship by just three points in Brazil on Sunday.
Six races later, that Ferrari was upgraded by half a second, and then another couple of tenths, and then some more. That's amazing. You hardly ever see that.
There were some points this year when they had a winning car. It's not that Ferrari did a bad job and Alonso did fantastically. They both did great.
They developed the car during the season and Alonso managed to have a fantastic performance throughout the year.
He did not make a single mistake. He got the maximum out of every situation.
If you compare 2011 to 2012, Red Bull struggled much more early in the year. The change in rules on exhausts affected Red Bull more than anyone else.
They did not find a solution straightaway - in China, Vettel and Mark Webber were running two different designs. It was a bit of a mess.
But they kept developing and got over the problems and they ended up with the best car, so they won. End of story.
I understand why people feel Alonso should have won the title. Usually, the driver who wins the title is the better driver in the best car, or very nearly the best car. That's the way F1 is.
But this year it looked like a driver was going to be champion without the best car - or even one that was near it. It's an appealing idea.
That's all true, but the fairest winner is the one who has been the fastest with the best car.
Don't forget, too, that Vettel was having an incredible race in Valencia. He was leading by 25 seconds and he lost the win because his alternator broke.
DEFINING MOMENT
The defining moment of the season was between Singapore and Japan. Red Bull brought a hugely upgraded car to Singapore and added further developments to it in Japan.
After that, Vettel was unbeatable in Suzuka, Korea and India - and he'd already won Singapore after Lewis Hamilton's McLaren retired from the lead with gearbox failure.
That was the period when Alonso lost the title and Vettel won it.
IMPRESSIVE FORCE INDIA
One of the stand-out performances in Brazil was from Nico Hulkenberg and Force India.
Hulkenberg qualified sixth and led the race - he might have won had he not collided with Lewis Hamilton's McLaren while trying to take the lead for the second time.
You need to be aggressive in those situations, and he overestimated the grip in Turn One and slid into Hamilton.
Hulkenberg got a drive-through penalty for causing that incident, but even so he still finished fifth.
The Force India is a really good car. Hulkenberg is a great driver and did a great job. He has the talent and did a good enough job to be on the podium and would have been there had it not been for that mistake.
Hulkenberg's performance emphasised something that perhaps people have not noticed because they have been focusing on the championship - the Force India has been very strong in the last third of the season.
If you study their last three years, it is often like this. They start with a not very competitive car and then get better and better and they finish the year in the top seven or eight positions.
In my view, they are the team that develops their car most through the year.
GOODBYE AND THANK YOU
This is my final column for BBC Sport. It has been a pleasure to be able to share with you my thoughts about F1 - and also to talk about the sport on BBC Radio 5 live this season. I'd like to thank all of those who have read the column and listened on the radio. I hope you enjoyed it.
I'm looking forward to hopefully going racing next year in a good team. The situation is not that easy, as you know, but I think it can happen. I'm hoping to see some good news in the next couple of weeks.
Jaime Alguersuari was a Toro Rosso driver from 2009-11, and is Pirelli's F1 test driver. He was talking to BBC Sport's Andrew Benson