Bernie Ecclestone: Ferrari president criticises F1 boss

By Andrew Benson
Chief F1 writer
Last updated on .From the section Formula 1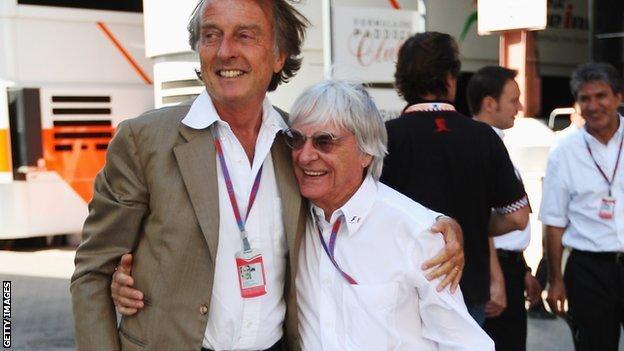 Ferrari president Luca Di Montezemolo has heavily criticised Formula 1 boss Bernie Ecclestone in the wake of the Brazilian Grand Prix controversy.
Last week, Ecclestone, 82, called Ferrari's request for clarification on whether world champion Sebastian Vettel had overtaken illegally "a joke".
Di Montezemolo, 65, said: "We must respect the elderly, especially when they can no longer control their words.
"Seniority is often incompatible with certain roles and responsibilities."
Ecclestone told BBC Sport: "The one thing he is correct about is my age - there is no doubt about that.
"I can't do anything about that. I'm 82 years old and that's how it is."
In reference to Di Montezemolo's recent attempts to become involved in Italian politics, he added: "I suppose it's the same sort of thing that's happened to him recently in politics, where people have been quite rude about him.
"He says he doesn't remember what he says very often. Luca is not as old as me. I'm sure in his case it is nothing to do with his age because he's always been the same. At least he's consistent. God knows what's going to happen when he's 82.
"No, Luca is a lovely guy, I'm probably as a big a supporter of him as anybody. I am a big admirer of Luca's and I'm sorry for all the trouble he's had with politics recently. He should never have got involved in the first place."
Di Montezemolo said Ferrari's request for clarity on Vettel's overtaking manoeuvre was the "most simple, correct and straightforward" solution to the controversy that was brewing over the incident.
He added that Ferrari had "made it clear that we would accept their decision and that's what we did".
Videos on the internet appeared to show Vettel passing Toro Rosso's Jean-Eric Vergne when still in a no-overtaking zone.
Governing body the FIA responded to Ferrari's request for an explanation by saying Vettel did not start his move until he had passed a green flag, indicating the end of the caution zone. The flag was not easily visible on the in-car footage of the incident.
Ecclestone said he felt it would have been better if Ferrari had raised the matter "behind closed doors", and added that he believed they had acted in response to a request from Alonso.
"I think there was so much pressure from probably the driver," Ecclestone said. "You must remember he's been saying nearly every race this year the car is rubbish and it's a bit difficult for them not to look as if they're trying to do something to help him."
Di Montezemolo's remarks are likely to cause tension ahead of the Annual General Assembly of the FIA this week in Istanbul, where Ecclestone and Ferrari will be among the parties discussing future F1 rules.
The Ferrari president also chose to re-state his opposition to the status quo in F1, particularly the primacy aerodynamics has taken in determining success because of restrictions on development of other parts of the car, such as engines, gearboxes and control systems, and the lack of on-track testing.
Testing on track during the season has been banned for the last three years to keep costs down - teams can now only test with their regular drivers at three official pre-season tests, each lasting four days.
In addition, each team is allowed one three-day 'young driver' test during the season.
All teams accept that this regime has restricted their ability to evaluate the next generation of F1 drivers. But Ferrari are particularly opposed to such stringent limits because their simulation technology is less advanced than that of other teams.
Ferrari are the only team with their own test track so during the late 1990s and early 2000s they did not invest as heavily in simulation technology as their rivals. That meant that when on-track testing was banned, Ferrari were disproportionately affected.
"We've been saying this for a while and we will repeat it in the appropriate places so for the moment I don't want to add anything else," Di Montezemolo said.
"But our patience has run out so someone needs to think about whether they want Formula 1 still to have companies that invest and consider it the most advanced research bench for its own cars - as Ferrari has always done since 1950.
"We are constructors, not sponsors. Since some people have used the expression 'It's a joke' in recent days, I would like to say that this is the real 'joke'. Yes, I'm referring to one of Ecclestone's phrases."
Ecclestone said: "I don't know what he thinks we could do with an F1 car that could assist his road cars more than it does currently, they take a lot of F1 and put it on their road cars. Their road cars are very technical and they do use a lot.
"The (F1) rules are there for everyone to use in the best way they can. They're the same for everyone."