Fernando Alonso says it was a 'miracle' he challenged for title

By Andrew Benson
Chief F1 writer
Last updated on .From the section Formula 1386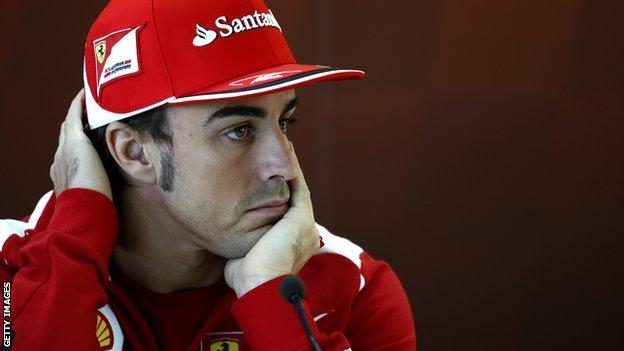 Fernando Alonso says his ability to battle for this year's drivers' title with Ferrari has been a "miracle".
Alonso said he believed his performance during the season had raised his stock among Formula 1 fans.
"It was a miracle to see, race after race, what we managed to achieve," he added.
"I drove the best season of my life and now I can only think of the year to come.
"Before, people had a more or less good opinion of me, but now I notice a whole different level of respect.
"To be one of the greats of Formula 1, it's not enough to win titles; you must also tackle seasons like the one that has just ended."
That last remark will be interpreted by some as a subtle dig at German Vettel, who this year became only the third driver in history to win three consecutive titles but who has spent the vast majority of his short career in competitive cars.
Alonso, 31, also commented on Ferrari's decision last week to ask for a clarification on whether Vettel had completed an illegal overtaking move during the title-deciding Brazilian Grand Prix.
Videos appeared on the internet in the days immediately after the race that appeared to show the German passing a Toro Rosso in a yellow caution zone, where overtaking is forbidden - the penalty for which could have dropped Vettel back two places and made Alonso champion.
Governing body the FIA said the incident was not investigated during the race because Vettel had started the move after passing a green flag, indicating the end of the yellow zone, which was not easily visible on in-car footage from his car.
A graphics-free video proved this was the case.
Alonso said: "There were a lot of video clips on the internet and we knew our fans were asking for an explanation, so it was right for Ferrari to turn to the federation for clarification.
"We got a reply and I think everything has now calmed down.
"Frankly, I'm not that interested in what the opinion is of me in Germany or elsewhere. What I know is that people who see me in the streets hug me and call me gladiator or samurai."