Turkish Grand Prix tipped to return to the Formula 1 calendar in 2013

By Andrew Benson
Chief F1 writer
Last updated on .From the section Formula 1116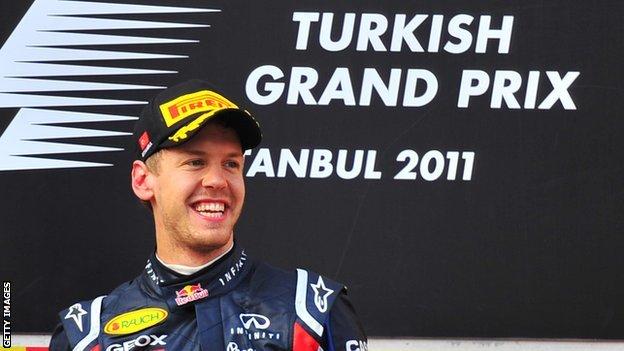 Formula 1's bosses have tweaked next year's schedule to make space for an extra race, bringing the calendar back up to 20 grands prix.
This is expected to be a return of the Turkish Grand Prix which was dropped after 2011 for financial reasons.
Efforts have been made in recent days to agree a new deal in Istanbul.
The German Grand Prix has been moved to 7 July, freeing up its previous date of 21 July for what governing body the FIA says will be another "European event".
The FIA was not immediately available for comment.
Strictly speaking, the Turkish Grand Prix track is not in Europe - it is on the Asian side of the Bosphorus. But it is often referred to as a "European" race.
An FIA statement from the World Motorsport Council, which is meeting in the Turkish city this week, said the new race was "subject to approval by the relevant" national sporting authorities.
And there have been efforts in recent months to revive the French Grand Prix, which was last held in 2008, but it is thought that an agreement on that event is still some way off.
There has also been a report that the extra race could be at the Red Bull-owned A1-Ring in Austria, which last held a grand prix in 2003 but has been refurbished in recent years.
The addition of a 20th race means next year's calendar will contain as many grands prix as this year's record schedule.
The World Council also ratified a series of previously announced changes to the F1 rules.
Of these, the most important are:
Deflection tests on front wings have been made more stringent, with loads to be applied at the back and front of each side of the wings rather than in one place on each side. This should prevent the practice of teams making their wings rotate from front to back to enhance aerodynamics.

Use of the DRS overtaking aid will no longer be free in practice and qualifying. Instead, it will only be allowed in the designated zones in which it will be used on the track in the race.
It was also decided that the plan to make cars run on electric power alone in the pit lane from 2014, when F1 is introducing 1.6-litre V6 turbo engines with extensive energy recovery, would be delayed until 2017.
And the FIA has abandoned changes for 2014 that were scheduled to be made to bodywork design to enhance efficiency by reducing downforce and drag.
2013 FORMULA 1 CALENDAR
17 March - Australia (Melbourne)
24 March - Malaysia (Sepang)
14 April - China (Shanghai)
21 April - Bahrain (Sakhir)
12 May - Spain (Barcelona)
26 May - Monaco
9 June - Canada (Montreal)
30 June - Britain (Silverstone)
7 July - Germany (Nurburgring/Hockenheim)
21 July - TBA
28 July - Hungary (Hungaroring)
25 August - Belgium (Spa-Francorchamps)
8 September - Italy (Monza)
22 September - Singapore (Marina Bay)
6 October - Korea (Yeongam) *
13 October - Japan (Suzuka)
27 October - India (Buddh International)
3 November - Abu Dhabi (Yas Marina)
17 November - United States (Austin)
24 November - Brazil (Interlagos)
* Subject to confirmation