Private sector must fund Turkish Grand Prix says sports minister

By Andrew Benson
Chief F1 writer
Last updated on .From the section Formula 1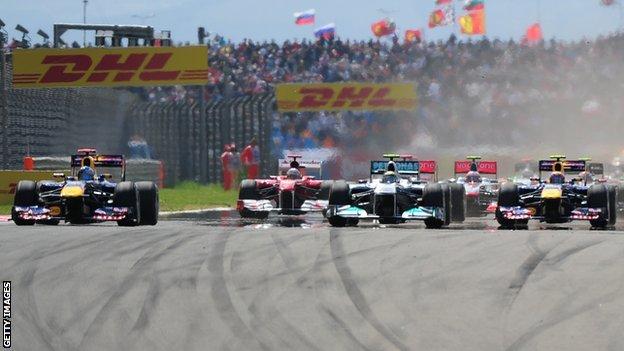 The Turkish government has rejected the idea of providing funding to revive the country's grand prix.
Formula 1's governing body the FIA announced on Wednesday that
Turkish race organisers, who have been in negotiations with F1 boss Bernie Ecclestone, said the event would depend on government funds being available.
But sports minister Suat Kilic said on Thursday that would not be the case.
"If it wants to, the private sector can bring Formula 1," Kilic was quoted as saying by the Dogan news agency.
"But there is no question of us paying the cost of the rights which have been proposed to a private company to bring Formula 1."
The Turkish race was dropped for 2012 after a disagreement over fees between Ecclestone and the local authorities.
Kilic said the government had previously assisted in bringing Formula 1 to Turkey, making a "sacrifice" in order to boost the sport.
"Our government paid $13.5m [£8.4m] a year to the organisers for five years for the rights. In exchange for that, all the income went to the organisers, so the state did not get any benefit from it," he said.
The chairman of the Turkish Automobile Sports Federation said in a statement on Thursday that the organisation was making "every effort" to re-establish the grand prix in 2013 and "in future years".
Chairman Demire Berberoglu said in a statement that an agreement had been reached between circuit operator Vural Ak and Ecclestone, but the government also had to play a part.
"Everybody knows that what is needed for its presence in the Formula 1 race calendar for 2013 and following years is a guarantee and approval of the required budget at the government level," said Berberoglu.
"This will develop according to the prime minister's decision."