Red Bull offers own track for Austrian GP return in 2013

By Andrew Benson
Chief F1 writer
Last updated on .From the section Formula 1105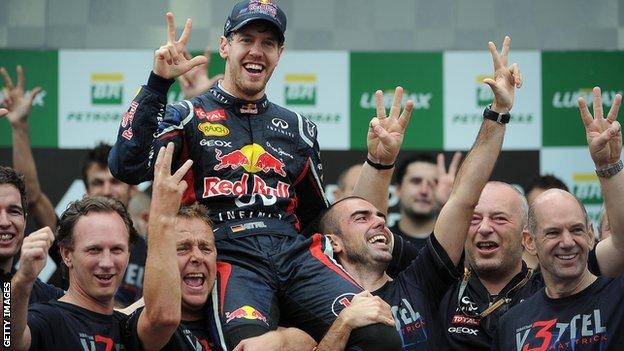 Red Bull has offered its own track in Austria as a potential venue for a 20th grand prix in 2013.
Formula 1's governing body the FIA has shuffled next year's schedule to open a slot for an extra race on 21 July.
It had been expected that this would be but it is not clear it could be funded.
Red Bull adviser Helmut Marko told an Austrian newspaper: "We have made the FIA aware that the Red Bull Ring has a fully updated Formula 1 licence."
Red Bull, whose F1 team has won the drivers' and constructors' titles for the past three years, owns and has redeveloped the track that hosted the Austrian Grand Prix in various guises from 1970-87 and 1997-2003.
There are, however, a number of potential problems with the Red Bull Ring hosting a grand prix.
These include the shortage of hotel accommodation in the mountainous Styrian region, an agreement between Red Bull and the regional government to host no event with a crowd of more than 40,000, and the lack of facilities and organisation to run an event of such magnitude.
But Marko told Salzburger Nachrichten none of these was insurmountable.
On the race fee, he said: "There is the province of Styria, the Republic of Austria." And in response to the suggestion that few European governments could justify funding a grand prix in the current times of austerity, he said: "Let's wait and see."
He said objections over the limited accommodation were "nonsense", adding: "It managed in the 1970s and 1980s." He pointed out that the city of Graz, 50 miles away from the Red Bull Ring in Spielberg, had more than enough hotel rooms.
And he said that the media centre, which struggled to cope with the capacity required by a German Touring Car race this year, could be extended, and an organisation to run the event imported.
A final decision would rest between F1 commercial boss Bernie Ecclestone and Red Bull co-owner Dietrich Mateschitz, who is on holiday in Fiji until Christmas.
The two men are friends and it is conceivable they could come to an agreement if the Austrian did want to host a grand prix at the Red Bull Ring.
Meanwhile, it remains unclear whether Turkish authorities
On Thursday the country's sports minister said the government would not contribute towards the fee for the race - a day after the chairman of the Turkish motorsport federation said state money would be needed to revive the race.
The 2013 calendar initially ran to only 19 races - one fewer than in 2012 - after the mooted because the track overlooking Manhattan was not going to be ready in time.
But on Wednesday, the FIA moved the German Grand Prix to 7 July, a week after the British race, and opened up its previous slot of 21 July for what it referred to as another "European" race.