F1 history has been shaped by the smallest of margins

By Andrew Benson
Chief F1 writer in Austin
Last updated on .From the section Formula 1314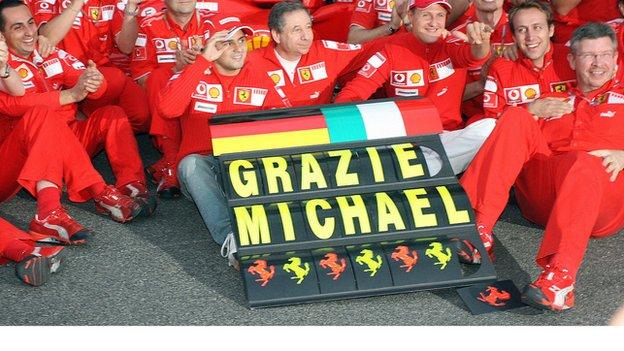 As the 2012 Formula 1 season fades into the distance, the fact that the sport has a new three-time world champion - and what that means - is sinking in.
These achievements have led to deserved plaudits for Vettel, the latest of which was to be called the sport's new "yardstick" by none less than F1 commercial boss Bernie Ecclestone in a recent interview.
Vettel is undoubtedly a rare and precious talent, but whether winning three titles in a row makes him the measure by which all contemporaries are judged is another matter altogether.
He and Red Bull are undoubtedly the ones to beat next year - in the sense that he is the driver who has made best use of the best team and usually the best car over the last three years. But that's not the same thing.
Winning an F1 title, after all, is about more than talent alone. A driver has to have a fast car; it has to not break down too often; and he has to be lucky.
In different circumstances, it's not hard to imagine a quite different table of F1 champions.
Schumacher could have 'only' five titles; Alain Prost, who won four, could be on six or seven; and Fernando Alonso, who lost out to Vettel this season, could have four rather than two and Vettel one instead of three.
Let's look at Schumacher as an example.
First of all, his five consecutive titles for Ferrari from 2000-4 came about at a time when he had the best car, the richest team, bespoke tyres and unlimited testing to develop them. For much of that time, the others simply didn't have the resources to compete.
Schumacher's superiority was created by the combination of a great talent with the most ruthless and effective winning machine ever devised, which re-wrote the rules about what was achievable in F1.
Before that, Schumacher won in 1994 after driving into Williams's Damon Hill at the final race in Australia. The move put both men out - but had Hill been able to continue the Englishman would have been champion instead.
Likewise, Schumacher's 2003 title was won after the Michelin tyres on the cars of rivals McLaren's Kimi Raikkonen and Williams's Juan Pablo Montoya were suddenly and controversially declared illegal. After several months of there apparently being no problem with them.
The change of heart by F1's authorities came after an intervention by Schumacher's Ferrari team, and necessitated a re-design that undoubtedly affected the chances of Raikkonen and Montoya. Neither won again that season.
And what about Prost? He won his titles in 1985, '86, '89 and '93, but a more reliable car would have made him champion in '82; he was overhauled in '83 only after the late introduction of a controversial new fuel by Nelson Piquet's Brabham-BMW team; and the half-point deficit by which he lost in '84 to McLaren team-mate Niki Lauda would have been wiped out but for any one of a number of bad breaks.
How about Ayrton Senna? The man who recently topped BBC F1's greatest drivers poll - and who routinely heads similar lists - won three world titles. But might have won, too, in '89 had he not been controversially disqualified following a collision with Prost in the penultimate race that year.
Senna did, though, win 'only' three titles. Does that make him less than half as good as Schumacher? Of course not.
Yet in some people's minds the fact that Schumacher has won more championships and more grands prix than anyone else automatically makes him the greatest driver of all time.
Most, though, realise the argument is more nuanced than that.
A driver's standing is dictated at least partly by what he achieves in what he has; how consistently he maximises his machinery's potential; even whether he can win occasionally when not in the best car, which is perhaps the most demanding test of all.
Take the current era. Vettel won his first and third titles at the final races of the 2010 and 2012 seasons, in both cases relegating Alonso to second place.
But in 2010, only a catastrophic strategic error by Ferrari prevented the Spaniard taking the fourth place he needed in the final race in Abu Dhabi to become champion.
And this year, when Alonso lost out by three points, he would have comfortably won had his car not been assaulted at the start of the Belgian Grand Prix by the flying Lotus of Romain Grosjean - the man who Vettel's team-mate Mark Webber memorably dubbed the "first-lap nutcase".
Did those events reflect on the qualities of Alonso or Vettel as drivers in any way? Of course not.
None of this is to diminish a remarkable achievement by Vettel, or to downplay the talent of a man who will clearly be a central figure in F1 for the next decade.
But if one is forced to pick a yardstick for modern-day F1 drivers after the 2012 season, it would be hard to look beyond Alonso after the year he has just had.
In a demonstrably slower car, the Spaniard took the title to the final race of the season and - even allowing for the Spa incident, among others - would still have won had Vettel not been fortunate in being able to continue following a first-lap crash, for which he was at least partly to blame, that might have inflicted terminal damage to his car.
Likewise, Lewis Hamilton was in superlative form for McLaren, but poor reliability and operational mistakes by the team stopped his title challenge short. Does McLaren's poor reliability reflect badly on Hamilton's ability?
Let's put it another way. Had history turned out differently and Alonso had by now won four titles and Vettel one, would it make either a better or worse driver than he is?
And that's the point. Statistics don't mean everything. In fact, in the big picture, they mean very little. They're just numbers. They can't be ignored, but the real truth lies elsewhere.