Bernie Ecclestone says Formula 1 still has too many teams

By Andrew Benson
Chief F1 writer
Last updated on .From the section Formula 1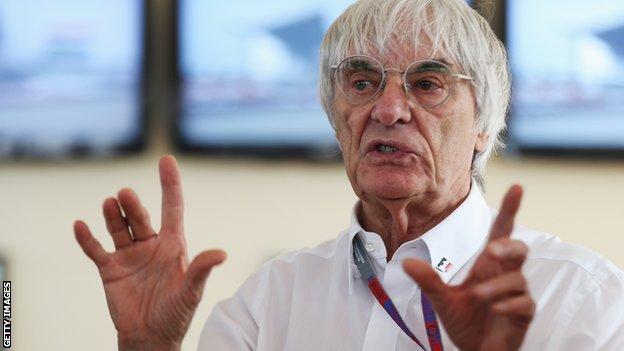 Formula 1 boss Bernie Ecclestone believes the sport still has too many teams despite the departure of HRT.
F1 will have 11 teams next season after the Spanish outfit's failure to enter the championship following an announcement they were up for sale.
But Ecclestone told Reuters he would be happy to see another team drop out.
"It's just that 10 is easier to handle, for the promoters, for transport," he said. "We'd rather have 10, so long as we don't lose Ferrari."
Ecclestone said he had heard that HRT had gone into liquidation. Asked whether he believed it was possible a buyer would be found, he said: "I wouldn't think anyone would want to."
British-based Formtech Composites said in a statement last week that they were owed a substantial amount of money by HRT, the ownership of which they believed had been transferred to a Luxembourg-registered fund.
Formtech added that HRT had initiated liquidation procedures on 12 November, the day they announced the team was up for sale, and had offered to pay creditors 30p for every euro owed.
HRT were one of three teams to enter F1 in 2010 following attempts by Max Mosley, the former head of governing body the FIA, to introduce a budget cap.
The budget cap was never introduced and none of the three teams - which also include Caterham (formerly Lotus Racing) and Marussia (formerly Virgin) have scored a point since their debut.
Ten teams - 20 cars - is believed to be the minimum number F1 can have under new commercial contracts before a clause that could allow teams to run third cars is activated.
Ecclestone said the 2013 season would likely be 19 races, despite his shuffling of the calendar last week to make room for a 20th.
But he did say there was still the possibility of Turkey taking the new 20th slot on 21 July.
"I don't know - I'm waiting for a response from them," he said.
The Turkish government ruled out contributing to the race fee a day after the country's motorsport federation said such funding would be required.
Ecclestone told Reuters categorically that Austria would not happen. Red Bull adviser Helmut Marko said at the weekend that the company had reminded the FIA that it had a track with a full F1 licence, the former Osterreichring/A1-Ring which held the Austrian Grand Prix on and off between 1970 and 2003.
He added that France appeared to be no longer in the running for a race.