Lotus re-sign Romain Grosjean for the 2013 season despite errors

By Andrew Benson
Chief F1 writer
Last updated on .From the section Formula 1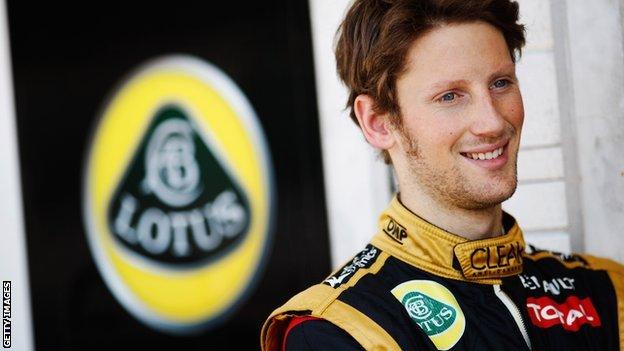 Romain Grosjean will remain at Lotus as Kimi Raikkonen's team-mate in 2013.
The team delayed a decision until they had held talks with the Frenchman to reassure themselves he would reduce the number of errors he made in 2012.
Grosjean was given a one-race ban after causing a multi-car pile-up at the Belgian Grand Prix, his seventh early incident in 12 races up to that point.
"I am very happy for all the support and confidence the team gave me," he said.
"I will try to do my best and improve from where I am now and score a lot of points for both of us," the driver told BBC Sport.
Grosjean, 26, admitted he had spent time discussing the problems he had suffered in 2012 with team principal Eric Boullier, who is also his manager, before Lotus re-signed him.
He said: "We had very good discussions - sometimes not easy - but at the end they took the decision that I really wanted.
"I was not sleeping very well but now it is done I can sleep like a baby again and hopefully show them they were right."
Grosjean admitted that the final part of the season, after he returned from the ban he served over the weekend of September's Italian Grand Prix, had been a challenge.
He drove tentatively at times - and also caused another first-lap collision in Japan, where he took out Red Bull's Mark Webber, prompting the Australian to call him a "first-lap nutcase".
"It was not the easiest end of season I ever had in my career," Grosjean said.
"We saw it in the performance and the small mistakes I did that I wouldn't normally do.
"But as you try to control everything and do everything perfect you do mistakes you normally don't do.
"The team gave me the confidence to do a good baseline and really work on next season and deliver what I can do."
Grosjean said Lotus's target was to improve on the fourth place in the constructors' championship they earned in 2012, which was itself one place higher than they had finished in 2011.
"The team wants to do better and better," he said. "We went from fifth to fourth, the idea is to get better so let's try to do that.
"Myself as well, I really want to have good races and not be under pressure at the end of the year and just be able to do what I can do."
Grosjean finished eighth in the drivers' championship, while Raikkonen was third after two years away from F1 competing in the world rally championship.